| | |
| --- | --- |
| Superman: Deshaun Watson pays tribute to good friend Cam Newton | |
---
| | |
| --- | --- |
| Monday, October 6, 2014 2:43 PM | |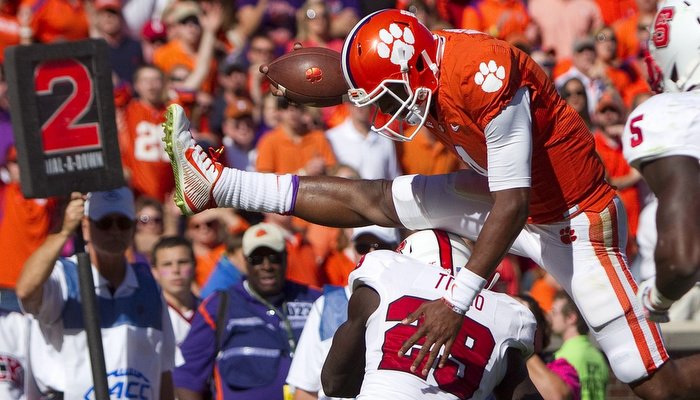 CLEMSON – Following his Superman-like flight over a linebacker and into the endzone Saturday against North Carolina St., Clemson quarterback Deshaun Watson

Deshaun Watson
Fr. Quarterback
#4 6-3, 204
Gainesville, GA
View Full Profile mimicked Carolina Panther quarterback Cam Newton's Superman endzone celebration, acting like he was shedding his workday clothes for his Superman outfit.
And with good reason.
Watson has not only become Clemson's version of Superman – energizing the fan base and making jaw-dropping plays like Saturday's flight of fancy – but he is also good friends with Newton and does it to pay homage to his mentor.
Watson told TigerNet Monday afternoon that while he hasn't asked for Newton's permission to use the celebration, he is positive that Newton wouldn't mind.
"Actually, I haven't talked to him about it. I should ask him, but I bet he doesn't mind me breaking out his celebration and using the Superman," Watson said with a huge smile.
Watson says he first connected with the former Auburn star when he attended Newton's camp during his junior year of high school at Gainesville. The two have stayed in touch since that first meeting.
"I try to talk to him every chance I get. I know he's busy during the season, and I'm busy, too," Watson said. "But I met him when I was at his camp. After the camp, he selected an all-star team and I was one of his quarterbacks. I got to spend the week with him in Florida at the IMG 7-on-7 national championship and we became close. The next year, I wasn't able to be on his team, but we've stayed connected and just stayed in touch. "
Watson said he first saw Newton play when the Panther star was in high school at Atlanta Westlake.
"I actually watched him when I was little – his last high school game (at Atlanta Westlake) was against Gainesville and I watched him," he said. "I was always a big fan of his, and to just see all of the adversity he had and to be able to overcome that. It's been good to have that person who has been through all of this and what he has experienced has been a blessing."
On Saturday, Watson did his best Cam Newton impersonation during his leap into the end zone and said he had no idea he was going to try and jump the defender.
"It was just a zone read play, and I read the guy. It was a pull play for me, and the guy was coming at me and I didn't know what I was going to do," he said. "I just leapt over the guy and got up over the guy and got in there. It was pretty cool."
And whenever Watson does something special – which is becoming common – he hears from Newton via text.
"Just a little bit, when we have a chance we talk to each other," Watson said. "I will get a text that says, 'good job' and I will congratulate him on his play, too."
Watson said that his dreams include playing in the NFL and earning a first ground grade, and while he doesn't necessarily want to follow directly in Newton's footsteps, it helps to have a sounding board who knows what he's going through.
"I have my own expectations of myself, but having that person to talk to is pretty special," Watson said. "I want to go the same route and be a first-round draft pick, but that is going to take a lot of work and I know I have a long way to go."
In the meantime, he is having fun and doing his best Superman impersonation each and every week.
"I am having a blast," he said, smiling once again. "This is a dream come true and I am living the dream."