| | |
| --- | --- |
| Super Bowl winning coach Pete Carroll enamored with Sammy Watkins | |
---
| | |
| --- | --- |
| Friday, February 21, 2014 7:27 PM | |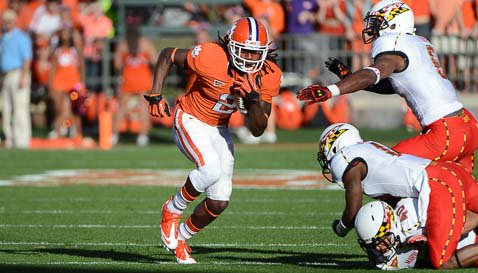 Former Clemson receiver Sammy Watkins

Sammy Watkins
Wide Receiver (2011 - 2013)
#2 6-1, 205
Fort Myers, FL
View Full Profile has already been the talk of the NFL scouting combine, as talk of his blazing speed, work ethic and great hands have made the rounds.
According to Super Bowl champion head Pete Carroll of the Seattle Seahawks, however, Watkins' value goes much further than the things that can be measured with a stop watch or tape measure.
Carroll, whose Seahawks team defeated the Denver Broncos earlier this month in the Super Bowl, told the NFL media Friday that Watkins is much, much more than a speed guy.
"It all goes back to the makeup of the player," Carroll said Friday. "I was watching Sammy Watkins take the stage as he gets measured today, and I think he was like 6-1 and 211 pounds or something like that. What separates that guy? What makes him such a great football player? It's all the other elements. It's not his height-weight-speed. It's all the other stuff that's part of his makeup, his gifts."
Carroll then said that Watkins' experiences at Clemson also make the Fort Myers (FL) native a valuable commodity.
"It's also the experiences he's had, the coaching he's had, the opportunity to play with great players," Carroll said. "He had a great quarterback going through college. It's all of those things that make the guys what they are."
Carroll also said that it would be a mistake to think that Watkins- and players of his ilk – fit only into certain categories.
"To think there are only certain packages, and only certain standards, you're going to make mistakes that way," Carroll said. "You got to take each of these guys as individuals and grade them out and see what they have and make an assessment off of that."
While receiver is a need for Carroll's Seahawks, his Seattle team likely won't get the chance to take Watkins unless they trade up – with champs have the 32nd overall pick, and Watkins has been tabbed by many as a top five pick.
According to Bucky Brooks of Sports Illustrated, the top five receivers are: Sammy Watkins (Clemson), Marqise Lee (Southern Cal), Odell Beckham, Jr. (LSU), Mike Evans (Texas A&M) and Allen Robinson (Penn State). NFL Network analyst Mike Mayock's top five at the position were Watkins, Lee, Evans, Kelvin Benjamin (Florida State) and Jarvis Landry (LSU).
Watkins opted for the NFL following his junior season, but not before etching his name firmly in the Clemson record book. He caught 240 passes for 3,391 yards and 27 touchdowns during his three-year Clemson career. He also had 339 yards on 52 carries and one touchdown. On special teams, Watkins had 60 kickoff returns for 1,376 yards and one touchdown in 1,717 snaps over 36 games [29 starts].
Watkins is also first in Clemson history in receptions, receptions per game [6.7], first in receiving yards, first in receiving yards per game [94.2], first in 100-yard receiving games [15], tied for first in receiving touchdowns, second in all-purpose yards [5,129] and fifth in kickoff return yards.