| | |
| --- | --- |
| Sunday update: Swinney says he hopes Tigers stay desperate | |
---
| | |
| --- | --- |
| Sunday, October 25, 2015 8:14 PM | |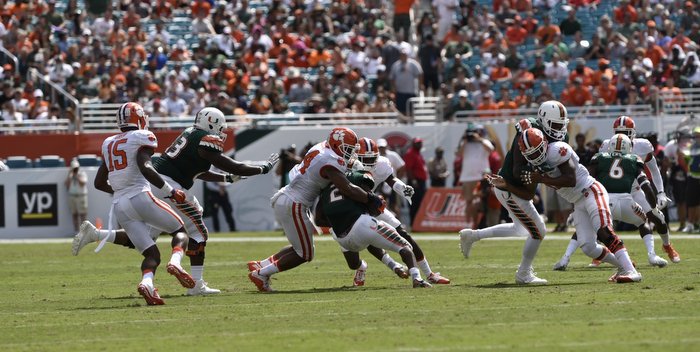 Clemson is desperate for a win.
The Tigers improved to 7-0 (4-0 in the ACC) and moved up to No. 3 in the Associated Press Top 25 following Clemson's 58-0 demolition of Miami Saturday in Miami, and face another road trip when the travel to Raleigh next weekend for a 3:30 p.m. kickoff against the Wolfpack.
Things are going well, but head coach Dabo Swinney told the media Sunday that while he didn't expect his team to win in such dominating fashion, he doesn't expect to play any team more desperate for a win than his Tigers.
"I didn't expect us to go down there and win like we won. I just expected us to win the game," Swinney said on his Sunday evening teleconference. "I didn't see anything in practice that I hadn't seen all year. These guys have prepared well all year. I hope we don't play anyone who's more desperate to win than we are. I can't speak for Miami but I know we wanted to win. Really nothing different than what we did all year."
Swinney said the film was as much fun to watch as the game was in real time.
"Well the film was really good as you guys might imagine. Just a fun tape to grade because it was an outstanding performance. Just a great win," Swinney said. "Just almost a flawless execution. Fun to be a part of a game like that. We played well even when we played a lot of our backups. Seven games in and as we got into the third quarter of our season here, that's what I was hoping for. We put a lot of time into our backups. We had hoped it would show up on the field. A lot of those guys got to play a lot of snaps. To see them perform that way was really encouraging. Just so good for the development of your team.
"We'll quickly move on to the next one. The players of the game were the entire offensive line. No sacks and 416 yards rushing. I don't know if I will be a part of one like that again. We played a ton of people up front, too. Maverick Morris played 41 snaps, Justin Falcinelli played 33 snaps. Taylor Hearn played 43 snaps. Players of the game defensively were the entire defense. To shut out Miami, that is a rare thing. Going into the game that team was leading the league in passing. Every one of those guys did a great job of preparing. Our special teams player of the game was Dorian O'Daniel."
Next up: The Wolfpack.
"N.C. State we know is a tough place to play and they're playing very well," Swinney said. "They're very efficient. We'll turn the page quickly and move on."
"He did. I was very pleased with him. He moved well and made a great play on the sideline over there. He's a big man. To see him move like he did was very encouraging. He felt good about just being able to get back out there and get going. He was sore, but got some good quality snaps. Good to have him back."
Was Kevin Dodd in a walking boot?
"It's plantar fascitis. He was able to come back in and finish the game. We'll manage him throughout the week. Should be ready to go."
Where does Reader fit into the defensive tackle rotation?
"Dan Brooks will handle all that stuff. He's been doing that a long time. We'll go to practice everyday. It all counts with us. We've always had good players there. We're pretty deep there. Rod Byers has played well, too. Jabril Robinson was out this week, but we'll evaluate him tomorrow and Tuesday and see where he is. We'll just go back out and practice. Dan will figure all that out and he does a great job of it."
The balance of the offense
"That's when we are at our best when we have a lot of people touching the ball. We don't have to force things. We can just let the game flow. For us it's the first time for us to throw for 400 yards and run for 400 yards in the same season. That just speaks to our diversity on offense. We want to involve a lot of different guys. We have a complete group and we've been working toward that all year. After seven games this group has demonstrated that they're committed. They're serious about being great. They have great respect for that."
Why didn't Travis Blanks start?
"Just style of play. Really that simple. Started the game in more of a nickel defense. We had Adrian Baker at corner and Mackensie Alexander at nickel."
When did the team buy into "next game is most important of the season?"
"It's been awhile. It's not different than what we've been doing the last five years. This group, they haven't had much adversity. They have had a lot of success and some tough losses along the way, but not many. Those things have helped reinforce that message. They've been so close their whole career here. They've won 11 games twice and then 10 games twice. They know how critical one game is or one play. They just have a sense of urgency that is pretty special. Now, this is a young team. We have 39-40 freshmen. The coaches do a great job and we have a plan in place that we believe in. You need that leadership and we've got that."