| | |
| --- | --- |
| Sunday night update: Winning in all three phases | |
---
| | |
| --- | --- |
| Sunday, October 11, 2015 8:02 PM | |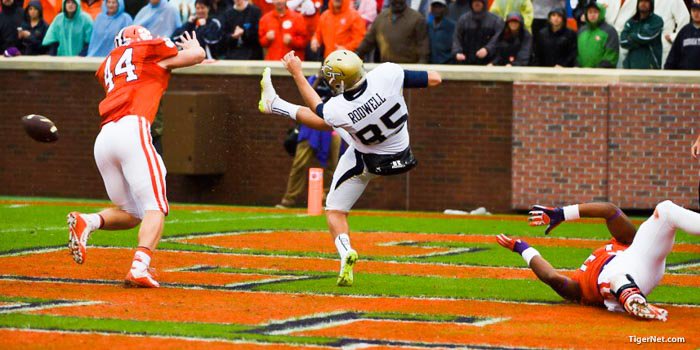 CLEMSON – Clemson beat Georgia Tech in all three phases of the game Saturday, and that makes Dabo Swinney

Dabo Swinney
Head Coach
View Full Profile a happy coach.
The fifth-ranked Tigers walloped Tech 43-24 on another soggy day in Death Valley Saturday, and Swinney said he was happy with the way his team executed.
"Again, just proud of our guys. Not much more to add from last night in that it's always great to win, but when you put all three phases together like we did and really have a dominant performance, those type of games are really fun to be a part of especially against an opponent like Georgia Tech that's a big challenge every single year," Swinney said during his Sunday media conference call. "Just really proud of our guys for getting themselves ready to go and playing for four quarters, which is what we wanted to see was see our team get on top and put them away and we were able to do that."
The Tigers threw for over 300 yards and rushed for 200 yards, and Swinney said he has been more than pleased with the run game.
"A lot of superlatives in the game. Offensively, just really, really pleased with the balance and our ability to run the football," he said. "Four out of five games, 200-plus yards. What we're seeing with Wayne Gallman

Wayne Gallman
RS So. Running Back
#9 6-1, 210
Loganville, GA
View Full Profile , the identity we're creating up front with our offensive line. We averaged right at five yards per carry. This was a game where we really had the opportunity to get the passing game going, and we threw the ball for 336 yards, and the best part about it was the explosiveness that we pride ourselves on was there. We had a ton of big plays. I think we had ten plays of 16 yards or more. I think we had about seven different guys contribute to that, so it was just a really fun game to be a part of offensively. We were in a great rhythm. Third down we were 10-of-16 and only punted the ball three times. When you play Georgia Tech you have to be very efficient with your possessions and we were able to do that."
The offense was also able to produce late in the first half and put together a long drive at the end of the game.
"A couple of things that really stood out - the two-minute drive before the half, those were three big third-down conversions and coming away with the touchdown right there to Leggett with eight seconds was a huge momentum drive in the game," he said. "And then the end of the game we took off eight minutes and 30 seconds on that last drive with Nick Schuessler

Nick Schuessler
RS Jr. Quarterback
#12 6-3, 202
Grayson, GA
View Full Profile . Nick did a great job - 13 plays, we had three third downs we converted and went 94 yards there and took eight minutes and 30 seconds off. Just a complete game all the way through offensively. Still a lot of things we can improve on and get better for sure, but good day."
Swinney also liked what he saw out of a defense that limited Tech's rushing attack to just 71 yards.
"You just can't say enough about the defense. You're playing a team that usually gets 300 yards a game rushing and is usually one of the top five in the nation, and to hold them to 71 yards rushing is incredible," he said. "We held the quarterback to five yards. He is a dynamic player. Our defense was dialed in and played with great precision. That's the lowest amount of errors we've had all year. That's the lowest amount of missed tackles we have had all year. That's one of the keys to beat a team like that, tackling is at a premium and then you can't have a bunch of mental errors. We did a great job. They don't punt the ball and they punted eight times. If you go back and track them, they probably haven't punted eight times in their last five games. It's just a tremendous job by our defense.
"There were some big plays. I thought we handled some adversity in the game - we got the fumble and went out and held them to the field goal. When we had the pick, they went three and out. It's good to see them respond to the adversity that came their way. We had a lot of great efforts by a lot of guys and a lot of tackles for loss. We just dominated the line of scrimmage. I just can't say enough about our guys. Probably, the negatives were the two big busted plays. We had a miscommunication on one. We had our eyes on the wrong things on the first big play. Those are things we can correct, but overall it was just a dominant performance defensively. It was about as good as I've seen."
OTHER NOTES
Special teams and players of the game
"Our special teams once again just showed up big time. Last week we created a fumble on kickoff coverage and this week we got a safety on the punt return. Andy Teasdall

Andy Teasdall
RS Jr. Punter
#32 5-11, 188
Winston-Salem, NC
View Full Profile averaged 45 yards a punt. That's two weeks in a row he's been tremendous. Our kickoff coverage was very, very good. We made a couple of field goals. Seth Ryan

Seth Ryan
RS So. Wide Receiver
#85 5-11, 174
Summit, NJ
View Full Profile did a great job of getting the ball down two weeks in a row in wet weather. So a lot of positives and a lot of things that we can brag on them about for the job that they did, but again, not even close to playing our best football. Hopefully this is one of those games that can kind of get us into a little bit of a rhythm. Our players of the game were Jayron Kearse

Jayron Kearse
Jr. Safety
#1 6-4, 224
Fort Myers, FL
View Full Profile , Ben Boulware

Ben Boulware
Jr. Outside Linebacker
#10 6-0, 241
Anderson, SC
View Full Profile and Dorian O'Daniel

Dorian O'Daniel
RS So. Linebacker
#6 6-2, 219
Olney, MD
View Full Profile defensively. Jordan Leggett

Jordan Leggett
Jr. Tight End
#16 6-5, 252
Navarre, FL
View Full Profile was our offensive player of the game and Seth was our specialist of the game."
Are you asking for more rain for next Saturday?
"I think the bad news is that it's supposed to be sunny on Saturday. I don't know if I'm the only one on the call battling a cold - maybe it's two weeks of standing in the rain for eight hours. I'm just proud of our football team for just showing up, being ready and executing in the elements. That's just part of it, and those are things you don't control, so we don't spend a lot of time worrying about it. Obviously, we had the bad snap with our backup center there late in the game, but the snaps were good, ball-handling was good, we've taken care of the ball. Our center-quarterback exchanges have been good, so that's been good to see especially with the type of weather we've had."
The emergence of Zac Brooks

Zac Brooks
Running Back (2012 - 2015)
#24 6-0, 200
Jonesboro, AR
View Full Profile
"I think he has shown some things over the last couple of weeks. The biggest thing is he has gotten back healthy. He missed just about all of camp and came back right before the first game. He's just been gaining confidence. I think Tony (Elliott) has been gaining confidence in him as well. He got a little bit more action yesterday and did a great job. Right now, he's definitely the first guy in (behind Gallman). It's hard to play five. We have confidence in all of them, but with where we are right now with Wayne, we're kind of feeding him. Zac is the next man up, and we go from there, but all those guys, we feel like can win for us and will win for us before this year is out."
How important was it to play well in all three phases?
"It's not just Notre Dame. It was Louisville, too. We had a 20-10 lead with nine minutes and something to go in the fourth quarter, and the crowd is out of it, and we gave up a kickoff return. One play changes everything, and they got back in it. Same thing last week - we had a 21-3 lead with a great defense and next thing you know, you're fighting for your life. So that was good to see. We had opportunities against Notre Dame in all three phases to put the game away, and nobody did it. That was a big part of what we wanted to improve. We knew we were in control, and we said, 'Let's get in the left lane and let it eat. Let's not let up here. Let's put somebody away.' It doesn't matter where it comes from but we have to take advantage of opportunities and we did that. Every time they would make a little spark play we would answer. That was good to see yesterday."
Third down efficiency is great. How big is that?
"It's huge when you can stop people. When you can keep people out of the end zone, it's a higher percentage of winning. A great defense never goes into a slump. It's always there. If you show up and play great defense, you always have a chance. Offensively you can have some good days and bad days, but if you play great defense, you always have a chance. And we pride ourselves on the type of defense that we play. What y'all are seeing is what we expected as far as the production of our first group. We're still a growing team, and we're still developing other guys. You may not see it on game day just yet, but we see it on the practice field. We're a different makeup on the defensive side, but we're still a really good group and we felt like we would. We'll see how it all plays out."
Can running game and defense carry you?
"I think that just speaks to the core of what we want to be. We want to always run the ball effectively and be a great defense. That is something that was a huge emphasis coming into this year - we wanted to be better and we felt we would be better. It allows you to create explosive plays when you can dictate the run. It allows you to dictate to the opponent. When you're averaging five yards a carry, you're dictating to them. That's one of the key reasons we had so many explosive plays. They took some chances. It's really the first game where we've had opportunities to win a lot of one-on-one coverage. It was good to see a lot of guys make plays and win their matchup. For Deshaun to make some good throws, we had some really good protection. It was great to get a lot of people involved like we want to and do it with the balance that we want."
What is basis of one-game season mentality?
"Yes. That's just a mentality we try to incorporate with all our guys here. Everybody wants to talk about the next game or last week's game. For us, it's just a mentality we subscribe to. We go back and prepare each and every week. It's all hands on board. Everyone puts everything they've got into that game. We just try to do that each and every week. They're all huge. Some games have more juice to them as far the media, but for us coaches and us players we all understand the margin for error is so small. You don't get mulligans. Every week. We can be beaten by anybody. We think we can beat anybody but can be beaten by anybody. We just keep the mentality the same, and we prepare the same. You create the mentality the same. We build consistency in preparation. It's not coach-speak. We try to walk the walk. There is not a bigger game on our schedule than Boston College. All we have to do is try to be better than them this week. That is what our focus is on."
Have you ever been involved in a game where you were this dominant on both lines of scrimmage?
"No. That might be the lowest total ever for Paul Johnson. I just can't overstate that. 71 yards rushing against a triple option team; it's just amazing the way our guys played and handled the line of scrimmage. We leveraged the football. There was just nowhere to go. Our speed showed up. They couldn't run at us and couldn't get around us. They tried everything. When they can't block you, it's hard to be effective. That was the story of the day. We just won in the trenches. And we have all the respect in the world for Georgia Tech. Those guys know what they are doing. The discipline, the precision in execution, the effort, the toughness and the physicality that our defense displayed was a thing of beauty. It was spectacular."
What about Boston College's defense?
"Not real hard to see that they're very good. Just turn the tape on. Our guys know ball, and they know good players. Watch BC, it's the same. Everyone on our team in that game last year, they know we were fortunate to win that game. We made a big play late in that game. And they missed a couple of plays. That game was a tight ballgame. They did some things to our defense not a lot of people did. They're as physical a group as we've seen. They've given up just one offensive touchdown in the ACC. This is a tough, tough challenge for us. It might be 2-0. Who knows? They just played in a 3-0 game. It's a big challenge for both our offense and defense."
Did it feel good to finally address the Clemsoning thing?
"I don't have any more to say about all that stuff. I am not getting into that stuff anymore because it's just ridiculous. We're just going to keep doing what we do and graduate our players. We'll let everybody else push whatever agenda they want."