| | |
| --- | --- |
| Sunday night update: Who will fill the void left by Mike Williams? | |
---
| | |
| --- | --- |
| Sunday, September 6, 2015 7:16 PM | |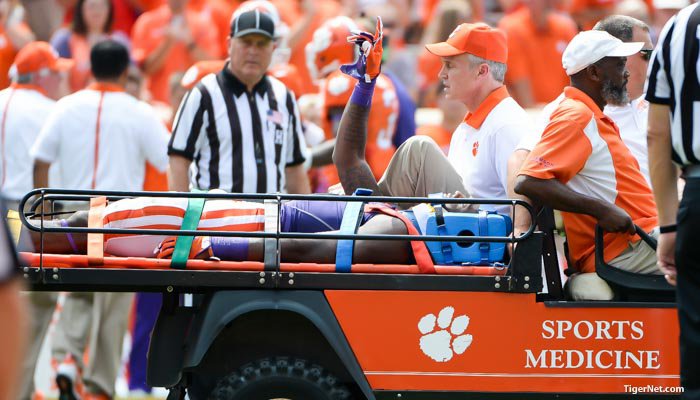 Clemson's season couldn't have gotten off to a better start with a 49-10 win over Wofford, but head coach Dabo Swinney

Dabo Swinney
Head Coach
View Full Profile 's Sunday teleconference was dominated by questions about Mike Williams

Mike Williams
Jr. Wide Receiver
#7 6-4, 213
Vance, SC
View Full Profile ' health.
Swinney started the teleconference by saying that he was pleased with how his team played in Saturday's 49-10 victory over Wofford.
"Just to reiterate, I thought our team was well prepared and played very well," Swinney said Sunday night. "It was a very clean game for the most part. It was something we can build on. The best part was we got a lot of guys some experience, 13 true freshmen and 14 red-shirt freshmen - 27 of our 40 - got in the game. Mark Fields

Mark Fields
Fr. Cornerback
#24 5-10, 191
Cornelius, NC
View Full Profile also is going to play. He'll be another we'll add to that group. Just excited that they got some good experience. In all, we had 77 guys who played. A good day from that regard.
"Offensively we did a lot of good things. Our offensive line didn't give up any tackles for loss or sacks. -Just a really nice job up front. Deshaun Watson

Deshaun Watson
So. Quarterback
#4 6-2, 207
Gainesville, GA
View Full Profile played very well. Nick Schuessler

Nick Schuessler
RS Jr. Quarterback
#12 6-3, 202
Grayson, GA
View Full Profile had his first significant action. A couple of mistakes but did some good things. It was good to get Kelly Bryant

Kelly Bryant
Fr. Quarterback
#2 6-4, 213
Calhoun Falls, SC
View Full Profile some snaps. He's just going to get better. To me, the story was our offensive line. Great play up front. This will be a fun group to be around."
Injury wise, the Tigers are relatively healthy except for Mike Williams, who will miss significant time after injuring his neck when we hit the padded part of the goal post.
"Injuries, the only one with anything significant was Mike Williams. We got the MRI back, and they're saying that he has a small fracture in his neck area, and he's doing great. He's walking around and has great movement. He'll be going to class tomorrow. Anytime you have an injury in that area, it's a real serious thing. I can't say enough good things about our medical staff. Mike wanted to get up and walk off the field, but our staff did a good job of being cautious. It's going to heal up nice. We're just lucky it wasn't worse. He'll have an opportunity to play football again. When that is, I have no idea. In about six weeks or so, they'll look at it. He could be out all year. I have no idea. The main thing is that he is okay."
For Williams, keeping his neck in a brace is the only thing that can be done to heal a fractured neck.
"You don't do anything. He's just wearing a brace," he said. "That's all he can do. It's an area that should heal up nicely. Everybody is confident about everything the doctors have said. He didn't sleep well last night getting used to the brace. But he will. He'll be in class tomorrow."
With Williams out for at least six weeks, Swinney said that he will turn to several of the younger players to fill the void.
"We're fortunate that we have good depth there, "Swinney said. "It's hard to replace Mike. He just understands the nuances of the position and the offense. He's so crafty. We can replace talent for talent, but experience is hard to replace. We cross-train a lot of those guys. Charone Peake

Charone Peake
Gr. Wide Receiver
#19 6-2, 214
Moore, SC
View Full Profile has worked a ton over there. He'll continue to work there. Trevion Thompson

Trevion Thompson
RS Fr. Wide Receiver
#1 6-2, 193
Durham, NC
View Full Profile had an excellent camp. It was his first time playing yesterday. Same thing with Deon Cain

Deon Cain
Fr. Wide Receiver
#8 6-1, 197
Tampa, FL
View Full Profile . So we've got some options as far as where we put those guys. Talent-wise, we're in good shape, but it does hurt us when we lose an experienced guy like Mike."
Ryan Norton

Ryan Norton
RS Sr. Offensive Line
#58 6-3, 284
Simpsonville, SC
View Full Profile went out with an apparent knee injury, but Swinney said Clemson's starting center should be fine.
"Norton will be fine. We might hold him out tomorrow (Monday), but he should be back Tuesday."
Other notes
Players of the game
"Deshaun Watson and T.J. Green

T.J. Green
Jr. Safety
#15 6-3, 203
Sylacauga, AL
View Full Profile and Artavis Scott

Artavis Scott
So. Wide Receiver
#3 5-10, 191
Oldsmar, FL
View Full Profile for special teams. Artavis had a big punt return and a huge kickoff return. We were pleased with all of those guys. T.J. led us in tackles and production there."
Grading Mitch Hyatt

Mitch Hyatt
Fr. Offensive Line
#75 6-6, 285
Sugar Hill, GA
View Full Profile
"Really pleased with him. He had a couple of over-steps where he had a guy underneath him. He doesn't make mental errors. He plays the game like it should be played. He graded at 92 percent in his first ever college game in 49 plays. He had a couple of knockdowns. He's a really good player. He's just scraping the surface as he continues to get bigger, stronger and [more] experienced. We're pretty excited about him."
The Tampa Trio
"Not just Deon Cain and Ray-Ray McCloud

Ray-Ray McCloud
Fr. Wide Receiver
#34 5-9, 181
Land O' Lakes, FL
View Full Profile , but Jake Fruhmorgen

Jake Fruhmorgen
Fr. Offensive Line
#63 6-5, 282
Tampa, FL
View Full Profile as well. All three of those guys did well. Jake did some good things we were pleased with. He had some freshmen issues as well. Good experience for him. Ray-Ray graded just tremendous. We didn't have anyone grade higher. He was at ease. He was productive and fast. He's going to be a special player. Deon played really fast. Now he jumped off sides twice. Just a couple of things we can fix with him. He was a little loose with the ball once or twice. He had a chance to make a play down the field he's definitely capable of making. Both will continue to get better."
Early look at Appalachian State
"We did some preseason study on those guys. I watched some of their game against Howard last night, live. They have a million starters back, a bunch of experience. This will be a whole different animal for us this week. It'll be a tough challenge for us. They are playing with a lot of confidence and experience. They are athletic and fast. We'll go to work on them tonight. We'll see if we can put a good plan together. They will get our players' attention. They've got good players. They've won some big games. They will have our full attention."

Tags:
Mike Williams
,
Ryan Norton
,
Charone Peake
,
Nick Schuessler
,
T.J. Green
,
Deshaun Watson
,
Trevion Thompson
,
Artavis Scott
,
Kelly Bryant
,
Mark Fields
,
Mitch Hyatt
,
Ray-Ray McCloud
,
Deon Cain
,
Jake Fruhmorgen