| | |
| --- | --- |
| Sunday night update: Tigers use off week to improve special teams | |
---
| | |
| --- | --- |
| Sunday, September 27, 2015 7:23 PM | |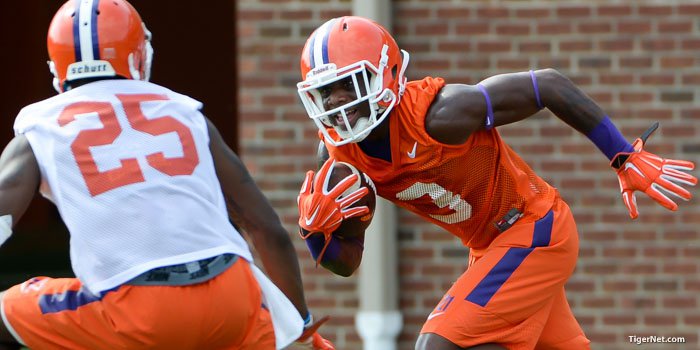 CLEMSON – Clemson head coach Dabo Swinney

Dabo Swinney
Head Coach
View Full Profile will be glad to get back into a normal football week routine this week.
The Tigers have had the past two Saturdays off after beating Louisville on Sept. 17th, and No. 11 Clemson will host No. 6 Notre Dame this Saturday at 8 p.m. in Death Valley.
Swinney addressed members of the media Sunday evening, and he said the coaches have used the extra time to make improvements across the board.
"We've had a good week. It's been a little unique for us. I don't ever recall having two Saturdays in a row where we have not played playing in the Thursday night game and then the open date afterward," Swinney said. "We have gotten some work done, and we've tried to improve our team and getting to work on Notre Dame. Players were off Friday through today but we'll get back to work tomorrow. What a great college football game that we have the privilege of being a part of this weekend with Notre Dame and GameDay coming to town and all that stuff. We're going to have to easily play our best game to have a chance. This is an outstanding football team. There aren't a lot of weaknesses with them. They are talented all across the board but we look forward to the challenge. It's been a long time since Notre Dame has been here. I know our folks here will be excited about hosting them."
Clemson's kickoff coverage teams have been less than stellar – Louisville returned a kick 100 yards for a touchdown – and Swinney said the Tigers have worked on making improvements in the kicking game.
"Our biggest issue is kickoff coverage. We spent a lot of time on kickoff coverage. We've gone back and coached some things where we had poor fundamentals," he said. "We've spent a little bit every day working on that. We had a couple of changes personnel-wise. The biggest thing is doing a better job with discipline and execution. A lot of people don't think much about special teams until you have one bad play. Kickoff coverage is certainly an area where we have to improve."
Kicker Ammon Lakip

Ammon Lakip
RS Sr. Punter / Kicker
#36 5-11, 200
Alpharetta, GA
View Full Profile was suspended for the season's first three games but has a chance to make an impact on kickoffs.
"Yes, he's back with us and back rolling. We'll make that decision later this week (on kickoffs). We think he will have an opportunity there, and he did a good job this past week. We've got another week of practice before we have to make that decision," Swinney said.
Swinney was asked if the extra time off would help fuel his team's desire, and he said no.
"Nah, they will be excited to play. My preference is to keep playing. I like to keep playing every week," he said. "Everyone has open dates, though. We try to use that time wisely. Shoot, our guys will be excited to get back to action. They're all huge. This game isn't any more important than Wofford or App State or Louisville. Just because it is Notre Dame doesn't make it any bigger. For us, they're all huge. Each game is kind of a season of its own. One thing I will say, our guys have shown up ready each and every week."
Other notes
Injuries
"Jake (Fruhmorgen) for sure (will be back at practice). I feel decent about Dane (Rogers). I don't want to speak before I know for sure. I'm hopeful Dane will be better and able to do more tomorrow. (Chris) Register is probably not quite ready to play, though he is improving."
His thoughts on GameDay
"As a competitor, as a player and coach you want to have the opportunity to compete on the highest level. I know I do. Players do. Any time you get an opportunity to do this and GameDay chooses to come to your place, that's huge. It's a huge positive. I don't see a negative. I think it's great. It's great exposure for our university and our program. People want an opportunity to play in games like this. You're talking about Notre Dame, too. It's the winningest program in the history of football. It's just an awesome opportunity. They're all big. Some games bring some extra pizzaz with them, and there are some outside things that come along with it. Certainly this game brings that. But yes, we'll embrace it and get ready to go play."
Progession of young receivers
"We haven't had much vertical opportunities yet. We've taken a couple of shots that were there to take. Most everybody has played on top of us so far. We've taken what is there. That's why I was so pleased with the Louisville game. We had to be patient and run the ball. We are confident in our receivers. But starting with Notre Dame people will come up and press us. We are confident in our receivers. It's an outstanding group. We feel good about those guys. They're all improving. We're confident in Trevion Thompson

Trevion Thompson
RS Fr. Wide Receiver
#1 6-2, 193
Durham, NC
View Full Profile , Deon Cain

Deon Cain
Fr. Wide Receiver
#8 6-1, 197
Tampa, FL
View Full Profile , Ray-Ray McCloud

Ray-Ray McCloud
Fr. Wide Receiver
#34 5-9, 181
Land O' Lakes, FL
View Full Profile and Hunter Renfrow

Hunter Renfrow
RS Fr. Wide Receiver
#13 5-10, 176
Myrtle Beach, SC
View Full Profile . Those four young guys are playing and they're just going to get better. Artavis Scott

Artavis Scott
So. Wide Receiver
#3 5-10, 191
Oldsmar, FL
View Full Profile and Charone Peake

Charone Peake
Gr. Wide Receiver
#19 6-2, 214
Moore, SC
View Full Profile , we feel, are two guys that are leading that group and they're all going to have plenty of opportunities as we move forward."
Will we see more of Trevion Thompson and Deon Cain?
"You'll continue to see them. There is no doubt about that. We are not disappointed in anybody. Charone has done a great job. He hasn't really had a whole lot of opportunities. We're just going to keep going like we are right now. Those guys will continue to get opportunities, and they have to take advantage of them. In the fourth quarter up there it was good to see Deon make some plays and Ray-Ray has been very consistent, as have those other guys."
How close is Kelly Bryant

Kelly Bryant
Fr. Quarterback
#2 6-4, 213
Calhoun Falls, SC
View Full Profile to moving into backup QB spot
"He's improving. The biggest thing is that he's had a chance to play some. You can go back and evaluate off of some game footage as well. Nick Schuessler

Nick Schuessler
RS Jr. Quarterback
#12 6-3, 202
Grayson, GA
View Full Profile is still our second team guy. Kelly has improved a ton. He's just going to continue to get better each day. He's got a ton of potential. We are still where we were and if something happened to Deshaun, Nick would be the first one off the bench."
Message to the team this week
"It won't be any different. It'll be the same as it was for Wofford and App State. We won't practice differently. We have a formula that we apply each and every week. You do speak to the things that can be distractions. There are always distractions. There is always more media. We'll definitely address that stuff."
Reasons for success in Death Valley?
"We've just tried to build a culture that eliminates all that stuff people like to talk about. We were 1-8 on Thursday nights, now we're 5-1. It was always that, that record, this and that. We tried to eliminate that stuff from the equation. Let's be dialed in and be prepared with purpose and commitment. It starts with winning at home. Our guys take great pride in that. Death Valley has become a very difficult place for people to win. Our guys have played a lot of great teams and have done a great job of being consistent week in and week out. It's not just on the field. It's 120 seniors and 114 graduates. It's about consistently being focused on the right things. We've had failures, but it hasn't caused our teams to lose focus. I think it goes back to consistency in how we do things. We celebrate wins, and we learn from losses and then the season starts again. It's the same mentality every week. It's one bite at a time. You can't win a title or lose a title in one game. You have to put everything you've got into preparation every week. Let's know our plan and execute our plan, then we will live with whatever result we get. All that other stuff has nothing to do with the game."
Clemson's corners vs. Notre Dame receivers
"Will Fuller is probably as good as we're going to see all year. He's explosive and has a presence to him. We feel good about our secondary. It's a great matchup. But they're elite. They've got playmakers all over the field. Their backs are outstanding. It's a big challenge."
What stands out about Notre Dame QB Deshone Kizer?
"Just poise. Just an ice water in his veins kind of guy. You are talking about a guy that strolls out there at Virginia and boom and next thing you know he's throwing a game-winning touchdown pass like it ain't nothing. Just never flinched. You can tell the young man was very well prepared and ready for his opportunity. Since that game, you look at the past two games they haven't missed a beat. I mean he is an outstanding player. He can run. He can beat you with his legs He is a big strong guy that break tackles and make a lot of great throws. Biggest thing to me is just his presence and poise. Really not an overwelled guy at all, very confident."