| | |
| --- | --- |
| Sunday night update: Tigers getting healthy in time for Gamecocks | |
---
| | |
| --- | --- |
| Sunday, November 22, 2015, 7:24 PM | |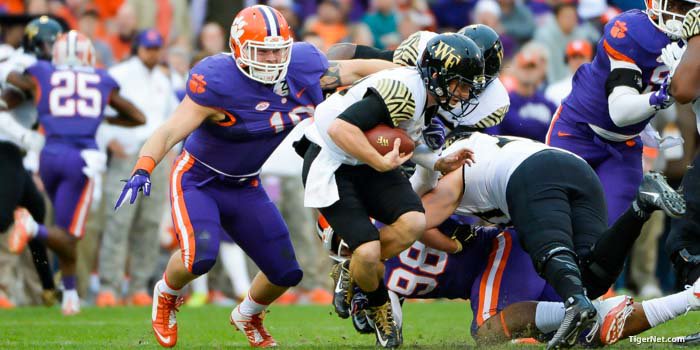 It should be all hands on deck for the rivalry game against South Carolina.
Several Clemson starters missed Saturday's 33-13 victory over Wake Forest, including running back Wayne Gallman, right guard Tyrone Crowder, right tackle Joe Gore and cornerback Mackensie Alexander. Linebacker Ben Boulware left early in the game after suffering a stinger in his shoulder, but head coach Dabo Swinney told the media Sunday evening that the Tigers should be close to full strength for Saturday's noon kickoff at South Carolina.
"Injury wise, Ben (Boulware) is going to be okay. He had a stinger. He looked a little better today, so he should be fine, and the same with all of the rest of the guys," Swinney said. "We had a couple of guys get some nicks and bruises, but nothing that will keep anybody out of practice or the game. Hopefully, we'll get [Jeff] Gibson and Kendall Joseph back, and we'll definitely get Wayne Gallman and Mackensie Alexander back."
More will be known about Crowder and wide receiver Ray-Ray McCloud once the team practices Monday.
"They're better. We'll know more tomorrow. Those guys progressed very well," Swinney said. "I haven't seen them today, but we'll get them back out on the field tomorrow and see where they are. I think Crowder should definitely be a go. I need to see Ray-Ray cut and do some more things tomorrow before I can answer that fully. He really improved a whole bunch as the week went on last week, but he's still not for sure."
Swinney said he was pleased with the win over Wake and that it's hard to believe the season is coming to an end.
"Just hard to believe that it's our 12th game, and we're done with all of our home games. I'm really proud of our team for being undefeated at home and 8-0 in the ACC," Swinney said. "It's exciting to be 11-0 right now. It's been a goal of ours every year to win them all, and so far we've been able to get that done. I'm proud of our team for competing the way they compete. It's really difficult to win each and every week. Other teams have good players and good coaches. I'm proud of these guys for continuing to find ways to win ballgames. There were a lot of good things in the ballgame. Offensively, a lot of guys touched the ball and had some big plays in the game.
"Deshaun Watson was right at 70-percent again with three touchdowns. He threw some really nice deep balls. I thought our two-minute drill right before the half was very well executed. We did a good job in our third-and-long. I was disappointed in our turnovers. We gave Wake Forest a couple of short fields, and that was disappointing. We had a couple of mental errors that we have to get cleaned up, but a lot of yards. That team held Notre Dame to about 280 last week for and for us to put up 555 yards. We didn't come away with as many points as we wanted to, but we had two drives that started on the minus-one where we moved the ball a long way. Then we had some penalties, a couple of tackles for loss, had some turnovers and things that didn't help us. I'm pleased with how we moved the football. We got to play a lot of guys, and that's going to help us down the stretch."
Clemson held Wake Forest under 200 yards of total offense, and Swinney said it was good to see the defense return to form.
"Defensively, just good to see us get back to who we are. We looked like the fifth (ranked) total defense in the country out there playing," he said. "We stopped the run. When we can take the run away from people, it makes it a long day. I'm really proud of our guys for how they competed. We were sound and disciplined. We had ten three-and-outs, 12 tackles for loss, and five sacks. Same thing, one of the things I was really pleased with is that we played a lot of guys and as we got other guys in the game they continued to really play well, and that was really good to see. A guy like Jalen Williams, for example, he really did a nice job for us.
Overall, a good, solid win. I'm pleased with where we are as a team. We want to sprint through the finish line. We've still got a lot of work to do. Obviously, South Carolina is a huge game for everybody involved. We look forward to putting a good game together and going to compete against those guys. Our players of the game were Germone Hopper (offense), Kevin Dodd (defense) and Dorian O'Daniel on special teams. We'll quickly turn the page and move on and get ready for this next one."
Clemson broke South Carolina's five-game winning streak in the series last November, and Swinney said the program kept pointed in the right direction by focusing on the big picture.
"I don't have any thoughts other than you keep working. You keep your head down, and you keep plugging along and focus on the things you can control and don't let one game define you. That's what we've done as a program," he said. "The teams we lost to against South Carolina were really good teams that a lot of people lost to. They had a nice run, and I think sometimes those things are kind of cyclical. We're just trying to be the best that we can be at Clemson. It's a game that we haven't done very well in the past few years. It was good last year to be able to get back on top, but that was last year. It's all about this game and these four quarters. Everybody will forget about last year real quick, and they'll forget about last week real quick if you don't play well this week. That's our mentality that we have each and every week, not just playing South Carolina. We want to put our best foot forward every game. We're just focused on trying to be the best we can be at Clemson."
Swinney was asked if the older players might dislike South Carolina more because of the five-peat, and he said he didn't know how the freshmen and sophomores feel about the in-state rival.
"I don't really know. We haven't really talked about South Carolina, to be honest with you. We'll get the team in here tomorrow," he said. "All I know is that those older guys certainly understand that it was something we needed to get corrected and get changed. That senior class last year was pretty special because they got us back on the right track and the right side of things. We want all of these guys to leave here with winning records against their in-state rival and against all of their opponents. You've just got to prepare each and every week. We won last year because we had a great plan and we executed our plan. We played with great effort, toughness and took care of the ball. We found a way to win the game. That's all we need to focus on, not anything about the past or anything like that. It has nothing to do with this game. We have a lot of guys who haven't been here. All of our sophomores are 1-0, and hopefully when they leave here, they'll still be on that side of things."
Deshaun Watson was a big part of the win over South Carolina last season, and Swinney was asked if the coaches are thinking about Watson making a run for the Heisman Trophy.
"No. We're just playing the game. I don't know what else you can do statistic-wise," he said. "He was 24-of-35 and three touchdowns. He's statistically as good as anybody out there. We're 11-0, and we've had the type of the year that we're one of the few teams out there in the top 15 both offensively and defensively. One of the big reasons why on offense is because of our quarterback. He's, I think, the best in the country. You just sit down and look at the opponents that we've played and the consistency he's performed with has been pretty remarkable. We don't think about any of that stuff. We just play the game and react to whatever is going on in the game. We're just trying to have the best season we can have."

Tags:
Joe Gore
,
Kevin Dodd
,
Germone Hopper
,
Wayne Gallman
,
Ben Boulware
,
Tyrone Crowder
,
Mackensie Alexander
,
Dorian O'Daniel
,
Deshaun Watson
,
Kendall Joseph
,
Jalen Williams
,
Ray-Ray McCloud