| | |
| --- | --- |
| Sunday night update: Swinney talks palm trees, FSU and South Carolina | |
---
| | |
| --- | --- |
| Sunday, December 27, 2015 8:38 PM | |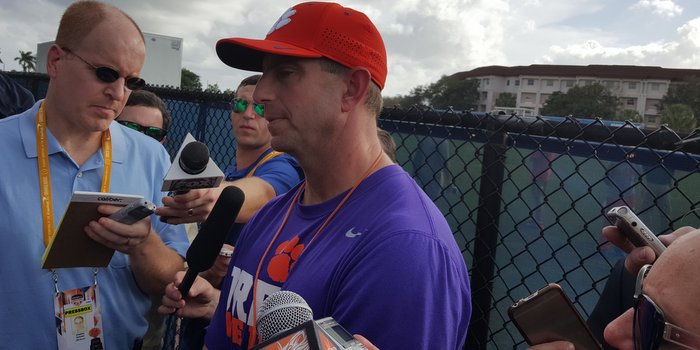 FT LAUDERDALE. FL – It's all about the palm trees and the push of a rival.
The Clemson football team practiced for two hours at Nova Southeastern University Sunday, the first practice in Florida as the nation's number one ranked team prepares to take on fourth-ranked Oklahoma in Thursday's Orange Bowl.
The practice field at Nova is ringed by palm trees, and head coach Dabo Swinney took notice of the tropical climate.
"It's always a good thing when you go to your bowl game and see palm trees," Swinney said after the two hour practice. "Today was a good day, we had a little rain to start it, but it cleared out. A really good "Tuesday Tight" practice for us. Last day in full pads, we'll be in shells tomorrow and start getting more dialed in each day."
Swinney said he feels like his team is focused in the days leading up to the College Football Playoff Semifinal.
"I'm really glad we practiced yesterday at Clemson, which really set the tempo for today," he said. "Today was good, at this point it's all about execution and details of the plan and the guys just getting themselves physically and mentally ready."
This is Clemson's third trip to the Orange Bowl since 2011 and Swinney said this one doesn't feel any different than the first two – he still wants to win. He also wants to make sure there will be extra tickets printed out for the Tigers – for a game in early January in Arizona.
"I mean you always want to win your games, we were in the Russell (Athletic) Bowl last year and heck, we wanted to win," he said. "The players don't care regardless of what the outside world looks at it as, we want to win. This is an opportunity to play in January, but the players have to earn it. 2015 is going to come to end on the 31st regardless of whether we win or lose, we want to make them print one more ticket to see the Tigers play."
Swinney was asked if having a rival like South Carolina has helped build his program – and push to make it better – and he said he looked at Florida St. as more of a driving force as well as the big-time teams Clemson has played in bowl games in recent years.
"We have a Top 10 rival in our division. We were trying to win our conference," Swinney said. "When you have a big-time rival in your state, that's certainly a part of your competitive nature and building your program. But heck, you've got to go undefeated to win your division. It's a really tough division we're in. We've been 7-1 and 7-1 two years in a row and couldn't even win our division. We had to go undefeated this year to get it done. We've had our hands full within our league, and certainly that's kind of a season of its own when we play South Carolina.
"They didn't have a great year this year, but they've been a great team for several years. But I think the league we play in and the competition we face - and we go out of conference for the in-state rival - but we've played three College Football Playoff kinds of games in a row. We played Oklahoma last year. Ohio St. won it last year and we beat them. LSU. Our guys understand. But all of those things are critical as you build your program. It's about being consistent in your league but when you step out of your league trying to win your fair share of those games, too."
Other notes
On the health of Artavis Scott
"He looks great. He looks really good. To be honest with you, he played really well and he had to play with a little bit of pain. Now he's not having to do that, he is just playing free and clear. He made some huge plays with the three or so games he played with that meniscus. But he looks great and feels great and that's huge because we need everybody right now."