| | |
| --- | --- |
| Sunday night update: Crazy year continues with Seminoles on deck | |
---
| | |
| --- | --- |
| Sunday, November 1, 2015 8:05 PM | |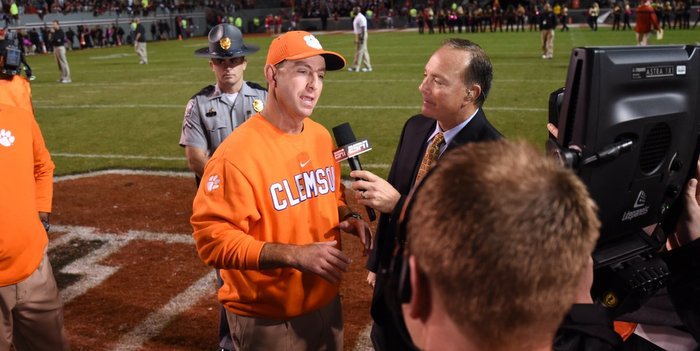 A crazy year is about to get a little crazier.
Clemson defeated NC State 56-41 Saturday in Raleigh, improving to 8-0 on the season with a 5-0 record in the ACC. Next up is a showdown with Florida St. with the winner boasting the inside track to the ACC Atlantic Division title and a berth in the ACC Championship Game.
The Tigers have proven they can win with defense, by running the football or through the air and head coach Dabo Swinney told the media Sunday evening that a crazy year has helped mold his program into a contender.
"It has been a crazy year. All those things are good. We've had a little bit of everything. At the beginning of the year the media was like we aren't passing a lot," Swinney said on his Sunday afternoon teleconference. "I was like there isn't anything wrong with the passing game. We were also rushing for 200 yards then. The confidence we have been able to build with our offensive front, running the ball, has helped us a lot. None of us were worried about the passing game. Instead of trying to please people with stats, we've always taken what's there.
"We've created great balance and confidence and the mentality we wanted, especially up front. If you're going to have a great year, you have to win all kind of ways. It won't always be the same recipe each and every week. These are young people. The other team has good players and good coaches, too. They have a will to win just like we do. For our guys to keep finding a way to win every week is a beautiful thing. It's come in a lot of different ways. We only need to win by one more than the opponent."
Swinney said the Tigers don't have to be reminded that the last time the Seminoles came to town against an undefeated Clemson team his team was on the wrong end of a 51-14 score.
'You don't have to bring that up. A lot of those guys were part of that. You remember every loss, I promise you," he said. "That's what we remember most anyway, which is sad. The one they will remember the most is last year where we had about five different opportunities to win the game and didn't finish."
He then said it helps to have Deshaun Watson calling the signals for the Tigers and that Watson won't treat next week's game any different than he did the contest in Raleigh.
"I think he has a flair for playing the game. They're all huge games for us and for him. He has pride in his performance whether it's Wofford or Florida St.,' Swinney said. "He has been very consistent. Some games we've had to have more out of him than others. Last night with the type of balance we needed to have, he was there. He's a young player, still. I promise you, he won't prepare any different this week than he did last week before N.C. State."
On the opposing sideline, it isn't known if Everett Golson or Sean Maguire will be taking the snaps for the Seminoles. Swinney said it doesn't matter.
"It's nothing we haven't seen. We've had to prepare for two in the game at the same time," Swinney said. "We saw that against Louisville. We've had to deal with that before. FSU will do what they do regardless of who the quarterback is. Maguire has already beat us once. They're not going to run a different offense like the situation we had with Louisville. That was different because the plan of attack was different when they switched up quarterbacks."
Other notes
Players of the Game
Deshaun Watson was the offensive player of the week, B.J. Goodson was the defensive player of the week and Hunter Renfrow was the special teams player of the week.
Wayne Gallman fumble a teaching moment?
"That's exactly what I told him. I said, 'Listen it's the first time you put the ball on the ground. You're a young player here, and let's take a deep breath and let's think about this. I love your effort and your fight. Let's get down right there. We got the first down. Let's get to the next play.' He was fighting and scratching and clawing. He's been a workhorse and has done a great job of taking care of the football for us. That's exactly what I told him."
The emergence of Hunter Renfrow
"Danny Pearman did a great job of recruiting him. I've known his dad for a long time. When I was an assistant here, I had Horry County. His dad was a coach down there at Socastee. I've known his family for a long time. They're Clemson people. I think that was his dream - to come to Clemson. He was only about 155 pounds and was playing quarterback. Danny kept on bringing him up to us. He did a great job of selling him on playing here. Hey, give it a shot here. We brought him in on an official visit. We recruited him as if he were a scholarship guy but did not promise him anything. He had a lot of work to do. He hadn't played receiver. He went to the Shrine Bowl and played receiver.
"He had some Division I offers. It was just his goal to come here. He had some academic money. He's a great student. Once he got here, we quickly realized wow, this guy has quite a skill set. We just have to help him and develop him. Joey Batson has done a great job with Hunter. He has put on 20 pounds since he got here. He put the work in. He knew what his skill level was. He was confident he could compete. This spring he started separating a little bit and got into our two-deep.
"When he got into fall camp, we talked about him all the time. Y'all felt like we were blowing smoke, I guess. What you're seeing in games is what we were seeing in practice. He can fly. He is a gifted player. He's a legit 4.4 guy. His gift is his lateral quickness and it's his ability to stick his foot in the ground and pivot. He has become an excellent route runner. He's also our backup punter. He can punt the ball. He's a great athlete. He has a humble spirit to him. You will get everything he's got every week. He's earned everything he's got. That's why he is starting for us."
Did NC State assistant coach Des Kitchings apologize?
"Yes. He apologized. I talked to the assistant coach and to Dave Doeren. Dave will handle his staff. They took ownership of it. Everyone recognized that can't happen. They handled that the right way. He just kind of got caught up in the moment right there. I have great respect for Dave Doeren and how he's managing his program. He'll handle that the right way. Both of them called me personally when I got on the bus. Let's move on."
Do you worry about the coverage issues at linebacker?
"No. I'm just worrying about getting a plan together. We'll play better. Ben Boulware didn't have his best game and B.J. was player of the game. Ben works his butt off. He just didn't have a good night by his standard. We'll play better this week."