| | |
| --- | --- |
| Sunday night film review: Choice out for year, Dye close to ready | |
---
| | |
| --- | --- |
| Sunday, October 19, 2014 7:20 PM | |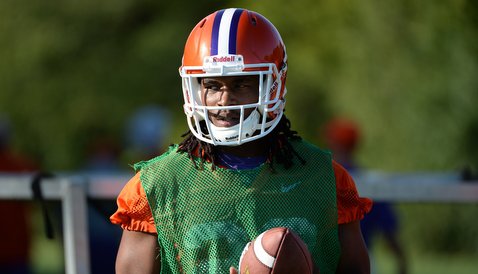 The injury news coming out of Clemson after Saturday's 17-13 victory over Boston College wasn't good, but there was a silver lining.
Clemson will lose freshman running back and leading rusher Adam Choice

Adam Choice
Fr. Running Back
#26 5-10, 211
Thomasville, GA
View Full Profile to a torn ACL that he suffered when he lined up in the wildcat formation early in the game, and tight end Jordan Leggett

Jordan Leggett
So. Tight End
#16 6-5, 251
Navarre, FL
View Full Profile for several weeks after he suffered a torn meniscus in the win over the Eagles.
"It was a physical game, as expected and had some guys get banged up," Swinney said during his Sunday teleconference. "Injury-wise, the only two guys who are out are Jordan Leggett and Adam Choice. We got some good news on him (Leggett) It was a torn meniscus and kind of sprained his MCL. We were afraid it was an ACL, but it wasn't. We will scope him tomorrow and he will be out a few weeks. Really fortunate with him. Unfortunately, bad news on Adam. It does look like he tore his ACL. That is a tough loss for us. He was really coming along and getting ready to hit his stride. We'll let him sit for a week or two and then we'll repair his ACL. Obviously he will be out for the year. That's a big loss for us. Joe Gore

Joe Gore
RS Jr. Offensive Tackle
#73 6-5, 283
Lake Waccamaw, NC
View Full Profile was ready to go this week but we just didn't play him. He's back and ready to go. Robert Smith

Robert Smith
Sr. Safety
#27 5-11, 211
St. George, SC
View Full Profile will be okay."
On a positive note, running back Tyshon Dye

Tyshon Dye
RS Fr. Running Back
#23 5-11, 214
Elberton, GA
View Full Profile will be able to practice at full speed for the first time in over year after suffering a back injury during his freshman season and a torn Achilles tendon during January's mat drills.
"It's fortunate for us that Tyshon is working his way back," Swinney said. "He looked good in practice last week. We limited him last week. This week we're going to cut him loose. He's going to rep. With Adam down, he'll take those reps. That is a positive that we have a guy like him that is close to being able to play. I just hate it for Adam. He was just starting to hit his stride. He'll bounce back. It's a big loss for us - him and Zac Brooks

Zac Brooks
Jr. Running Back
#24 6-1, 199
Jonesboro, AR
View Full Profile . We've got enough, though, to get it done. If we get Tyshon back, that'll help us tremendously."
Swinney said that Dye could even see playing time as early as Saturday's game against Syracuse.
"I have to watch him this week in practice. I guess anything is possible," he said. "Ask me on Wednesday. I don't know until I see him go and get all the work like we're going to put him through and see how he responds. He's cleared from a doctor's standpoint to be back in practice. And then the mental side of it, too. Is he mentally ready to go, too? We have to evaluate all that. We're just glad that he is where he is right now."
Other notes
Players of the game
"Players of the game, Bradley Pinion

Bradley Pinion
Jr. Punter
#92 6-6, 230
Concord, NC
View Full Profile on special teams, Mike Williams

Mike Williams
So. Wide Receiver
#7 6-5, 208
Vance, SC
View Full Profile on offense, Stephone Anthony

Stephone Anthony
Sr. Linebacker
#42 6-2, 244
Polkton, NC
View Full Profile and Grady Jarrett

Grady Jarrett
Sr. Defensive Tackle
#50 6-1, 290
Conyers, GA
View Full Profile on defense."
On winning close games
"There's no question. We'd all love to win by 20 or 30 points every week, but that's not reality. Everyone's got good players in this league. You have to go compete every week. At the end of the day, you have to win close games. That's become an identity for our senior group. They're 8-1 in games decided by a touchdown or less. That's not the case at a lot of places. I'm proud of that. Our guys have responded. We've got one loss in overtime in Tallahassee in a game where we outplayed the opponent. We had a tough opener in Athens where we didn't take advantage of some opportunities. We've also had two tough fourth quarter wins. These guys deserve the credit. They made the decision to stay positive and focused on what we could control. They wanted to play themselves back into having a great year. It reinforces all the core values that you teach."
On the defensive improvement
"They're playing very well. As I've said all year we'll see where they are at the end of the year. I definitely think they are the most complete in terms of depth, talent and experience. In 2009 and 2010 we were really good on defense, but not as deep with experience. We were very young in 2011. We got better in 2012 and then much improved last year. It's just come together this year. We weren't as good on the back end last year. We've got speed at every position, depth and experience in key spots and then strong up the middle. It's like baseball; if you're strong up the middle, you're going to be good. Still got a ways to go. This bunch wants to be considered the best and they have to go earn that on the field. We've played some good people."
On the offensive pass interference call to end the Notre Dame-Florida State game
"Definite penalty. I thought it was an easy call, a gutsy call. You coach the guy to go pivot into the defender. He really just blocked the guy. I didn't think it was a difficult call at all."