| | |
| --- | --- |
| Sunday Update: It Won't Be Long Now | |
---
| | |
| --- | --- |
| Sunday, January 10, 2016 12:08 PM | |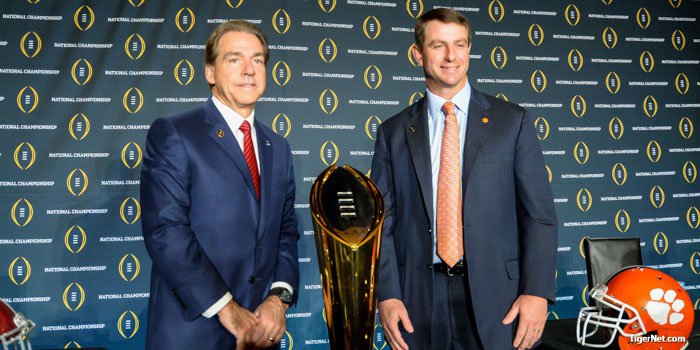 SCOTTSDALE, AZ – It won't be long now.
Clemson head coach Dabo Swinney and Alabama head coach Nick Saban held a final joint press conference early Sunday morning, the day before the two teams clash in Monday's College Football Playoff National Championship.
Clemson is 14-0 and Swinney said he's proud that his players have accepted and overcome all challenges this season.
"I am very proud of our team, to go 14-0 is really difficult to do, and for these guys to rise up and accept every challenge and get themselves ready each and every week is a great compliment to our team," he said. "But same thing to Alabama. For them to win their league and put another year together like they have and their fourth National Championship appearance in seven years, just can't congratulate them enough.
"So we're excited about it. Looking forward to it. You know, it won't be long now."
Swinney then said the Tigers are in good shape considering they've played 11 games since Oct. 3rd.
"Well, I think we're in as good a shape as you can be. I think the schedule has set up well for us," he said. "We finished the season playing 10 in a row, and the last stretch of that was a challenge because this is obviously a physical game, and it's mentally taxing, and the balance of school and all those things, you know, mount up.
"But our guys did as good a job as they could handling that. We had the extra game with the championship game, but I thought we managed things well getting ready for the bowl game. We were able to really get our team physically and mentally and emotionally kind of geared back up, and I think the timing of this has been excellent because it's almost like we've got ready for the opener again. Just had a little more time than you normally do, and this is kind of the next game from a prep standpoint. Had a couple extra days, but I think it's good, good as it can be, but it certainly is a long season, and our guys are ready to go."
Swinney is known for his acronyms – BYOG or Bring Your Own Guts is the main one this season – and he was asked if he has one ready for the championship.
"Well, I've got a few acronyms, but to me that's just something I've done my whole life. When I was in school that was just the way I would learn, kind of help me to bring life to what I was trying to learn at the time, and I love words," he said. "I think that there's power in certain words, and sometimes you can take a word like best, and what does that mean. I mean, and then I'll kind of bring it to life and I'll define it for the team, sometimes with an acronym.
"That's it. I don't have anything new for this one."
The status of junior defensive end Shaq Lawson is in question – he sprained his MCL against Oklahoma in the Orange Bowl – but Swinney said he expects Lawson to play.
"Yeah, we expect him to play. Hopefully he'll be able to perform and play to the level that we all know he can, but you know, if not, I don't think Coach Saban is going to cancel the game over there. We're going to have to keep playing, so we'll put the next guy in there," Swinney said. "So that's just the way it is. But we expect him to play, and he looked good yesterday. But again, until you get out there and you're playing in a game of this magnitude with the intensity and physicality, you never know.
But he's done everything that he needs to do to play the game."
None of Clemson's players have played in a national championship, so Swinney said he is relying on his staff to set the tone heading into Monday night.
"I've got 11 guys on my staff in different capacities that have won National Championships, and I've kind of talked to them and got them all up in front of the team," he said. "You take a guy like Dan Brooks, for example. Dan Brooks has been coaching 42 years, and he's coached at Florida and Tennessee and North Carolina and Clemson. This guy has been at some great programs, and he's got one National Championship. It's really hard to do. And if you look around, I don't know, maybe there's probably only 34 or 35, maybe 36 programs that have ever won a National Championship in the history of college football."
OTHER NOTES
On making an impact on his players
"Oh, that's the best part of coaching is just you love to see guys develop into good players, but the transformation that they make into men, and the understanding of the values that you try to instill in them through your program is special. I always tell these guys, you know, I don't always like them, but I always love them, kind of like my kids. I care more about – I'm going to meet them all when they're 35, Lord willing, and I care more about that meeting when they're 35 than I do how they feel right now, because that to me is the true test of a coach, is when you meet that guy at 30 and 35, does he turn and go the other way, or does he come and hug your neck, when he really knows what life is about and he's got the family and he's had a lot of adversity and he's been out there in the real world and really understands, does he have an appreciation for the things that you tried to teach him in that small span, but such a critical time in all these young peoples' lives. Four or five years is such a moment, it really is a moment, but it's so critical, and I just take a lot of pride in that.
"I want to impact these guys' lives, and I've had so many of them, whether it's a guy like Dwayne Allen, who might be the worst freshman I've ever been around in my life, and he's going to be really mad at me, but he was just awful. And I was an interim when he was redshirt, and then I get the job, and I'm like, you need to leave here because I can't coach you, and you don't want to be coached, and we can't coexist, so you need to go transfer.
"He thought he was going to come in there and say, hey, I'm leaving and this and that and I'm going to beg him. I said, well, listen, Stephanie's office is right down there on the right, she's got your papers ready, and good luck to you. And to see now that he's up for the NFL Man of the Year, you know, and he made a decision. He stayed and he bought in, and he changed.
"He's a great player in the NFL right now, but that's not what it's about. I've had guys that I've had to dismiss from our program that I just got a letter from a young man named Kenneth Page, first year or so in my program, and as a coach you never want to do that. That's like the last thing you want to do, but sometimes that's just the way it is. And sometimes that's the best way you can help them.
I got an unbelievable letter from a guy named Kenneth Page that I had to dismiss, and it wasn't a pleasant ending. But now he's a youth pastor, and he's out impacting the world, and he wanted me to know how that decision made him a better man and what he learned from that.
"So all of those things are important. But ultimately as Coach Saban said, if it's not about relationships, if it's not about building men, then I don't care what your record is on the scoreboard; you lose. That's just what I tell my staff all the time. If they leave our program and all they know is how to sack a quarterback, cover a wideout or run a ball or throw a ball or catch a ball, then we lose, and we've failed at our job. That's just my personal opinion, and that goes back to my experiences with my coaches. I mean, Billy Tohill, my high school coach at Pelham, Alabama, and he was the head coach at TCU at one time, that guy was as tough as they came, and the lessons that I learned from him, the toughness, the belief that he instilled in me as a player, and the same things as I went on to Alabama from Coach Curry and Coach Stallings and Coach McCorvey and on and on and on, my coaches had a huge impact in shaping my life and shaping a path for me and helping me become a good dad and a good husband, and now hopefully a coach who loves his players.
"That's what it's all about to me."
On juniors leaving early for NFL Draft
"There's no doubt, it's a distraction that all of us have to deal with. Obviously it's just two of us left at this point. You get the grades, and some guys, they didn't get the grade that they want, so they're pouting a little bit, and got to pick themselves up. Then you get the guy that gets the grade he wants, so it's just – I echo that 100 percent. It really should be when the season is over, whenever that is, and they should hold those things. But that's the system we're dealing with right now."