| | |
| --- | --- |
| Sunday Night Film Review: Swinney discusses problems in the run game | |
---
| | |
| --- | --- |
| Sunday, September 28, 2014 7:00 PM | |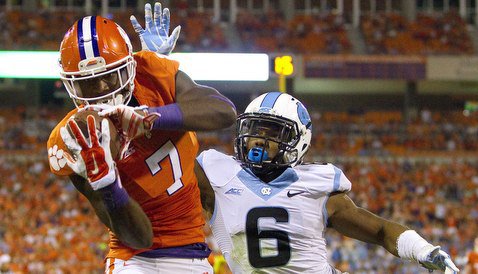 Clemson head coach Dabo Swinney

Dabo Swinney
Head Coach
View Full Profile told members of the media Sunday as part of his weekly teleconference that Clemson's anemic rushing attack in the Tigers' 50-35 win over North Carolina Saturday night in Death Valley was due to a number of factors, but he thought the offensive line played better than he originally thought.
Swinney said the coaches have had the chance to break down the game film of the win, and he said he was proud of the way the team responded after a tough loss on the road at top-ranked Florida St. last week.
"First of all, I'm just proud of our guys. Good win, especially after a tough week," Swinney said. "A lot of good in the game but we still have a lot we have to improve on. We have to put four quarters together. Tremendous defensively in the first half but really disappointing in the second half. We played screens poorly and had a big bust on the goal line and lost our focus. Particularly, we felt our defensive ends played tremendous. Vic Beasley

Vic Beasley
RS Sr. Defensive End
#3 6-2, 236
Adairsville, GA
View Full Profile was outstanding and was our player of the game. We weren't very good on third down. Too many missed tackles."
Swinney said the rushing attack continues to be a concern – the Tigers had 44 rushes for just 92 yards Saturday, a 2.1 yards per carry average.
"Offensively we had some issues in the run game," he said. "We played better in the offensive line once I watched the tape, but a combination of things whether it be the back or tight end or the scheme, and then they were a team that was focused on trying to stop the run and seeing what we could do in the passing game and we were able to take advantage of that. We had a lot of big plays, but a lot of improving we need to do, especially at tight end. That was probably our worst game at the point of attack at that position. We had made some progress there, but took a step back there."
He was asked if he thought they lost patience with the run game, and he said yes.
"We got a little impatient, got away from some things that we should have stuck with," Swinney said. "They did do some gambling on some things. We'll improve there. It's nothing major. It's just some things that we have to get on the same page with. We've got the power blocked perfectly but the back is over the kick-out guy. You have a great play set up but we're too fast at back, and you've got a freshman out there that we have to coach. Or it's as simple a thing as getting the call the right way. We had that a couple of times. Our quarterback had a couple of missed assignments. We're about to score on a 40-something yard run with Deshaun and we jump off-sides. We settled in, though, and put up 50 points."
Senior D.J. Howard

D.J. Howard
RS Sr. Running Back
#22 6-0, 205
Lincoln, AL
View Full Profile got just one carry at Florida St., but led the team in rushes against the Heels, and Swinney was asked about the running back rotation and if he would like to see one player step in and take the role of starter.
"I'd love to but I don't know that we will see that right now. We'll go with the hot hand," he said. "He had a great week of practice. C.J. was limited early in the week. We probably should have played Gallman more. We got a little upset with him. He dropped a pitch. Adam got some good reps, but he took a deep thigh bruise. But yeah, you'd love to see just one guy step up. I don't think that will be the case. I think we will always play two, three or four guys at that position. C.J. ended up coming in and doing some good things and finished the game for us. The biggest thing is getting those two freshmen to where they are fully confident and to where they are not liabilities in the passing game."
A big concern heading into the week was special teams, and Swinney said he was proud of the way the group responded.
"Our special teams made a positive impact in the game because North Carolina is one of the better special teams we've seen," he said. "Really good to see Ammon Lakip

Ammon Lakip
RS Jr. Kicker
#36 5-10, 200
Alpharetta, GA
View Full Profile and Bradley Pinion

Bradley Pinion
Jr. Punter
#92 6-6, 230
Concord, NC
View Full Profile perform like they did. Pinion was just outstanding and was our special teams player of the game."
Next up for the Tigers is North Carolina St., who lost 55-41 to Florida St. on Saturday despite the play of quarterback Jacoby Brissett.
"Glad to get that one behind us. Got a difficult task ahead of us in N.C. State," he said. "The quarterback who has come in there is a really good player. And they're playing very well in their lines."
Other notes
Injuries
"Injury-wise, we came through pretty good. We are very hopeful to get Sam Cooper

Sam Cooper
RS Sr. Tight End
#86 6-6, 250
Brentwood, TN
View Full Profile back this week. He looked good on Friday. We have played four games and have yet to have him available. He is by far our most physical blocker at the position. We'll evaluate Charone and Martin, too. Hopefully some inflammation with Charone will go down."
Is the playbook trending toward the pass?
"It depends on how people play us. Now that we have a guy who has a school-record six touchdowns, we may have to look at that. They did some things; trying to trap corners and they tried to create problems for us. Some of it was schematic that got us in the run game or other issues where maybe a tight end didn't do his job or the back. At the end of the day it's us taking what's there. We can't be stubborn. Hopefully we can become more balanced but we have to react each week."
Centers Ryan Norton

Ryan Norton
RS Jr. Offensive Line
#58 6-3, 292
Simpsonville, SC
View Full Profile and Jay Guillermo

Jay Guillermo
RS So. Center
#57 6-3, 314
Maryville, TN
View Full Profile
"Both of those guys are fully committed. Ryan played well at times. He's not a big, huge guy so he has to do a good job from a leverage standpoint. But you will get everything he's got. Guillermo; he was a little limited during practice and we weren't sure how much we were going to get out of him but he ended up playing about 48 snaps. He's got a bright future and is still improving."
Corey Crawford

Corey Crawford
Sr. Defensive End
#93 6-5, 276
Columbus, GA
View Full Profile and Stephone Anthony

Stephone Anthony
Sr. Linebacker
#42 6-2, 244
Polkton, NC
View Full Profile
"Corey was co-player of the game last week with Stephone. He played very well. He did have the off-side, which hurt us and then on fourth-and-one and had a total mental error and he's dropping into coverage instead of rushing the QB. Other than those two mistakes, he played a heck of a ballgame. Shaq and Tavaris played very well. Corey is playing well. I didn't think Stephone played great against UGA but he's been outstanding in these last two games. They continue to play like that, they have a chance to greatly improve their stock from where it was last year."