| | |
| --- | --- |
| Streeter intrigued by Zerrick Cooper's potential | |
---
| | |
| --- | --- |
| Thursday, February 11, 2016 7:01 AM | |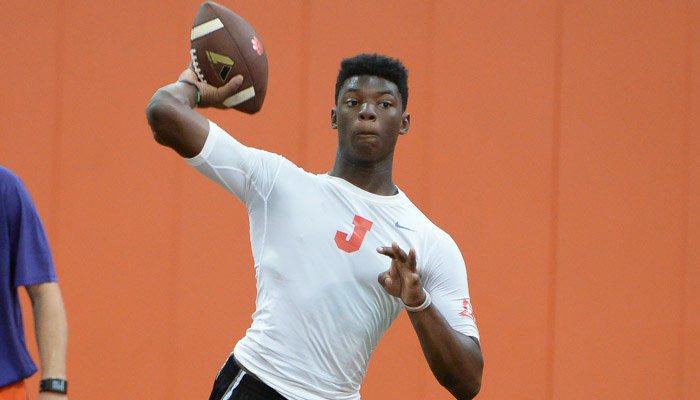 CLEMSON – If everything goes as planned, Deshaun Watson will be entering the NFL Draft in 2017 and quarterbacks coach Brandon Streeter will be breaking in a new signal-caller at Clemson.
With Nick Schuessler, Kelly Bryant and Tucker Israel already on campus, Streeter has plenty of options, but it's Clemson's most recent signee, Zerrick Cooper that intrigues Clemson's recruiting coordinator the most.
Cooper committed to Clemson in 2014 when Chad Morris was still the offensive coordinator and held firm after Streeter was hired in December of the same year following Morris' departure for SMU, leaving the Jonesboro (GA) quarterback and Streeter to get to know one another over the last year and a half.
During his National Signing Day press conference, Streeter said he didn't know a lot about Cooper when he was first hired, but once he saw the 4-star prospect in action he knew Clemson was getting a special player and person.
"When I took the job in December, I think he had committed maybe in the October before that," Streeter said last week. "So I've developed a great relationship with Zerrick Cooper. He's a special kid, and he has a special family. After I took over the reins I got to go down there quite often and visit not just with he and his family but the coaches there at that school."
Streeter couldn't believe the arm talent Cooper possessed as a high school quarterback, even going as far to say he's one the best passers he's ever seen.
"I got to watch him in spring practice last year and that was the first opportunity I had to see him throw live," Streeter said. "Obviously, anybody that we recruit here at Clemson is going to be a very good football player. I knew he was going to be good. But when I got to see him throw live for the first time, it was special. He has an unbelievable arm and unbelievable talent. And then he came to summer camp and he practiced with us for a day or two and all of the other coaches got to see him again. He is one of the top guys I have ever seen throw."
Not only is Cooper a prolific quarterback – completing 161-of-267 passes for 2,039 yards and 21 touchdowns and just four interceptions in 2015 – he's also a good athlete as shown on the basketball court.
"I will tell you one thing that happened recruiting him. He plays on the basketball team, and their basketball team is ranked first in the state of Georgia right now," he said. "They have some unbelievable players. I was able to go to one of the games. I knew they were good, but within the first half or three-quarters there were 10 or 15 dunks. And he showed his athleticism and leadership out there on the court. He called me a couple of days later, and I asked him how his team did the night before. He said, 'Coach you won't believe this. We beat a team 115 to 14.' So they have a pretty impressive basketball team over there as well."
Will talent alone allow Cooper to compete for a starting job in 2017? Streeter said his success will depend on how well he can pick up the offense and mental aspect of the game.
"I then went to see him play a game in the fall, and he did a great job managing the game," Streeter said. "I am really excited about him and developing him into becoming a cerebral and all-around quarterback. He has the talent. It's always the question coming in as a true freshman - how much knowledge do they have coming in and then how much do you need to continue to teach that. I am anxious for him to grow."
ZERRICK COOPER BIO
In High School: Rated among the top 300 overall players in the nation by ESPN, 247 sports, Rivals and Scout ... listed as fourth best overall prospect in Georgia by ESPN ... ninth-best quarterback prospect in the nation by ESPN ... seventh-best quarterback in the nation by 247 Sports ... played quarterback and safety at Jonesboro High School ... .completed 161-267 passes for 2,039 yards and 21 touchdowns in 2015 ... threw just four interceptions ... helped team to a 11-2 record and the quarterfinals of the state playoffs ... also added 359 yards rushing ... named the Region 4 Player of the Year ... also all-county and honorable mention all-state ... injured as a junior, but a part time starter as a sophomore when he completed 86-155 passes for 1200 yards and eight scores ... also starter on the basketball team as a senior, he was key reserve as a sophomore. ... played his high school football for De'Timothy Floyd ... .selected Clemson over offers from Florida and Kentucky ... recruited by Mike Reed and Brandon Streeter. Personal: Originally from the Miami (Fla.) area.