| | |
| --- | --- |
| Stoudt takes responsibility, Beasley says defense needs to be better at FSU | |
---
| | |
| --- | --- |
| Sunday, August 31, 2014 1:57 PM | |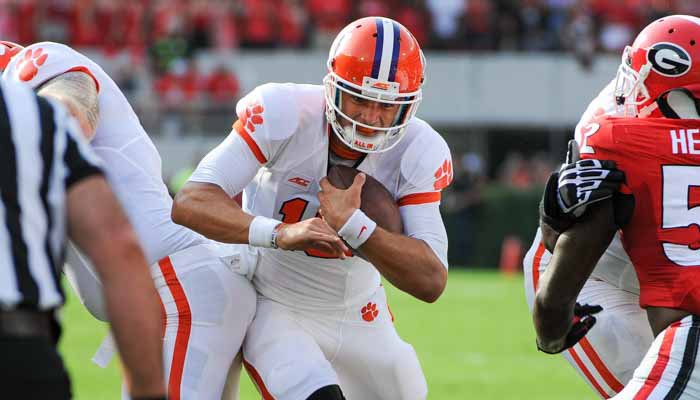 ATHENS, GA – Cole Stoudt

Cole Stoudt
Sr. Quarterback
#18 6-4, 231
Dublin, OH
View Full Profile realizes that the majority of Saturday's 45-21 loss will fall on his shoulders after the offense managed just 291 yards on 76 plays.
He told the media he knows he could've done better, and he is taking it upon himself to make sure the offense gets fixed before the next game.
"I think I could've done better. There are some mistakes that I made that I'll have to go to the film room and get better," Stoudt told the media after the game. "I told the entire offense and the offensive line that we're going to get better from this because we're going to work harder and we're going to fix the mistakes that we had."
The offense cruised along – scoring 21 points and running over 50 plays in the first half – but sputtered and managed a paltry minus-19 yards in the second half, something that Stoudt said was due to Clemson's lack of execution and not the adjustments of Georgia defense coordinator Jeremy Pruitt.
"They made a few adjustments but it wasn't anything too drastic," Stoudt said. "We still had our same offense and our same game plan. It was just execution. Field position wasn't great. The further back you are, the less chance you have of scoring. Just trying to get out of the bad field position, we struggled. It was due to some of the decision-making we had."
Other player quotes
Vic Beasley

Vic Beasley
RS Sr. Defensive End
#3 6-2, 236
Adairsville, GA
View Full Profile
Clemson's All-American defensive end said that the Tiger need to improve in a hurry or the trip to Florida State in a couple of weeks could be a long one.
"We'll try to put this behind us," Beasley said. "Obviously this was a disappointing contest. We've just got to look forward to the next game. If we take what we did tonight down to Tallahassee, we'll probably get beat my 50. We've really got to come together as a team and work on our tackling because obviously that played a big role in the loss today. We've got to work on the things that are our weaknesses right now."
Stephone Anthony

Stephone Anthony
Sr. Linebacker
#42 6-2, 244
Polkton, NC
View Full Profile
Middle linebacker Stephone Anthony said that despite the short field that the defense had to work with, it is still their responsibility to stop the opponent and there is no one to blame but themselves.
"Regardless, we have to get stops," Anthony said. "That fourth quarter was terrible. That falls on everybody on the defense. That falls on me. I've got to lead those guys. We've got to give ourselves a chance and we didn't do that."
Despite Saturday night's outcome, Anthony said that they will focus on getting better and seeing just how good this team can be.
"We're going to get this thing corrected and move one – next day, next game, next play mentality," he said. "We've got to regroup. Our front seven has to regroup. We have to respond to adversity and we'll see what we're made of."
Mike Williams

Mike Williams
So. Wide Receiver
#7 6-5, 208
Vance, SC
View Full Profile
Williams was expected to be the go-to guy for Clemson's offense in 2014, however he didn't play like it in the beginning stages of Saturday's game.
"They were telling me that I would have some adversity and that we would have to bounce back," Williams said. "I made two plays and we got a touchdown on one of those drives. I thought I bounced back and made plays for the team."
Tony Steward

Tony Steward
Sr. Linebacker
#7 6-1, 236
Hastings, FL
View Full Profile
Linebacker Tony Steward said that one thing was the cause of Clemson's downturn in the fourth quarter.
"The biggest thing was missed tackles," Steward said. "I don't think any of us wore down. We didn't make tackles. We've got to be better. We expect to be better. We're going to be better."
Robert Smith

Robert Smith
Sr. Safety
#27 5-11, 211
St. George, SC
View Full Profile
Smith, Clemson's senior safety said that conditioning was not a factor in the fourth quarter for the defense.
"We were tired, but that has nothing to do with it," Smith said. "We practice and we condition harder than anybody in the country or just as good as anybody in the country. I wouldn't say that was the reason why. We've been through two-a-days. We've run 18 110's three times a week. We know how it is to perform when we're tired after a great, hard physical camp."