| | |
| --- | --- |
| Stoudt says confidence not an issue | |
---
| | |
| --- | --- |
| Monday, December 15, 2014 9:36 AM | |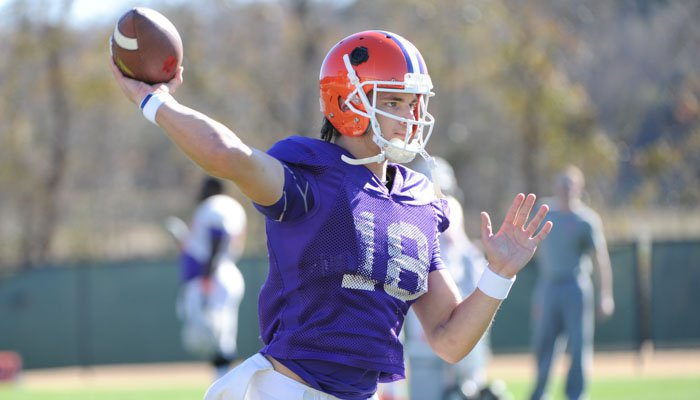 CLEMSON – Did senior quarterback Cole Stoudt

Cole Stoudt
Sr. Quarterback
#18 6-4, 231
Dublin, OH
View Full Profile lose his confidence somewhere along the way this season? He says no.
After three solid seasons as Tajh Boyd

Tajh Boyd
Quarterback (2009 - 2013)
#10 6-1, 225
Hampton, VA
View Full Profile 's capable backup, Stoudt began the season first on the depth chart and started each of the first three games. However, he was replaced by Deshaun Watson

Deshaun Watson
Fr. Quarterback
#4 6-3, 204
Gainesville, GA
View Full Profile early in the loss at Florida St., and he hasn't been the same quarterback in the eyes of many. He has thrown 10 interceptions against just six touchdowns and has an efficiency rating of 111.6 (Watson is 188.6).
Following Saturday's bowl practice, Stoudt was asked if the bowl game is a chance to regain his confidence and he promptly answered that confidence hasn't been the issue.
"It's not a confidence problem at all. There hasn't ever been a confidence issue," Stoudt said. "It's just something where you try and get into a rhythm and a play doesn't go right. You have to have a feel for it. Sometimes it's there and sometimes it isn't."
Many in the fan base have been critical of the coaches' decision to keep running Stoudt out on the field, but he said he doesn't pay attention to what outsiders have to say.
"When you become the guy people look at you more seriously, they're more critical of how you perform. But that doesn't matter," Stoudt said. "The people who are picking at me, I don't pay attention to it. I just do what I do and have fun. I know the offense better than they do."
Stoudt won't have to look over his shoulder during the bowl game against Oklahoma – Watson had surgery at the end of last week to repair his torn ACL and from all reports Stoudt will start against the Sooners.
Stoudt was asked if he thinks that backup Nick Schuessler

Nick Schuessler
RS So. Quarterback
#12 6-3, 195
Grayson, GA
View Full Profile will see snaps in the bowl game, Stoudt replied that both quarterbacks have to be ready to play and that his shoulder isn't an issue.
"I try to get into a rhythm. You still have to prepare and I know Nick will be ready," he said. "I've got to be ready. The shoulder isn't really that big a problem right now either. The past few weeks I've had some rest and haven't taken any hits to it. We just need to have fun and let loose."
Saturday's practice was the first for new quarterback coach Brandon Streeter, and Stoudt said that he doesn't expect to see any dropoff in coach.
"He's great to be around, very enthusiastic. He's just made sure I've got my footwork right, my elbow up when I throw it, those type of things," Stoudt said of Streeter. "I'm still the same player. We're still running the same offense. We just need to go out, have fun and let loose."
Hopefully that rhythm will be there for Stoudt on December 29th so that the senior signal caller can lead Clemson to its third bowl victory in three years.
"It would be big," he said. "I am just trying to finish up these last days here in Clemson and go down and get a win."