| | |
| --- | --- |
| Stoudt says Tigers will correct mistakes and be better for it | |
---
| | |
| --- | --- |
| Saturday, September 6, 2014 7:01 AM | |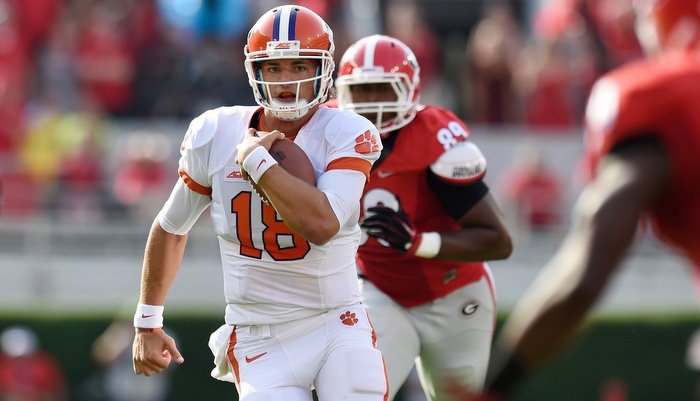 Cole Stoudt

Cole Stoudt
Sr. Quarterback
#18 6-4, 231
Dublin, OH
View Full Profile learned a lot from his first week at starting quarterback for Clemson.

Stoudt had some initial success on the field, but then took some hits and got stuck too close to his own end zone too many times before experiencing a loss against a favored Georgia team. Though it was his first big start, after the game the senior leader took responsibility for the game's result like a veteran and is now looking forward to the ways the team can improve in the coming weeks.

On Monday, Stoudt said the loss in Athens was a stepping stone for all of the leaders on the team. The game gave these players an opportunity to make sure everyone was committed and motivated to get better.

He said, "It's something I've always strived for, to make others around me better. And I'm going to go out there and constantly keep working on the other things and making myself better."

Stoudt also echoed statements made by offensive coordinator Chad Morris

Chad Morris
Offensive Coordinator / QBs
View Full Profile – players are either willing to go all in and get better this season or they're not.
"I think everyone in that room agreed that we're all going to get better, we're all going to improve from our mistakes we made during the game and we're going to build and be better from it," Stoudt explained.
The first drive for the Tigers and Stoudt was well executed and gave the QB an edge. Stoudt ran over to the sideline as the team approached an early fourth and goal arguing to go for six, when the coaches told him they had already made that decision.
He said, "It set a really huge standard and huge momentum change if we got it. And we did, and we built off it."
However, despite some encouraging fourth down conversions during the game the team struggled during the second half. This left many fans doubting the lofty goals Clemson football had set for the year.
Luckily for fans Stoudt still feels confident in the team's future. Coaches gave him plenty of opportunities to scramble during the game, and some of those efforts were met with success. Years of watching Tajh Boyd

Tajh Boyd
Quarterback (2009 - 2013)
#10 6-1, 225
Hampton, VA
View Full Profile run the offense taught the new starter a few things, but the challenging style of play didn't discourage him. Stoudt has been working on his running game with coaches since the spring and he has confidence in his potential.
He said, "Just because Tajh is gone doesn't mean we have to get rid of it. We can still run the same plays and everything and we feel comfortable with it and it's worked."
Of course, the appearance of freshman Deshaun Watson

Deshaun Watson
Fr. Quarterback
#4 6-3, 204
Gainesville, GA
View Full Profile , who had a successful drive and bullet touchdown pass in his first series as a collegiate athlete, raised some questions about who should be starting for the Tigers.
The QB duo has built a relationship since Watson arrived on campus, and Stoudt gave the freshman a few words of encouragement before Watson took the field for the first time.
Stoudt said, "I told him just to have fun, to go out there and do what he does and to manage the game and lead the team."
And the senior wasn't surprised by the result of Watson taking the field. The team has seen hints of Watson's talent on the field since spring camp.
"He's very confident […] I think that came from over the preparation we've had together and the relationship that we've built over time. And I think that's what made him comfortable," Stoudt said.
Likewise, Stoudt seems confident in his position on the team. He's only paying attention to the opinions of his teammates and coaches, not the outside blabber.
"I don't really focus on what other people have to say about me. I really know how I play and how I feel about how I played. I know how the team feels about it and how I feel about the team. All that matters to me is what the team thinks," he explained.
There still seems to be an emphasis on the team having fun, as was stressed after last year's ugly loss against Florida State at home. Swinney still comes into meetings asking why his players are there – and the answer is always because playing football started out as a fun game. Even though the trip to Athens was a business trip Stoudt hasn't lost sight of the fun.
Of making his first start in the national spotlight, he said, "There really wasn't much pressure. I like to think of it more as just a fun business act, I guess. So, we're going out there and just having fun because it's just football – you just want to have fun with it."
Players are feeling positive moving into Saturday's game against South Carolina State. The team has high hopes to rebound and make major corrections, but they're not getting overly confident – especially with the Seminoles looming.
Stoudt said, "There's always memories of the last time you played them or the few times you have, or old past games, but it's something where you've got to go in every year and constantly get better."