| | |
| --- | --- |
| Stoudt relishes the chance to play against team he grew up rooting for | |
---
| | |
| --- | --- |
| Friday, December 20, 2013 10:15 AM | |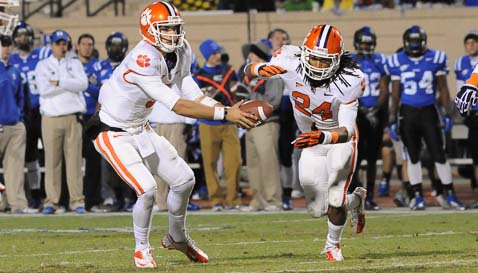 CLEMSON – Cole Stoudt

Cole Stoudt
Jr. Quarterback
#18 6-4, 205
Dublin, OH
View Full Profile 's opportunity to take over as the starting quarterback is quickly approaching, but he is only focused on the here and now and beating his hometown team.
The junior was born in South Carolina, but was raised just 20 minutes from Ohio State's campus in Dublin (OH), so he has friends that play football for the Buckeyes and that are student s– making January third's Orange Bowl all the more important.
Stoudt told the media after Wednesday's practice that he's talked to friends in Ohio that are torn between pulling for the Tigers or pulling for the hometown Buckeyes.
"The backup kicker at Ohio State – Kyle Clinton – was my kicker when I was playing in high school," Stoudt said Wednesday at the indoor practice facility. "A couple of guys that played with my brother and are a few years ahead of me go to Ohio State and I got to play with them a little bit in high school. It's cool playing against a team that you had a couple of people go there. Even people who don't play football and just go to school there are like, 'hey, I'm so excited about this game. I just don't know who to root for. Should I go for someone that I went to high school with or should I go for the school I'm currently going to?' It's cool getting all of those stories from all of those guys."
Living in Ohio for so long, Stoudt grew up a Buckeye fan; however, he hopes that Dublin will be doused in Orange for the bowl game.
"It's exciting. I've always wanted to play Ohio State," Stoudt said. "I was a Buckeye fan for about 10 years and came down south back to where I was born. It's kind of weird playing for a team where you were born and playing against a team that you kind of lived there for a while. I'm excited. I'm happy we're getting to play them. My hometown, I hope they are going to have some solid orange on. Even though they are Buckeye fans, I hope they will have some orange on. It's going to be a lot of fun."
Despite intense preparations for the Orange Bowl, Stoudt can't help but think about what the future might hold as 2014 begins and the starting quarterback job opens up with the departure of Tajh Boyd

Tajh Boyd
RS Sr. Quarterback
#10 6-1, 225
Hampton, VA
View Full Profile .
"I think about that every now and then," Stoudt said. "Right now, I'm just focusing on this bowl game. I don't want to think too far ahead because when you do that, you lose focus on the little things. Right now, just focus on the little things of this bowl game and getting better and then after the game we'll worry about everything else."
Stoudt may have a little bit of an advantage of his competition – Chad Kelly

Chad Kelly
RS Fr. Quarterback
#11 6-2, 210
Buffalo, NY
View Full Profile and Deshaun Watson – after playing 116 snaps over eight games and completing 47-of-59 passes for 415 yards and five touchdowns, while carrying the ball 14 times 14 times for 58 yards and two scores.
With the increased playing time, Stoudt said that 2013 was by far his best season, but that he still has many areas that need work.
"I think so far it's been my best season," Stoudt said. "I've still got a lot to improve one because I'm nowhere near perfect. I just can't wait to keep on getting better every single day. "
Luckily for Stoudt, he has the right person to help him make improvement and adjustments to his game – his father and former NFL quarterback for the Pittsburgh Steelers, Cliff Stoudt.
"Just talking to my dad every single time we have the chance," Stoudt said. "He can even correct my form over a phone call. I can tell him why my ball is dying and he will say, 'well, you aren't bending your knees or lowering your elbow.' Literally, I can throw the ball while I'm on the phone and it will be a perfect spiral and I won't say anything back because I'm angry at him. It's really good because anytime I have a bad day throwing the ball, I can call him up and he can correct it right away. Talking to him, I know right away why I threw a bad ball. I can just hear him in my head saying, 'do this.'"