| | |
| --- | --- |
| Stoudt gets another chance | |
---
| | |
| --- | --- |
| Saturday, October 11, 2014 11:09 PM | |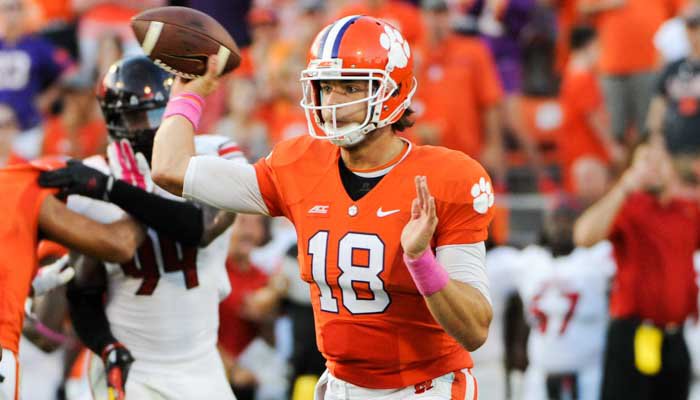 CLEMSON – Cole Stoudt

Cole Stoudt
Sr. Quarterback
#18 6-4, 231
Dublin, OH
View Full Profile 's senior season hasn't gone exactly as planned – from losing the starting quarterback job in week four to injuring his left shoulder last week against North Carolina State.
Instead of throwing in the towel and calling the season a wash, Stoudt knew he would get another chance to prove his worth, and this time despite the pain and injury he refused to be taken off the field.
With freshman sensation Deshaun Watson

Deshaun Watson
Fr. Quarterback
#4 6-3, 204
Gainesville, GA
View Full Profile out of the game with a broken hand, Stoudt knew it was up to him – and only him – to lead Clemson to a victory. It might not have been pretty at times, but Stoudt did just enough to lead the Tigers to a 23-17 victory over Louisville in front of a sellout crowd in Death Valley Saturday night.
Stoudt strapped on his helmet to head out onto the field for his first drive, and knew that his decision to not sulk or pout was going to pay off.
"I saw it as I could take it one of two ways. I could just say screw this and move on and pack up but I decided to get my mind right and go in there and make myself better every single day because I honestly believed that there would be a time where my opportunity would come up again," Stoudt said after the game. "It did and I was prepared for it. Even though I didn't practice all week, I knew I was prepared. I knew the team was bigger than one person and I didn't want it to affect the team at all. I just went in there and tried to be the best that I can be and make other people better."
Obviously Stoudt didn't want to earn the playing time because of a Watson injury, but he was going to do whatever it took to get the victory.
"It's never good seeing someone come out of the game but it just something where you have to step up, be ready and just go in," he said. "We're just going to keep on going and keep getting better. "It's not that difficult because it's something that I've done before and I've prepared for. I was ready through out meetings and practice. I was prepared for my situation."
Even if it meant playing through the pain of injured shoulder and waving off offensive coordinator Chad Morris

Chad Morris
Offensive Coordinator / QBs
View Full Profile and third-stringer Nick Schuessler

Nick Schuessler
RS So. Quarterback
#12 6-3, 195
Grayson, GA
View Full Profile .
"A little bit, yeah. It hurt pretty bad but I didn't want to come out so I just kind of fought through," he said." I didn't want to come out and miss an opportunity so I just stayed out there with the guys. It wasn't pretty but we found a way to win.
"It was after one play where I got hit pretty hard and he said, 'Are you good? Do you want to come out?' I just shook my head and said, 'No. Don't take me out right now.' I think that was about the second or third quarter."
Despite the pain and the injury, there was nothing that was going to keep Stoudt from leading Clemson's offense.
"Me not being able to get up," he said. "The only way they were going to get me off the field was to drag me off. I just had a mindset that I wasn't coming off the field."
Stoudt completed 20-of-33 passes for 162 yards, including going 3-of-3 on Clemson's last drive that ended in a field goal and took over five minutes off the clock, and he did it without the usual number of practice reps.
"I was just excited being out there with them. This is what I want to do. I just prepared and got ready," Stoudt said. "I got hurt last week and I didn't take any reps until the Thursday practice. I was just focused in the meeting room and at practice. I wanted to be ready if anything ever happened and I was ready when my time came."
Stoudt will be the quarterback for the foreseeable future and said that he will be ready to lead the team in Watson's absence.
"I'm going to get into treatment as soon as I get done here and I'll be in there in the morning and afternoon," he said. "I'll be in treatment at lot this week but I'll be good to go in practice and everything."