| | |
| --- | --- |
| Stoudt dares anyone to take MVP trophy away | |
---
| | |
| --- | --- |
| Saturday, October 18, 2014 8:52 PM | |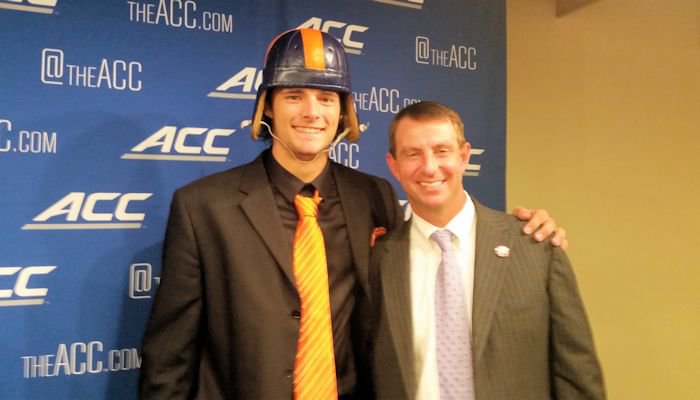 CHESTNUT HILL, MA – Cole Stoudt

Cole Stoudt
Sr. Quarterback
#18 6-4, 231
Dublin, OH
View Full Profile proudly wore the leather helmet given to the winner of the O'Rourke-McFadden each year, and jokingly told anybody and everybody that would listen that he wasn't going to give up the trophy without a fight.
"I'm wearing this helmet all the way home," Stoudt said. "I know the players don't get to keep the helmet but nobody is taking it from me. Nobody is going to be able to get the helmet away from me. They're going to have to come rob my house to get it."
Four weeks ago Clemson was 1-2 after losses to Georgia and Florida State and Stoudt was relegated to the backup quarterback role.
Fast forward four weeks and the senior signal caller completed 29-of-45 passes for 285 yards in winning the award as the game's most outstanding player, an award started by the Boston Gridiron Club to recognize individual players in the annual game between Clemson and Boston College.
Stoudt was thrust back into action against Louisville last week after freshman Deshaun Watson

Deshaun Watson
Fr. Quarterback
#4 6-3, 204
Gainesville, GA
View Full Profile broke his hand early in the game, and after missing the previous week of practice with a sore shoulder had a less-than-stellar outing.
A week later in a wet and gloomy Alumni Stadium all of Stoudt's preparation and hard work paid off when we was named MVP and given the leather helmet, and dared anyone to take it away from him.
The Tigers were trailing 13-10 after Boston College took the lead on a six-yard Tyler Murphy touchdown pass and Stoudt knew that he was going to have one last chance to win the game. All he asked of his teammates was to trust him and leave everything they had on the field.
"I told them just don't give up," Stoudt said. "The game is almost over and it's the fourth quarter, we've got to keep battling and keep fighting. We've got to stay focused and take it one play at a time. Give it your all. This could be our last drive. It was and we left nothing out there. We gave it our all and that's all you can really ask for from your teammates."
The offense followed Stoudt's lead as they marched 84 yards down the field for the go ahead touchdown – aided by two receptions by Mike Williams

Mike Williams
So. Wide Receiver
#7 6-5, 208
Vance, SC
View Full Profile and a 32-yard scamper into the endzone by C.J. Davidson

C.J. Davidson
RS Jr. Running Back
#32 5-10, 203
Clemson, SC
View Full Profile .
Stoudt said that he feels a lot better this week than last because he and the offense put together the game winning drive.
"It was very interesting coming off of the injury and battling through the pain throughout the week," he said. "It's a different feeling. It's a great win. Our team and our defense really stepped up this week and it's a big win getting our first road win of the season."
Although he still isn't 100-percent – requiring a shot before the game and one at halftime – Stoudt said that a week of practice made all of the difference in the world.
"A lot, especially having a full week of practice and preparation," he said. "It makes you feel more comfortable and more prepared. Just knowing the whole playbook inside and out and the game plan and having the whole week of practice extremely helps."
However, knowing that his teammates and coaches have his back both on and off the field will help him through any situation.
"It's pretty crazy. That really is all on the coaches. It really is a family atmosphere around here and no matter what the situation is they're going to love you and the teammates are going to love you to," he said. "It was a tough situation when I got bumped back but I knew that with the love and support of my coaches and team that I would be able to battle through this and keep a positive attitude. Coming back this week, they really showed me that they trusted me as their guy. I felt very comfortable going out there and playing with them. We're all going to die for each other out there and do whatever it takes."