| | |
| --- | --- |
| Sticking with the game plan | |
---
| | |
| --- | --- |
| Sunday, October 18, 2015 11:44 AM | |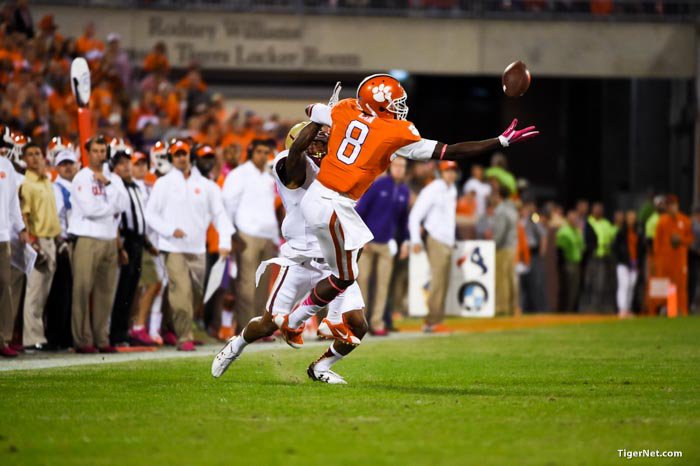 Tony Elliott

Tony Elliott
Co-OC / Running Backs
View Full Profile was confident the game plan against Boston College would work, and the Clemson offensive coordinator stuck with that plan.
Even when things were just a little bit off in the first half, Elliott and the Tigers kept going with what they worked on throughout the week. Even when Deshaun Watson

Deshaun Watson
So. Quarterback
#4 6-2, 207
Gainesville, GA
View Full Profile threw an interception on the second drive that led to an Eagles touchdown, nothing changed.
And that meant throwing the ball and taking deep shots against a strong Boston College defense that was ranked No. 1 in the nation entering the game.
"We weren't dialed in, and we got off to a little bit of a slow start in the first half," Elliott said. "We were missing on a couple of things, but Deshaun got dialed in, and it was good to get the win. We just had to stay with it, and we challenged them that, 'Hey, that's what they're giving us.' We studied them, and that's a really, really good football team. With their record, they may not have the success they want overall, but that defense is one of the best we're going to see all year.
"They're geared to stop the run, so we knew we would have our challenges because they're gap sound. They're not going to make mistakes. They're going to be there, and they're tough, physical guys."
Watson finished with 420 yards passing, the second most in his career, on 27-of-41 attempts. He had two interceptions but threw three touchdown passes – one each to Artavis Scott

Artavis Scott
So. Wide Receiver
#3 5-10, 191
Oldsmar, FL
View Full Profile , Jordan Leggett

Jordan Leggett
Jr. Tight End
#16 6-5, 252
Navarre, FL
View Full Profile and Zac Brooks

Zac Brooks
Running Back (2012 - 2015)
#24 6-0, 200
Jonesboro, AR
View Full Profile .
Nine receivers caught passes, let by Scott with 10 catches for 162 yards.
"We felt like we had the opportunity with the speed guys that we have on the perimeter to make some plays down the field, and that was our game plan going in," Elliott said. "We knew we were going to have to throw the ball, and we knew that if we just kept going to the well, that eventually we were going to connect on some of them, and once you connect, then the confidence builds, and you can continue to make plays."
Boston College held the Clemson running game in check. Wayne Gallman

Wayne Gallman
RS So. Running Back
#9 6-1, 210
Loganville, GA
View Full Profile , who had rushed for at least 100 yards in each of the three previous games, finished with 17 carries for 48 yards. The Tigers finished with 112 yards on 36 rushing attempts.
"One thing I learned from (former offensive coordinator Chad Morris

Chad Morris
Offensive Coordinator / QBs
View Full Profile ) is you've just got to call the game. You can't focus on that," Elliott said of the first-half missteps. "Obviously, you've got to get a feel for the flow of the game, but we knew that was the plan. We tried to find some opportunities to run it. Again, they were stout against the run, and credit to them. Our guys did a good job of finding some running lanes, but we knew we were going to have to throw the ball.
"If they were going to continue to play us in bump-and-run coverage and press man, we've got to make those plays down the field."
Six games into the season – and after six wins – Elliott sees the offense beginning to hit its stride.
After gaining 533 yards against Wofford, the Tigers had 392 against Appalachian State, 401 against Louisville and 296 against Notre Dame.
The past two weeks, Clemson has had 537 against Georgia Tech and 532 against Boston College.
"We feel like we've been getting better each week. Obviously, there was a lot of hype going into the season because we returned a lot of the skill guys, but we had some new guys up front that we had to get broken in," Elliott said. "But if you watch us, week by week, with the exception of some of the turnovers, we feel like we're getting better. Our guys are on the same page. If you saw Deshaun out there, he was in control of the game. He was sliding protections in the directions that we needed them to slide.
"And the guys were on the same page and knew what was coming. So we feel like we're getting better. And again, I told them coming into this game, 'Let's make it about us. We're challenged, we've got the No. 1 defense in the country that you're facing, so let's go show how good we can be.' "
Daniel Shirley is the sports editor of The Telegraph in Macon, Ga., and co-host of The Morning Show on FoxSports 1670 AM. Follow him on Twitter at @DM_Shirley and read his blog at macon.com/peachsports.