| | |
| --- | --- |
| Steve Fuller: Transition from "4 to 4" cemented by a phone call | |
---
| | |
| --- | --- |
| Thursday, October 2, 2014 9:01 AM | |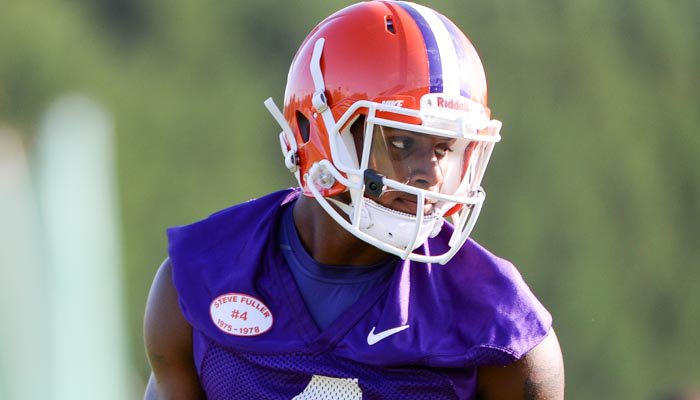 The process of letting freshman quarterback Deshaun Watson

Deshaun Watson
Fr. Quarterback
#4 6-3, 204
Gainesville, GA
View Full Profile wear the retired jersey number of former Clemson great Steve Fuller started at a golf tournament a few years ago, but the transition was complete when the future had a phone conversation with the past.
Watson, the talented freshman, is wearing his usual No. 4 jersey this season, but also wears a patch on the front of the jersey that pays tribute to Fuller, who played for Clemson in the late 70's. The patch says "Steve Fuller #4" and is on the front of Watson's jersey. Fuller's number was retired at the 1979 Spring Game, and he was inducted into the Clemson Ring of Honor in 1994.
TigerNet spoke with Fuller earlier this week, and he described how the process began.
"Dabo (Swinney) and I have played in the Chick-fil-A golf tournament for the past four or five years, and not this past year but the year before he brought up the idea of letting current players, in a way of honoring past players, wear the numbers of either retired or honored jerseys," Fuller said from his home in Hilton Head. "He mentioned several other programs were doing it, and he asked what I thought about that. I thought it was fine and that it was a very good way of connecting the past players - and not to sound too dramatic but the players who have changed the program - to the younger players who have never seen Dwight Clark play or Jeff Bostic play. "
Swinney mentioned to Fuller that he had a 5-star recruit coming in – Watson – who might be interested in keeping the number he wore in Gainesville (GA) in high school, and sent Fuller a jersey with the concept. Fuller agreed to go ahead with the process, but it wasn't until he got a phone call in the spring that the process was complete.
"I knew about Deshaun. And then Deshaun called me early in the spring last year and talked to me and introduced himself and said how pleased he was that it had all worked out," Fuller said. "So it was a nice way to do it, and a nice transition into it and I couldn't be happier. He seems like a wonderful kid who is very mature and understands it all. He is a good guy to wear it."
Fuller says the phone call made an impression on him that he won't soon forget.
"He's very mature. But for a young kid, he was very polite, very mature and thoughtful," Fuller said of Watson. "All of the attributes that you would expect from a kid that was older and maybe has gone through more than he has. He understands and I think that's half the battle - if you're able to handle situations like that. He was talking to an old man he had never met before, and he handled it quite well. I was especially pleased that he had made the phone call. I was coming out of a restaurant with my wife and daughter, and my daughter was excited about the phone call. But it was a nice way to transition from four to four."
This past spring, Fuller began receiving notices that his older number was once again being seen around Clemson.
"It's certainly nostalgic because it's been 35 or 36 years," Fuller said of seeing his familiar jersey again. "A couple of my friends sent me pictures from spring practice or jerseys that were in the stores, teasingly saying that the old No. 4 is back on the shelves again. It's nice. It's especially nice knowing it's the right kind of kid."
He then said that Watson has all of the attributes to be a great quarterback for the Tigers.
"Being from and having gone through the Clemson program and four different programs professionally and seeing a lot of guys, really what separates a player at that position is the poise and the ability, when all the things around you are breaking down, to stay calm," he said. "That is the first thing I noticed about him - in the Georgia game he didn't seem ruffled when the play didn't go especially well or the blocking wasn't as good as it was supposed to be. He stayed calm in the pocket and I think he has that ability. Some guys can learn that ability, but for the most part it's either there or it's not and he seems to have it."