| | |
| --- | --- |
| Staying grounded: Watson accompanied by mother and aunt on Heisman trip | |
---
| | |
| --- | --- |
| Saturday, December 12, 2015 10:54 AM | |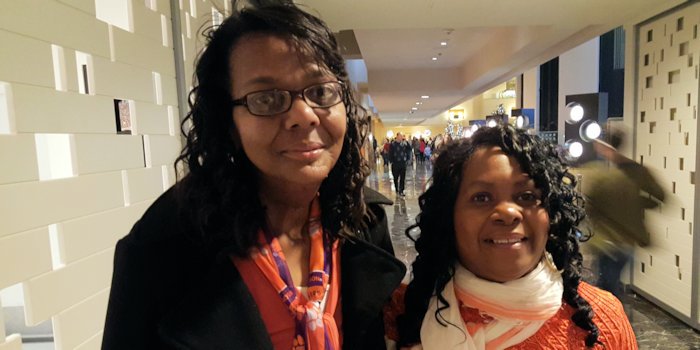 NEW YORK, NY – Deshaun Watson is commanding the attention of the college football world – Davey O'Brien Award winner and Heisman Trophy candidate – but to his mother Deann and Auntie Sonia he's still the same Deshaun they've always known.
Deann Watson and Sonia Watson accompanied Watson to New York City for the Heisman Trophy presentation, in part to experience the ceremony but also to give him a piece of home and comfort knowing that in the face of cameras and media he will always see a friend.
Despite the fame and all of the awards, Watson still remembers where he comes from – 815 Harrison Square in Gainesville, Georgia – the numbers he writes on his wristbands before every game.
Sonia told TigerNet that it's important to Watson to remember how he got to where he is today.
"That's important to him because that's where he was really raised at 815 Harrison Square," Sonia Watson told TigerNet Friday afternoon in the New York's Marriott Marquis. "It wasn't really a bad place. That's where he learned to play football. He played in the backyard with his brother and all of his friends. That's very important to know where you come from, and he'll never forget. His mom had four children, and that's where she was."
Deann said she knew Watson had the potential to be a superstar on the field after his sophomore season at Gainesville High School, but the only thing that's changed throughout his football career has been his size.
"He hasn't changed, but he's gotten more mature and bigger," Deann sad. "He's gotten big, but his attitude and stuff hasn't changed."
Despite the injuries – or roadblocks as Sonia called them – Watson is playing at a higher level than ever before, something Sonia said the entire family tried to ensure him would happen throughout the entire recovery process.
"We didn't say that (he was injury prone). We told him that it's just a block in the road and that it was going to get better," Sonia said. "We believed that. We knew it was and his mom even said that. We told him it was a block and that it was going to heal up, and he was going to be back. That's what happened. It didn't stop him."
As the awards and accomplishments continue to mount, the thing that's impressed aunt and mom the most is how Watson has handled all of the fame and notoriety.
"I'm proud of him because he's handled it well. He's really kept himself focused. I think he's just enjoying it, and he's just having a good time and having fun," Sonia said. "I'm enjoying it, too. It' just like I say, it's a gift. It's just fulfilling it. God has his purpose and he's going to fulfill his dream."
At the end of the day, Watson isn't a superstar football player, he's just family.
"He's just family. He comes home, and he's family. We have dinners together when he comes home," Sonia said. "Lately, when he comes home, people have been wanting to get his autograph, including people in the family. But he's just family."
And, a son. Son that Deann says she doesn't worry about.
"No, because he's just my son, but he has handled all of this the right way, so I don't worry about him," Deann said. "We have become closer, but things really haven't changed. He's still my baby. I don't know how much closer we can be."