| | |
| --- | --- |
| State champion wrestler picks up Clemson football offer | |
---
| | |
| --- | --- |
| Thursday, April 3, 2014 3:33 PM | |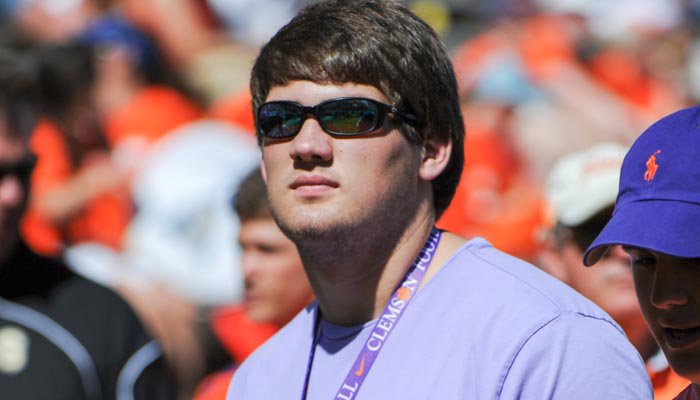 The Clemson Tigers have had great success recruiting wrestlers in the past, including Tig Willard and Grady Jarrett.
Could another state champion wrestler be on the way?
Three-time state champion wrestler and Greenwood (SC) Emerald defensive tackle Gage Cervenka

Gage Cervenka
Defensive Tackle
6-3, 280
Greenwood, SC
View Full Profile was in Clemson Wednesday afternoon for a visit, and he picked up an offer from head coach Dabo Swinney

Dabo Swinney
Head Coach
View Full Profile .
The 2015 prospect told TigerNet Wednesday night that he was in Clemson with his parents, sisters and two teammates when he heard the good news.
"When I got there, Coach [Mike] Reed came up to me and talked to me," Cervenka said. "We have kind of kept in contact a little bit. I talked to Coach [Brent] Venables a little bit before practice and he told me, too. He told me the reasons why they offered me and what they were offering me. When everything was all said and done, I talked to Coach Swinney a little bit and told me why they offered me."
Swinney stressed to Cervenka that he was given the opportunity to play at Clemson because of all of his hard work and dedication.
"He [Swinney] said I earned my scholarship and that they have been watching me for a while," Cervenka said. "They just wanted to see what I could do. From my sophomore season to my junior season, I improved so much and they decided that they wanted to offer me. He just kind of emphasized saying that I earned it."
The 6-3, 277-pound prospect has had the opportunity to play against several of Clemson's prospects and signees, so he understands the caliber of player that the Tigers are recruiting.
Pretty good. I was just thinking of all of the players that are going to be up there that I've played against and talked to. I know that they'll have a good running back because they have Jae'lon Oglesby. I've played against him for two years at Daniel. I know that he's a good player. I know that they'll have a good team coming up.
In addition to Clemson, Cervenka currently holds offers from Duke, N.C. State and Wake Forest. He said that he doesn't think he will make a decision anytime soon, but he did say that the Tigers were near the top of his list.
"I couldn't tell you right now [when a decision will come]," he said. "I know that it won't be later than September. Clemson is towards the top."
His visit on Wednesday focused mostly on athletics.
"We got there about two o'clock and we toured the facilities," he said. "They showed us the locker room and all of that stuff that's in the West Zone. Then they took us out to practice and we got to watch the practice. I walked around with Coach Brooks to see how he runs practice and just how everything runs and how they play ball."
However, when he makes his return trip later this month, he hopes to see more of the academic side.
"I'm going to try to come up for the spring game," he said. "I have the ACT so it depends on what time I get out of that. If I can't go to the spring game, I know that I'll be up there April 15th for an unofficial visit to just kind of see the academic side of Clemson University."
Check out his junior highlights here
Just got an offer from Clemson! #CU

— 12 Gage (@GageCervenka) April 2, 2014