| | |
| --- | --- |
| Spurrier's "rude" remark helps Tigers land nation's top back | |
---
| | |
| --- | --- |
| Friday, December 18, 2015 7:01 AM | |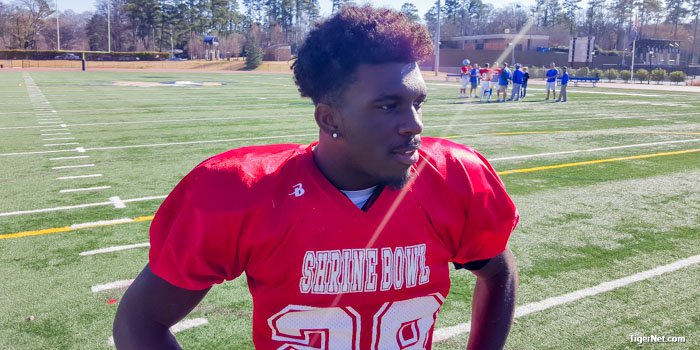 It always pays to be nice to people because it's the right thing to do.
There are also benefits to being kind to everyone you meet. One day, when you least expect it, that kindness will be returned in a big way. Just ask Clemson head coach Dabo Swinney.
Swinney not only presides over the nation's top-ranked team, he and his staff are also on the cusp of bringing in another nationally-ranked recruiting class. One of the key pieces of that class is Spartanburg (SC) running back Tavien Feaster, ranked by many scouting services as the number one player at that position in the country.
Feaster committed to Clemson last February, but his story on how he wound up a Clemson commit starts back in December of 2010. Feaster's mother, Latasha Mcelrath, was working at the Shrine Bowl of the Carolinas banquet. In attendance were South Carolina head coach Steve Spurrier and Clemson head coach Dabo Swinney.
Mcelrath told TigerNet recently that she didn't follow sports and really didn't know who either man or what team they coached.
"It goes back to 2010 when I worked the Shrine Bowl banquet. I really didn't think a lot about it at the time because I didn't know a lot about football," Mcelrath told TigerNet. "I had little kids and I didn't have time for football. A lot of my co-workers knew about the sport and knew about the head coaches, I didn't know much. So they gave me the head table to work that night. I met Coach Spurrier, and I thought it was interesting that people were lining up for his autograph and asking him to sign things. I just didn't know who he was. I was pouring his tea and giving him his rolls, and I said, 'Oh, so you're a football coach?' He said, 'Yes ma'am I am.' And I said, 'I think my son is going to play football for you one day.' And he was like, 'Uh-huh. That is every young boy's dream, to play college football.' And I was like, ok, wow. So I thought he was really kind of rude. "
Undeterred, Mcelrath kept doing her job and moved on to the next person.
"I went on to the next person, which was Coach Swinney," she said. "Everybody was telling me that he was the new coach at Clemson and how he was such a nice guy, and he was right from the moment I met him. I asked him if he liked sweet tea, and then I asked him how he was doing. He told me he was doing well. And then he gave me a pat on the back. And then I told him, 'My son is in the seventh grade and he is pretty good in football. He is going to play football for you one day.' Coach Swinney said, 'Bring him on! We would love to have him.' And I said, ok, he is going to play football for you. And now he is."
The difference between the two coaches – and how they treated a server at a banquet – was stark.
"To me, Coach Swinney was a lot friendlier and he was nicer to me. And he actually entertained the idea about my son playing football for him," Mcelrath said. "And Coach Spurrier just kind of brushed me off like Tavien wouldn't be good enough. It kind of made me upset."
According to Mcelrath, Swinney apparently didn't forget the encounter.
"On my first visit to Clemson and the campus, Coach Swinney actually told Tavien as a joke that your momma told me you were coming," she said. "We all laughed about that. Tavien asked me on the way home if Coach Swinney remembered that. I told him I didn't know, but he said he did."
Swinney's attitude and his treatment of his players made Mcelrath feel comfortable in sending her "baby" to Clemson.
"It made me feel good. Tavien was always quiet and he never talked a lot, so I am glad he can go somewhere and just be himself," Mcelrath said. "Back in first grade, he didn't have any friends. Now he has friends as far as he can see, but the Clemson coaches made me feel good about his academics and being responsible and what they will tolerate and won't tolerate. I am a helicopter parent and I don't want to let go, but they made feel better about letting go and letting him stand on his own."
This year, she will attend the Shrine banquet as the parent of the nation's top running back, and she said she feels like she's come full circle. But she also doesn't think Swinney would treat her any different.
"If nothing else, I want to go to that banquet because I remember working it," she said. "I used to work every day and I remember catering the meals and being around everybody. From having big dreams of having my seventh grader having dreams of playing football to going off to college to play football, I am speechless. It's like a dream."