| | |
| --- | --- |
| Spurrier complimenting Clemson? It must be game week | |
---
| | |
| --- | --- |
| Wednesday, November 26, 2014 7:01 AM | |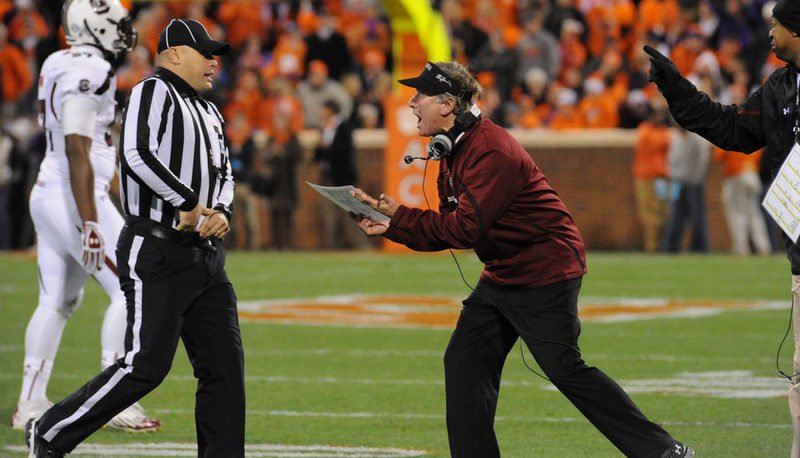 Steve Spurrier talked about Clemson earlier this week and actually sounded like a football coach preparing for a game.
South Carolina's head coach has his 6-5 Gamecock team preparing for Saturday's matchup with the 8-3 Tigers, and he told the media that while his team is feeling better about itself after two wins he knows this week will be a challenge.
"Last game of the season coming up. Our team feels better than we did three weeks ago, that's for sure," Spurrier said. "We're so proud of the way our guys have bounced back and been fortunate to win a couple games. The last game we had a lot of errors but our defense got five and we were able to beat South Alabama. Clemson is the best defense in the nation right now. Offensively they've had some really good games and probably some not so good. They're an outstanding team and we're going to really have to play well if we're going to have a chance up there. It's the biggest game of the year for probably both teams; neither one of us is going to win our conferences or divisions so obviously it's the biggest game for both teams I would think."
Spurrier added that he doesn't think the Gamecocks hold an edge because of their five-game win streak.
"The week of the game we're trying to get our guys ready to play the best we can, trying to take care of the ball better than we did the last game, and worry more about ourselves," he said. "I believe every game stands on its own. The team that prepares the best, and obviously plays the best, has the best chance to win the game. We've been beating them because we're had very few turnovers and they've had several. We all know that's a big reason we've been able to beat them."
He was asked about the importance of establishing a running game, and he said the Gamecocks will have to establish both the run and the pass in order to move the football.
"It would be very nice if we could romp up and down the field against them, I don't think anybody has done that all year. We have to mix it up - throw a little here, run a little there, try not to let them know exactly what we're doing. We've got to be sharp," Spurrier said. "We'll just have to wait and see. You have to hope you don't get into a bunch of third-and-10s and third-and-15s. If you have to give your tackles or guards a little help occasionally you need to do that."
One unknown for South Carolina is whether they will face senior Cole Stoudt

Cole Stoudt
Sr. Quarterback
#18 6-4, 231
Dublin, OH
View Full Profile or talented freshman Deshaun Watson

Deshaun Watson
Fr. Quarterback
#4 6-3, 204
Gainesville, GA
View Full Profile .
"You wonder if they're going to run him (Watson) as much as they did before his injuries or not," Spurrier said. "We've just got to come to the ballpark and be prepared for their offense whichever one goes out there."