| | |
| --- | --- |
| Spleen Surgery Likely Ends Downer's Season, Career | |
---
| | |
| --- | --- |
| Sunday, September 18, 2005, 4:25 PM | |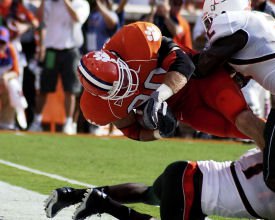 CLEMSON - Clemson tight end Cole Downer's season, and perhaps career, appears to be over.
Downer underwent emergency spleen removal surgery Saturday night following Clemson's 36-30 triple overtime loss to Miami at Death Valley. He is expected to remain in the hospital for another 2-3 days.
"It's a real blow," head coach Tommy Bowden said during his regular Sunday teleconference. "Cole's a hard worker, a big body type, that's perfect for this style of offense. It's a big loss for us, and I hate it for him."
Downer left the field injured after catching a pass. At first it was thought that a hit delivered by a Miami defensive back caused the injury, but Bowden said film showed Downer fell on the ball.
His absence leaves fellow seniors Bobby Williamson and Thomas Hunter as the only active tight ends at the moment, though Bowden said that will change this week.
"We may have to take the redshirt off of Durrell Barry, or maybe move (defensive end) Xavier Littleberry over," he said. "Those are a couple of options we have."
As for Downer, the senior's career appears to be over now, unless Clemson can successfully petition the NCAA for a sixth year of eligibility.
"We'll explore every avenue we can for him," Bowden said.
The senior from Chantilly, VA had scored his first career touchdown for the Tigers in the first half of the game on an eight-yard reception from Charlie Whitehurst. He had two receptions
for 14 yards in the contest and 5-38 for the season. Clemson coaches voted Downer as the Offensive Player of the Week for the Miami (FL) game. He lettered in
2004 as a reserve tight end and offensive tackle. He first attended Clemson in 2003 as a transfer from Hampden-Sydney College in Virginia.
Meanwhile, Bowden said he didn't expect the emotional loss to have a carryover effect on the Tigers like, say, the Georgia Tech loss did in week two a year ago.
"Just listening to their comments after the game, I don't think it will be a problem," he said. "We've got some players who have been through it before now, and this time we're playing at home. That will help a bunch."
Tackle Leaders off the Coaches film from the Miami (FL) game

Anthony Waters 11, C.J. Gaddis 10, Sergio Gilliam 9, Charles Bennett 8
Clemson Players of the Week from the Coaching staff

Offense: Cole Downer

Defense: Charles Bennett

Special Teams: Colin Leonard