| | |
| --- | --- |
| Sooners ready for another shot at Tigers but wary of Watson | |
---
| | |
| --- | --- |
| Thursday, December 10, 2015 7:29 AM | |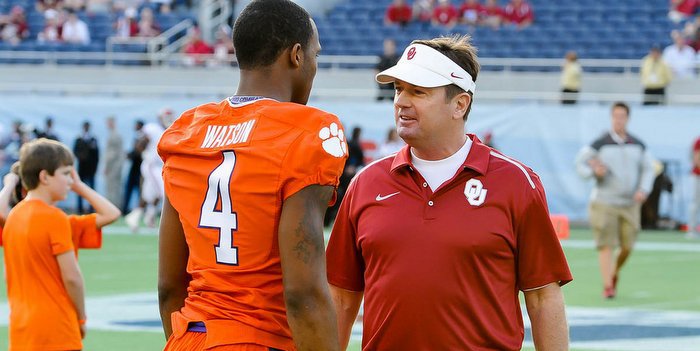 Clemson and Oklahoma met last year in the Russell Athletic Bowl, but when they tee it off on New Year's Eve in the Orange Bowl the stakes will be much higher.
A berth in the national championship will be on the line.
The Tigers thumped Oklahoma 40-6 last year in Orlando, so the Sooners will be looking for revenge. But for head coach Bob Stoops the opportunity to play on college football's biggest stage should be more motivation for his team than what happened nearly a year ago.
"I think everything is motivation. They are No. 1, have been a long time. They have, I think, the longest winning streak at 16," Stoops said of Clemson during a recent teleconference. "They beat us bad just a year ago. We have a chance to if you win to move on to a national championship. We have our own motivation outside of that. You find motivation in all of it. Surely common sense tells you all of that."
Obviously, Oklahoma will watch film of the Russell Athletic Bowl, but there will be one key difference between this team and Clemson's 2014 squad – Heisman Trophy candidate Deshaun Watson, who was recovering from ACL surgery last December.
"You look back and even though Deshaun Watson wasn't playing, that part of it is a little bit different," Stoops said. "All of the run game with him is so challenging to deal with. That part will be different. There's enough games this year to watch and study. But we'll look at it, definitely. There's things that pertain to last year that we have to correct and bet better and improve on. Of course. We'll pay very close attention to last year and every part of the game."
Stoops said that his squad is excited to playing in the Orange Bowl and the opportunity that lies ahead.
"Excited to play a great opponent in Clemson who is on a 16-game winning streak. [They're] an excellent and a great team," Stoops said. "Dabo [Swinney] and his staff do an awesome job. They're team that beat us bad just a year ago in our last bowl game. Credit to our players to give us this opportunity to be Big 12 champs. The way they worked, the way they kind of evolved and morphed through the season to improve as we went along and to give ourselves this opportunity is great. It isn't just about the opportunity. You've got to go down there to win. That's what we'll be focused on in the next three weeks. Everybody is excited about it."
However, Stoops knows that to play the winner of Alabama and Michigan St., he will first have to get past the nation's top-ranked team and Clemson's stingy defense.
"Well you see a really good football team. You see a team that plays really smart, disciplined football. A team that defensively both last year and this year has really gotten after it, playing very well," he said. "We didn't see Deshaun Watson last year. [That's] probably a good thing in that they still beat us bad. I think he's exceptional. What a great athlete. [He's] a thrower, a runner, poised. The little I have seen from them I really have a great respect and appreciation of what a quality player he is. He'll be a challenge to get ready for."
One of the drawbacks to the Clemson and Oklahoma matchup is that Stoops will once again have to square off against friend and former Sooner defensive coordinator Brent Venables, who holds the same position at Clemson.
"Yeah it's different. When you've been in a foxhole so closely for so long, I've got a great appreciation and respect for Brent," he said. "I know Dabo does now as well. He's done a great job for them. I'm excited for him, happy for him that he and they have had so much success. Once you tee it and tee it off, that gets put aside for about four hours. That never changes a relationship. There's still a great respect, appreciation and friendship between all of us."