| | |
| --- | --- |
| Sooners: Watson is good, but we've seen it all before | |
---
| | |
| --- | --- |
| Monday, December 28, 2015 7:01 AM | |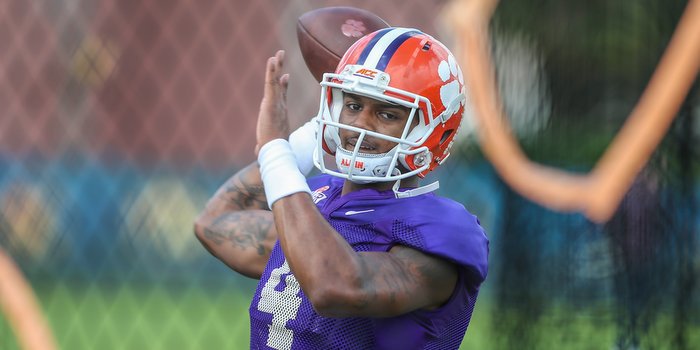 FORT LAUDERDALE, FL – The Oklahoma Sooners understand what Clemson quarterback Deshaun Watson brings to the table from a playmaking standpoint, but they aren't scared to face the Tigers' talented sophomore signal caller. They've seen it all before.
The top-ranked Tigers and fourth-ranked Sooners face off Thursday afternoon in the Orange Bowl, the first semifinal game of the day in the College Football Playoff. Front and center of the matchup are the teams' quarterbacks – Watson and the Sooners Baker Mayfield.
Like Watson, Mayfield is one of the nation's top quarterbacks, and it's their experience against Mayfield that has Oklahoma defenders convinced they can handle Watson.
"Anytime you have a guy who can run and pass, it makes it tough. You look at our quarterback," linebacker Dominique Alexander said. "Baker, that's what makes him so dangerous because you can't keep him in the pocket. If he gets out of the pocket, he can extend the play so much he can just make a big play happen, and that's what he's able to do with his feet and his arm. We've got a lot of athletes, especially at our position at linebacker. For me, we have guys that -- guys on our defense that we can do what we do, and then we'll be able to contain. We necessarily don't have to have one guy on him the whole time because everybody else will do their job and help to contain."
Alexander said the Sooners have also seen TCU quarterback Trevon Boykin and Sooner quarterback Trevor Knight, who started against Clemson in the Sooners' 40-6 loss in the Russell Athletic Bowl last year.
"Trevone Boykin. I mean, we didn't face him this year, but the guys that we've had on our defense, we've all played and we have experience so we've seen guys like that over the years," Alexander said. "Seeing a guy like Baker being mobile like that and then being able to have a guy like Trevor, practicing against him, being mobile like that, that's something great to see every day at practice, as well."
Alexander said the key to stopping Watson is keeping him contained.
"You've got to keep him contained. He's up for the Heisman," he said. "He's one of the top players in the country. He played for an undefeated team this year. To keep him contained, everybody has got to do their job. We've got to make more plays on him than he does on us."
Defensive end Charles Tapper said the Sooners see quarterbacks like Watson – and great offenses – on a weekly basis in the Big 12 and, as a result, won't change their style of play.
"We really go into this the same way we go against any team in the Big 12 because like in the Big 12 we see that kind of offense with that kind of quarterbacks all the time," Tapper said. "You have Trevone Boykin, you have Baker Mayfield, guys like that you see them all the time, so we didn't really change any game plans, make up any special things because we see those type of mobile quarterbacks. If you're running the zone read, which is a hard play to defend, who can scramble at any time, call a QB draw or a QB carry, those are things that are hard to deal with."
Tapper then said it's the responsibility of the front seven to convince Watson he doesn't want to tuck it and run and that the Sooners won't add an extra player to spy on Watson.
"No, we play him the exact same. We use the front seven to stop him," Tapper said. "I mean, we've been stopping the run almost every game, so if he tries to run the ball we're going to apply the pressure and get after him and hit him up a little bit, make him reconsider running that ball."