| | |
| --- | --- |
| Son of NFL standout breaks down "amazing" trip to Clemson | |
---
| | |
| --- | --- |
| Monday, December 1, 2014 1:17 PM | |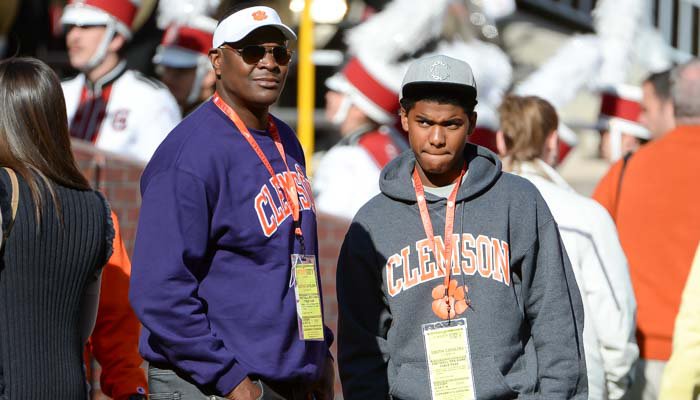 There's something in these hills.
That phrase is often uttered by Clemson fans when asked to explain the draw to a school that sits in the upper northwest corner of the state, nestled in between lakes and mountains.
The son of one former NFL great already understands that draw.
Keyshawn Johnson, Jr. saw it when he made his first trip to Clemson last spring as a freshman in high school and he's wanted to come back since that trip for another look at the campus. He made that wish come true this past weekend when he and his father made the trek from California back to the foothills of South Carolina to take in Clemson's 35-17 win over South Carolina.
"What made me want to check it out again was because during my freshman year, they offered me a scholarship from 7-on-7 and all of that," the Mission Viejo (CA) Calabasas standout told TigerNet after the visit. "I already really liked Clemson from watching Sammy Watkins, Tajh Boyd, Jacoby Ford and all of the good recent Tigers. I asked my dad if we could go visit and see how it is because I've always liked them. He said, 'yeah, we can go visit.' That was last spring. We went to go visit and it was amazing. I went with my good friend Darnay Holmes

Darnay Holmes
Cornerback
5-10, 185
Newbury Park, CA
View Full Profile - who also came with me this time and has a scholarship offer - and it was great.
"We saw the campus and the facilities. Coach Jeff Scott

Jeff Scott
Asst. Coach (WR) / Recruiting Coord.
View Full Profile was talking to us the whole time and I met Coach Swinney. It was just amazing. I wanted to come back for a game. I wanted to go to the Florida State game but Clemson was playing down there and I had a football game and couldn't go. We got out of the playoffs last week so I asked my dad if we could go visit Clemson and he said sure. When I got there, it was just amazing. I loved it. I loved everything about it - the atmosphere, the way I was treated at Clemson, the way random fans came up to me telling me that they hoped I had a good time and it would be nice if I came to Clemson and was a Tiger, taking pictures with fans. It was all just great. Everything about Clemson was good. Going back in the locker room and talking to some of the players and talking to Coach Swinney in his office was all amazing."
Keyshawn Johnson, Sr., who caught 814 passes during an 11-year NFL career – tweeted out a picture of his son talking with Clemson head coach Dabo Swinney

Dabo Swinney
Head Coach
View Full Profile following Clemson's win over the Gamecocks, and Johnson, Jr., said Swinney told him to take his time in making a decision.
"Basically he told me to visit other schools. Don't make Clemson your only visit. He encouraged me to visit other schools but give him a chance and I'll know that there's something different between all of the other schools and Clemson," Johnson said. "He was telling me that he encourages everyone to look at other schools but to make sure to give Clemson a chance and if Clemson is the school for you then you should come to school there. Talking to Coach Swinney one-on-one was probably the highlight for me."
The Class of 2017 standout said another highlight was seeing the Tigers run down the hill before the game.
"Like they say, it's the most exciting 25 seconds in college football. It was really cool," he said. "The fans were crazy. I was watching from the sideline and behind us was the student section and it was crazy. I really like how crazy the students were. It was all in all a good feeling."
So when will he want to make a decision?
"I don't want to do something like making my announcement on ESPN or the Under Armour All American Game. I want to try and do it my junior year and stick and know that I'm going to be there I'm going be a hard commit," Johnson said. "I won't just commit somewhere and de-commit and play the recruiting game. I will know what I want and when the time is right in my junior year, I'll make my decision."
Johnson said Clemson is definitely one of top schools on his list but said that no school has a lead.
"Clemson's pretty high, of course, because it's different. Clemson is just a different school. The way they treat you and everything is just different," Johnson said. "I really like that, so Clemson is pretty high up there. I wouldn't say that they are a leader because I don't have a leader right now."
We asked Johnson how his parents would feel about him playing at a school so far from home, and he said distance isn't a factor.
"If I want to go somewhere, they're going to respect it. People think that I'm just going to go to USC and there's no question about it," Johnson said of his dad's school. "If Clemson's showing me more love and I like Clemson more than I like any school, then I'm going to choose Clemson. Or if it's Ohio State or any school shows more love and I like them more than Clemson, then I'll choose them. It's on me. If I like the school, then I'm going to go there and if they like me and are going to use me to my abilities then I'm going to go there."
In the meantime, however, he knows he wants to take another trip back into those hills.
"I really liked it and I'll definitely be back."
This is how you get a kid to come to Clemson !! Look at Kiki's eyes , coach doing his job !!! I love it !! pic.twitter.com/D6aJWOyfmB

— Keyshawn Johnson (@Thromedamnball) November 30, 2014
Clemson today was a day to remember. Feels like home. Will definitely be back #ALLIN pic.twitter.com/S52Di92tML

— keyshawn the katya (@keyshawnnnn) November 29, 2014