| | |
| --- | --- |
| Sometimes all it takes is a little youthful perspective | |
---
| | |
| --- | --- |
| Wednesday, September 3, 2014 1:54 PM | |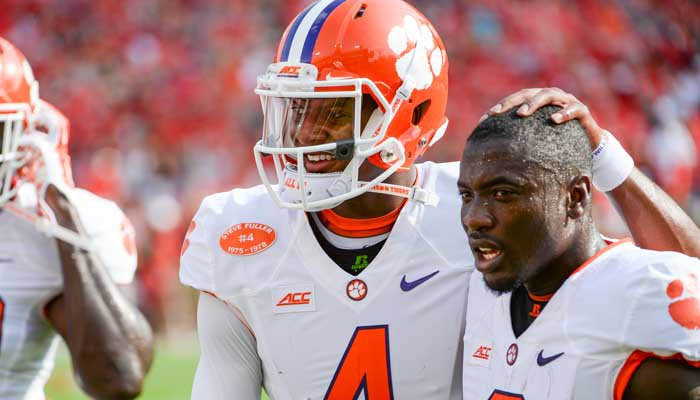 There are times when all it takes is a little youthful perspective.
The loss at Georgia last weekend stung, the final score not really indicative of the true nature of the game. A frustrating final quarter and a bludgeoning by the Bulldog run game left a sour taste in the mouths of all Clemson fans, and coaches and players have been called out by both the media and the fans.
Enter the youthful perspective.
Our Monday morning interview sessions this week centered around the freshmen – the young players that we haven't had a chance to talk to. Clemson head coach Dabo Swinney

Dabo Swinney
Head Coach
View Full Profile has a rule that the media can't interview a player until after they've played in a game, so it was a chance to talk to running back Wayne Gallman

Wayne Gallman
RS Fr. Running Back
#9 6-1, 209
Loganville, GA
View Full Profile , wide receiver Tay Scott and quarterback Deshaun Watson

Deshaun Watson
Fr. Quarterback
#4 6-3, 204
Gainesville, GA
View Full Profile .
I wasn't sure what to expect when the interview sessions started. Would they have the long faces many of the fans were sporting Monday morning? Would they be ready to dissect and discuss the Georgia loss?
Nope. All three of the freshmen came in with bright smiles, the world at their feet. And it didn't take long to figure out why.
This week is another chance to get together in Death Valley. It's the one thing Clemson fans have been waiting for since the Tigers walked off the field last November 23rd. That's 284 days if you're counting, 284 long days of winter cold and summer heat. There have been countdowns and there have been hill watches and it's finally here.
My Facebook feed was filled last night with Clemson fans giving away their tickets this Saturday – it's going to be too hot and the game starts too early and I'm still mad about last Saturday. The reasons are multitude, but one of the youngsters said something once the interview was over that resonated with me. There are only seven chances to see Death Valley in a game setting each year – why would you miss one?
I'm lucky in that I get to visit the campus on a weekly basis, and with spring practice, fall practice, and picture days I get to see Death Valley several times a year. But there's just something different about driving onto the campus on a game day – the car flags, the tailgates, the parking lots filled with fans excited about seeing the Tigers play on one of those few precious days we all wait for.
There is a second part to the perspective that needs to be mentioned – this team lost to a Georgia team that just might be one of the best in the country, and they lost on the road. We all knew this was a team that would have some growing pains offensively, and that was borne out on Saturday. I wrote Monday that it's frustrating to lose by double digits each time Clemson loses, and that hasn't changed.
But Gallman reminded us that this team hasn't quit, and with so many young players who sit on the cusp of being contributors, the rest of the season is still in play. Gallman, Watson, Scott, Kyrin Priester

Kyrin Priester
Fr. Wide Receiver
#17 6-1, 186
Lilburn, GA
View Full Profile , Mackenzie Alexander and several other freshmen will only get better as the season progresses. This season isn't over, and if the goal is to be playing your best football in October and November, then this team still has a chance to be pretty good.
Yes, there are things that have to be fixed, and yes there are players that need to grow up and contribute sooner rather than later. But the goals are still there, and these young players are excited about what the future holds, and not the future of next year or the year after. They are excited about the future of this season, and it all starts Saturday when Death Valley once again becomes that magical place that Clemson fans love.
Youthful perspective. Like Death Valley on a football afternoon, you can't beat it.