| | |
| --- | --- |
| So, you want to be play caller? | |
---
| | |
| --- | --- |
| Friday, October 31, 2014 11:24 PM | |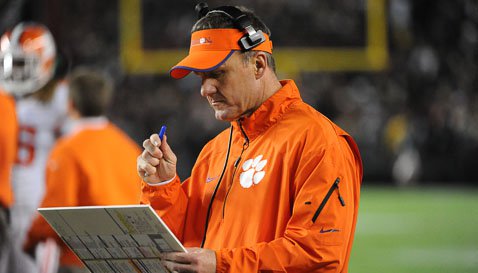 CLEMSON – Every fan and every sports writer sitting inside of stadiums or on couches watching a game on television knows, without a doubt, that they can call plays better than the coaches actually calling the plays on any given Saturday and Sunday.
The fans who have grown up in the video game generation are used to seeing their own brilliant play calling put up 60 and 70 points against the computer or their best friend or brother. Those who really like to take the time to play on the video games usually have a "system" of throwing or running that they know works, and if they're honest with themselves they don't harbor doubts it could work in the real world.
The old school pundits harken back to the days of yesteryear – when it was three yards and a cloud of dust – and complain to anyone within earshot that they could do a better job blindfolded and hungry.
With that in mind – and knowing we've all taken a shot at a coordinator a time or two –I decided to corral Clemson offensive coordinator Chad Morris

Chad Morris
Offensive Coordinator / QBs
View Full Profile a few weeks ago and ask him about what it takes to call plays on the collegiate level.
Morris takes his share of criticism, and he said he understands that a large salary coupled with high expectations put him squarely in the crosshairs of irate fans.
I asked Morris if he has a set series of plays - much like the first 15 made popular by the San Francisco 49ers Bill Walsh – and he said he does but with a different twist.
"We have our series openers. We have what we call P and 10's, which are the first plays of a series which are so critical," Morris told TigerNet. "We will probably take in 15 P and 10's. And then we will take in probably four running plays, with different presentations on them."
The next question – how soon after a play ends and the whistle blows do you have the next play going out?
"I have got it going out right now. You try to think two plays ahead," he said.
Morris said that a good play caller finds a rhythm and goes with it, and that there are good days and bad days.
"It always depends on the rhythm. There is no set 'this is what you do' in this situation," he said. "You have a series of things you want to do in a certain situation, but it's a feel for the game. But you won't sprinkle any dust over your head and all of a sudden you are a play-caller. It's a feel. Some days are going really good and you can close your eyes and call plays, and other days like Saturday you are searching for anything and everything."
Morris started calling plays when he took his first high school job and has never stopped, but said a good play caller knows there is always something to learn.
"I started calling plays right off. I would say, in talking to people because you try to grow every year, you never master it," he said. "Even the guys on Sunday haven't mastered it. Whenever you get a chance to watch football, you watch football and you are always watching how people try to scheme and attack and what your next move can be. That is why you watch a game. I never watch the ball. What's the scheme of it, and what's behind it? I don't think you have ever mastered it.
"There have been some games where we have scored a billion points around here the last four years, and then there have been some games it doesn't matter what you call it isn't working. Some of it has to do with personnel, and you're in the flow of things. You get comfortable and you do what you do. I remember as a young coach I thought you needed a playbook that was really, really thick. And you needed to run the wishbone at times, have the run the split-back veer at times, you have to run the spread at times and then I realized you can't do that. Because then you won't be good at anything."
Morris said he doesn't take a huge number of plays into any given game, preferring to keep it simple and fast.
"Four or five runs and then different passing concepts depending on the coverages you see predominantly," he said. "What you come out with is probably seven or eight passing concepts and then four different runs. And then there are different formations to try and out-flank and out-leverage, and that where the game of chess gets involved. It's how can you get someone matched up on someone else. That's what we try to do."