| | |
| --- | --- |
| So you think you know the real Ben Boulware? Think again | |
---
| | |
| --- | --- |
| Thursday, March 13, 2014 8:46 AM | |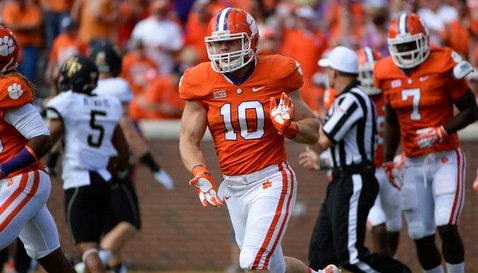 CLEMSON – You may think you know Ben Boulware

Ben Boulware
So. Outside Linebacker
#10 6-1, 230
Anderson, SC
View Full Profile , but you don't.
Clemson's sophomore linebacker has been a likable, sometimes humorous presence in the world of social media since his high school days, and his play on the football field has drawn the attention of Clemson fans hungry for the next playmaking linebacker.
However, it doesn't mean you know the real Ben Boulware, especially if you only know him through his Twitter account, and it's that Twitter persona that the coaches are trying to tone down.
"I don't think people know me, but I know I have to grow up," Boulware told TigerNet following Wednesday's practice. "I am laying low. I just tweet what's on my mind, and they aren't really that bad, honestly. But people freak out. But I am laying off of that, because I don't think people know me. The coaches say things like, 'your tweets are stupid, that's dumb stuff.' I have to calm down."
Calming down isn't something that Boulware – who plays whistle to whistle and seems to be in constant motion – is used to. It's also something the coaching staff doesn't want to see happen on the football field.
Unless he happens to lay out a defenseless running back.
"They definitely want me to be me," he said. "But in certain parts of practice, we practice a thud period. Last week during Youth Day, we were in full pads, but I forgot Coach Swinney told me it was thud. I went all out, and I tackled the running back and he got all mad. I know there are some parts of my game where I have to calm down, but the coaches are telling me they would rather tell a player 'whoa' than 'go.' "
To understand what makes Boulware tick, you would have to know how he was raised, with an older brother Garrett (who plays catcher on Clemson's baseball team) and a rowdy group of cousins that all raced motocross.
It was one race in particular that just might be the reason Boulware plays each play like it might be his last.
"I am the way I am probably because of the way my parents raised me, and living with Garrett I was getting bullied all the time," Boulware said. "But growing up, my cousins and I raced motocross, and during one race I broke my arm. They almost had to cut my arm off because it got infected so badly. I hit a rock, and I flipped and I was run over by everybody. I was knocked out.
"I had a hole in my arm, and it got dirt all in it, and my dad put duct tape on it and tried to get me to go back into the race. But my mom cussed him out and convinced him to take me to the hospital. I raced up until third grade, but I had to quit because of that. I was out for two years, and had two operations on my arm. It was screwed up."
Boulware took all of that pent-up aggression – which he would once unleash during motocross – and transferred it to the football field. It was there he learned that he would never be the fastest player or the biggest player, so he made up for his shortcomings by playing harder than anyone else.
"Some guys are 6-4 and run a 4.4," he said. "I obviously wasn't blessed with that height or speed, so I have to make up for it in the way I play. I would much rather be myself and play whistle to whistle than be some 6-4 guy who is huge and athletic, but be lazy sometimes and take off plays."
Boulware caught the eye of defensive coordinator Brent Venables

Brent Venables
Defensive Coordinator / Linebackers
View Full Profile last season, and escaped a redshirt season by being a terror on special teams and acting as the backup to Stephone Anthony

Stephone Anthony
Sr. Linebacker
#42 6-2, 235
Polkton, NC
View Full Profile at middle linebacker. He tallied 25 tackles in just 73 snaps, but says he feels more comfortable this spring, and has been practicing at both the middle and weakside linebacker spots.
"I've changed a lot. I am more sure of myself. I know the system now, and I know where the safety is going to be," he said. "I've gotten more mature, and that has helped me a lot on the field. I just have to get more into the playbook and get there mentally. If I can get that down, the rest will take care of itself."
Clemson fans may indeed see a different Ben Boulware this season, but don't expect him to change who he is or how he plays. And if you want to know who the real Ben Boulware just happens to be, all you have to do is ask.
"He is just a kid who loves football, and loves playing the game the right way," he said. "He loves playing whistle to whistle. He loves his team and will do anything for them."
)
)