---
| | |
| --- | --- |
| Friday, January 10, 2014 5:04 PM | |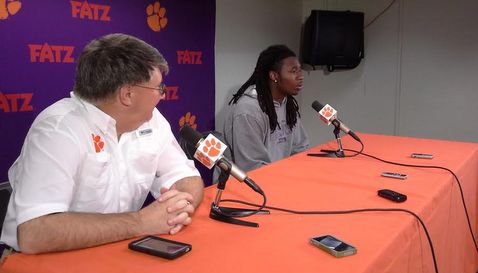 CLEMSON – Sammy Watkins

Sammy Watkins
Jr. Wide Receiver
#2 6-1, 205
Fort Myers, FL
View Full Profile sat before the Clemson media for a final time Friday afternoon, as poised and as comfortable as I've ever seen him in front of the cameras, and talked about his decision to turn professional and his time at Clemson.
His final game as a Tiger and his final press conference each showed that Watkins is ready to move on, showed his maturity as a person and a player, and Watkins himself even gave credit to his arrest for helping grow in both areas.
The junior wide receiver announced earlier this week – to no one's surprise – that he would forego his senior season and declare for the NFL Draft, and he flew back to Clemson this week so he could attend the team banquet this weekend.
Watkins met with the media, and said he felt like he has accomplished all he can in a Clemson uniform.
"It's been a pleasure being here these last three years and growing as a young man," Watkins said. "I think I have maximized my opportunity here."
He then said that he approached this entire season as if it would be his last at Clemson.
"That's how I approached this season," he said. "The coaches approached this season as they're going to get the best out of me, they're going to get the ball to me, and I've got to be a complete player, but also be a leader on and off the field. The coaches did a great job of working with me, getting me back to that same Sammy Watkins my freshman year. Coach (Joey) Batson got my body prepared. I haven't had any game injuries this year. I stayed healthy the whole season, and he did a great job of maintaining and supporting my health."
Watkins said he wanted to improve his total game this season, especially after talking with former Clemson receiver and first round pick Nuk Hopkins.
"They're not looking at the plays you make; they know you can catch the ball," Watkins said of NFL talent evaluators. "They're looking at the plays when you're not getting the ball. That's what I wanted to focus on this year."
He said he never really considered coming back for a senior season.
"It comes down a business aspect, something I have to do," Watkins said. "Not saying I won't miss Clemson, but I think I can go into the NFL and be that dominant receiver making a lot of plays."
Watkins said that the postgame euphoria after the win over Ohio St. was tempered by the bittersweet thoughts it would be his last time with people who have meant so much to his career.
"Just a lot of joy. You don't want to cry in front of everybody, but once we got in the locker room, it got kind of sad, hugging the coaches, knowing it was going to be my last game with the group of guys we've got," he said. "It was a good moment, but it was a sad moment, knowing I won't be able to catch the ball from Tajh. I think the NFL is totally different from college; it's more business up in there. Just missing that family atmosphere is going to be hard on me."
Other notes
On the coaching staff
"They got everything they wanted out of us. They coached us hard. They definitely held us accountable in any situation. I don't think if I would have went to any other university, I would have gotten out of Clemson. Not only football, but I met a great group of guys that came from different places. We accomplished a lot in these three years, and this program has been growing ever since I've been here. Clemson is going to be great for a long period of time. Coach Swinney and his staff do a great job preparing us not just for football, but for life, the world of being a dad, being a husband and things like that."
How his arrest changed his outlook on life
"Everyone thinks of that as a bad point in my life. That helped me out. That made me see the bigger picture, that a lot of kids look up to me. As a young guy, I didn't know I was this big star football player, I was just going out there playing football, doing the thing I loved to do. I definitely had to reevaluate myself, and fix the little things I was doing in my life – partying and not doing the right things. They respect me more for stepping up and doing what I had to do with the law and all the hours I put in with community service, speaking out and reaching out with the kids to not do bad things and be with bad people."
On how he will handle the tough questions of the NFL
"Of course, I think the NFL knows everything. All you can do is go in the room and be genuine, tell the truth. I'm looking forward to that time to let those guys know the truth, how I grew at Clemson, and what type of citizen I am."
Favorite Clemson memory
"I would definitely say this year, I don't think any receiver got the 90-yard touchdowns. That's the highlight of my career, getting those two touchdowns to break the game open and end the game on a winning streak. Definitely didn't do that my freshman year or any other year."
On playing with NFL quarterbacks
"The Tom Brady's of the world, the Peyton Mannings, are great quarterbacks, those guys I want throwing the ball to me. If you're in the NFL, you're good at doing something, so I look forward to any team I can get on and get started with the quarterback."
His favorite NFL team
"They're down right now, Buffalo Bills was my favorite, before C.J. even went there. I don't know, I just always liked the Buffalo Bills. But my real team is Miami, my hometown team. I love every Florida team, Miami, Tampa Bay, Jacksonville. Right now, they're doing a bad job, but hopefully they'll get back on the right page. It would be a childhood dream to go up there and play with C.J. Spiller

C.J. Spiller
Pro Running Back
#28 5-11, 195
Lake Butler, FL
View Full Profile . They've got some great wide receivers, a great quarterback, it'd definitely be a pleasure."
On having to wait three years to go to NFL
"I think the system is right. As men, I think we should enjoy our college career. No one should rush the process. With college, yes, we have a lot of great athletes that perform week in and week out, but there's a lot of things you have to work on behind the scenes. That's not even catching and scoring. That's the little things, how many steps in our routes, getting the right depth every time, not showing your routes. Those types of things you have to do consistently."
No regrets?
"I accomplished every goal I came here with. Since I've been here, I've tried to be the best player, best citizen. Clemson helped me grow in both areas, and I have grown."
On if he thinks he is a first-rounder
"Of course, different agents reach out to you through e-mail and text your phone that you'll be a top-ten pick. But I don't pay attention. I just control what I do through the draft, prove to the NFL scouts or GMs I can be a dominant player, and a good man and good guy off the field."