| | |
| --- | --- |
| Smith wants a win over the Gamecocks for the fans | |
---
| | |
| --- | --- |
| Tuesday, November 25, 2014 5:39 PM | |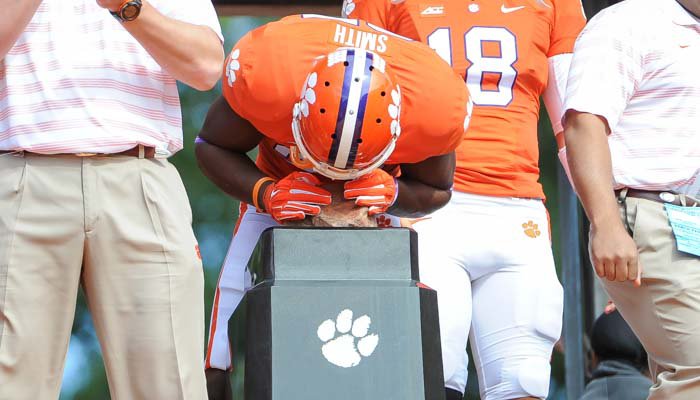 CLEMSON – Senior safety Robert Smith

Robert Smith
Sr. Safety
#27 5-11, 211
St. George, SC
View Full Profile got emotional during Tuesday's interview session, and he made it perfectly clear that while he wants to win Saturday's rivalry game against South Carolina for personal reasons, he really wants a victory for the Clemson fans who have had to struggle during the Tigers' five-game losing streak.
Smith grew up in St. George – which sits between Columbia and Charleston – and said that his hometown was divided between Clemson fans and South Carolina fans and rivalry week was always a special time.
Once he arrived at Clemson he realized just how special the rivalry was.
"Growing up in the state of South Carolina, it's something I've heard about all my life," Smith said Tuesday. "You see so many things, and growing up you had Clemson fans and South Carolina fans and to be a part of it is sometimes overwhelming. I remember my freshman year and being in Williams-Brice Stadium, and I was like, 'Wow. I am part of the rivalry now. I am not just watching it or hearing about it, I am actually a part of the rivalry.'"
Smith said a win in his final home game would be special.
"For the last five years and the three I have been here they have won. You can't change anything about it, all you can do is go out this year and do the best you possibly can," he said. "There is nothing to be said - they have won - but this is a new year and we just have to go out and change that. I feel like that would probably top off my senior year, to end the streak. To end the streak in Death Valley would be something that I would remember all my life."
Head coach Dabo Swinney

Dabo Swinney
Head Coach
View Full Profile installed a countdown clock in several of the meeting rooms during the off-season, and Smith said that thoughts about the game – and the streak – are never far away.
"It's something you have to deal with 365 days a year. There aren't many days that I walk around here and don't see it," he said. "You have to deal with it. I think that is what Coach Swinney wants to put in our mind - this is something you have to live with throughout the whole year. Wherever you go, you are going to hear about it. For the longest time, we have had to look on that wall and see that it says 0-5. That is something that you aren't proud of at all. It hypes it up more for us and makes us realize what is at stake."
The end results is that Smith wants to win the game and end his home career on a high note, but he made it clear that the real reason he wants to win is so the Clemson fans will have something to be proud of.
"We have a rivalry game but there is so much more that's at stake than just the rivalry game," Smith said. "You have the number one defense, and we want to go to a real good bowl. There is so much. And we want to win it for the fans, too. It has been too long since we've won the state championship. I want the Clemson fans to be proud of something, and I want them to not have to live with another year of no bragging rights. Any time I am in an encounter with a Clemson fan, they are always like, 'please win the last one, please win the last one.' It's something that you really want for the fans. It is not just about us."