| | |
| --- | --- |
| Smith plays the part of recruit and recruiter during busy weekend | |
---
| | |
| --- | --- |
| Wednesday, November 26, 2014 1:17 PM | |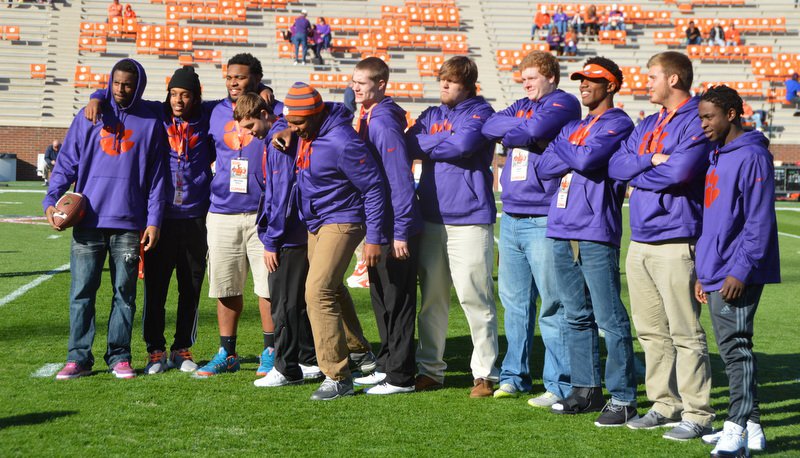 Clemson 2015 linebacker commit Chad Smith

Chad Smith
Outside Linebacker
6-4, 215
Sterling, VA
ESPN:


View Full Profile had a busy weekend taking in his first Clemson game, meeting future teammates for the first time and helping recruit one of the Tigers biggest remaining targets. He then followed that up by receiving his jersey for the Army All American Bowl.
The four-star Sterling (VA) Dominion linebacker made his first-ever trip to a Clemson game and wanted to make sure he got the most out of his one and only visit.
Smith told TigerNet Wednesday that enjoyed seeing the pageantry that surrounded Clemson and Senior Day as well as really getting to know many of his fellow 2015 commits.
"It was a great experience. I definitely enjoyed the overall game experience," Smith told TigerNet. "It was my first game and to be able to get down there for Senior Day, it was a special game. It was really awesome to have a game experience and be able to come down and watch it and hang out with all of my future teammates. It was the first time that I've actually met a couple of the commitments, so it was great getting to spend time with them and get to know them over the weekend. It was great. I connected really well with all of them so I'm really excited about what the future has in store for us."
Smith, who made the trip down with his high school coach and his coaches family, said he was also able to spend time with coaches who were less worried about making recruiting pitch and focused more on getting to know their future defensive play maker.
"Really, they didn't have a message to me," Smith said. "They knew that I was 'All In' from the get go, so they weren't trying to keep me from looking anywhere else. They were glad that I was down there and wanted to make sure that I was enjoying my time down there. They weren't trying to communicate any message to me. It was just having fun and hanging out."
The 6-3, 214-pound linebacker also had one more priority over the weekend – getting to know one of Clemson's biggest remaining targets of the 2015 class and showing him what Clemson's program is all about.
"Christian Wilkins is a great guy," he said of the Suffield (CT) defensive tackle who is considering the Tigers. "He's definitely someone who handles himself very well. He's a great, great football player and probably one of the best defensive tackles in the nation, if not the best defensive tackle in the nation. He's very high on Clemson's list of defensive tackles, so I wanted to recruit him myself and be around him throughout the entire visit. I wanted to try to recruit him a little bit here and there and make sure that he enjoyed himself a lot. It was a great experience and we definitely formed a bond over the official visit time that we had down there at Clemson. I know that he really likes Clemson but he's going to go through the process that he has set out and when all of that is said and done he'll make a college decision. He'll ultimately make the decision that's best for him."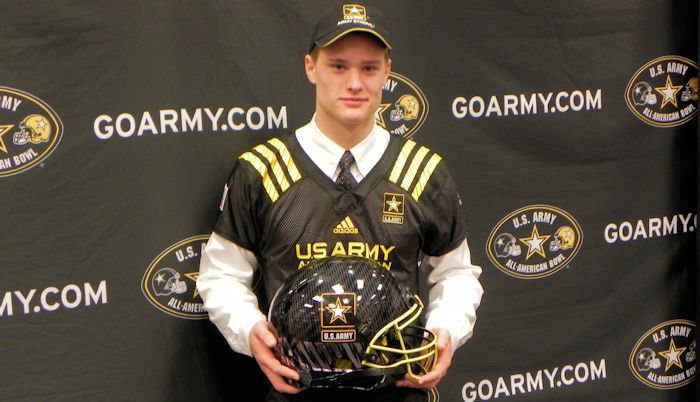 You would think that with high school and recruiting all but behind him, Smith's schedule would settle down but next up is a trip to San Antonio, Texas for the U.S. Army All American Bowl on January 3rd.
"Being able to play in a great game such as the Army All American Game and be able to be presented with that jersey is a huge honor," he said. "They do so much for our country and they lay their lives on the line for everyone here at home. To be able to play in a game and be able to support what they do is just amazing and is a great opportunity. I'm really excited about it."
Smith is pleased with everything that he has been able to accomplish during his high school career, but he knows that there is more in store from him as he prepares to enroll at Clemson in just over a month.
"I dreamt about it. I could see myself doing that. Two years ago, those were all of my goals and that's what I worked towards," he said. "Now seeing that all of that hard work has paid off is really humbling and the opportunities that were given to me to make a name for myself and to be able to have an opportunity to go to these games and receive these honors, it goes back to the people who have supported me throughout the entire process - my family, my coaches, my teammates. It goes back to them helping me to get to these opportunities and help me receive some of the awards. The hard work that I've put in with my teammates and alone has paid off. They were goals of mine and to know that I've achieved them is a blessing. I'm satisfied with the accomplishments that I've made but there's bigger things in store for me over the next couple of years and that's what I'm turning my attention to."