| | |
| --- | --- |
| Smith and Venables: a match made in heaven | |
---
| | |
| --- | --- |
| Thursday, April 10, 2014 10:39 PM | |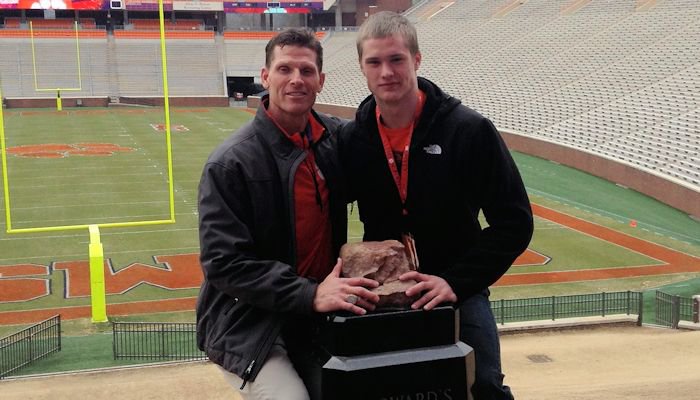 Smith believes that Venables and the coaching staff can turn him into a top-level linebacker and give him the opportunity to fulfill a dream of playing in the NFL.
"When I went down there for my junior day visit, I was just in awe of the facilities, the campus and the people there, Smith said. "The family environment down there - the treated me as if I was one of their own and that really stuck with me. I've been in constant contact with Coach Venables. He has been telling me that I'm his guy and that he thinks he can do great things with me and that he can he can make me into one of the best linebackers at Clemson. He believes that I could fulfill my dream of being an NFL football player. He is my type of guy - very intense, motivating type of guy. That's the type of coach that I look for at the next level.
"Just the atmosphere when I went down there for the junior day visit and it was just a great environment. When I had to go back home, it made me not want to leave. I just kind of wanted to stay. I'm just excited that I can call Clemson a home away from home in the future. I'm looking forward to all of the hard work and dedication that I'll be giving to the program. I'm really, really excited to take this next step in my life."
And off the field, he will be treated like family.
"When we were on the road driving home from Clemson, I looked at my dad and he looked at me and we were just speechless," Smith said. "They did a great job preaching their message. Coach Swinney did an excellent job giving a message that it's family first here and that we are all about the players here. We care about the players on and off the field. We care about their academics. We care about their life off the field in regards to their family and their choices off the field. On the field, we are out to make them the best player they can be.
"That's what families do - they are out for the best interest of each family member. They are willing to give their best to make you the best and they are committed to you and they are dedicated to making you a better person overall. That's what Clemson is all about. That stuck with me throughout the entire process and I couldn't really find another school that preached a message like that. It made my decision a lot easier. There aren't that many schools out there that can offer what Clemson can offer. It makes them unique, in that way."