| | |
| --- | --- |
| Smack talk? More like a smackdown as Tigers head to title game | |
---
| | |
| --- | --- |
| Thursday, December 31, 2015 8:00 PM | |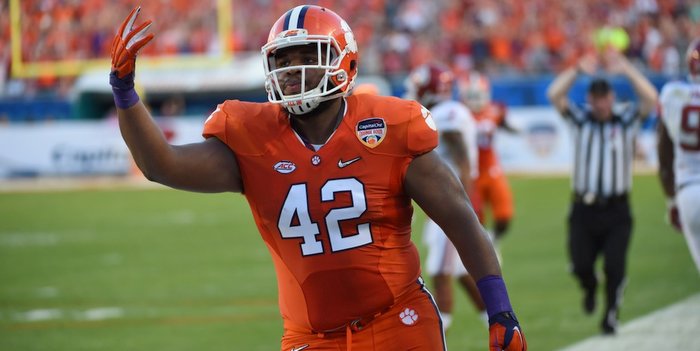 MIAMI GARDENS, FL – This one wasn't as much about the smack talk as it was the smack down.
Number one Clemson overcame an early injury to defensive end Shaq Lawson and a 7-0 deficit in rolling number four Oklahoma 37-17 in the Capital One Orange Bowl Thursday night, and the Tigers will meet the winner of Alabama and Michigan St. on January 11th in Arizona for the National Championship.
Both teams did a lot of talking throughout the week, but Clemson dominated both lines of scrimmage after a disoriented first quarter in dominating the Sooners, considered the nation's hottest team. It was the second win for the Tigers over the Sooners in a bowl game in two years – the Tigers dominated Oklahoma 40-6 in last year's Russell Athletic Bowl.
The Tigers improve to 14-0 on the season, while Oklahoma falls to 11-2.
The Tigers picked up over 500 yards of total offense in their 10th straight game, a school record. Both quarterback Deshaun Watson and running back Wayne Gallman cleared the 100-yard barrier (Watson had 145 and Gallman 150) as Clemson rushed for over 300 yards in the contest. Oklahoma's vaunted rushing attack was held in check.
"You know, that's 17 in a row for us. You know, it's the longest winning streak in the country, and we've played a lot of good teams in those 17 games," head coach Dabo Swinney said after the game. "I'm just so proud of our team for just their willingness to be coached, their willingness to prepare each and every week, each and every game, the mindset and the mentality that they come to work with because it's just special. It's uncommon. That's what I tell them all the time, when you do the common things in an uncommon way, you command the attention of the world, and this team is uncommon in everything that they do. It's just a blessing to be a part of it.
"It's our fourth bowl win in a row, and more importantly we're 14-0. It's just awesome to be in the National Championship, to represent the ACC, and I think this is two out of the last three years our conference has been in the National Championship Game, and hopefully we can hold our end of the deal up."
The Sooners took the opening kickoff and made it look easy in scoring the game's first points. The drive was aided by a pass interference call on a pass that was well out of bounds, but the Sooners took advantage of the officiating blunder and scored on a one-yard plunge by Samaje Perine for a 7-0 lead a little over three minutes into the game.
Clemson managed one first down before punting, but Oklahoma's Mayfield was sacked at his own three-yard line by Lawson to stop the Sooner's second drive. The punt – from the back of the end zone – was shanked and Clemson took over at the Sooner 28-yard line. Clemson could only manage a 26-yard field goal by Huegel, and Oklahoma led 7-3 with 3:45 to go in the first quarter.
Clemson forced another Sooner punt, but took over at its own four with momentum clearly on Oklahoma's side. Watson switched the momentum with a 46-yard run on the first play, but the drive stalled near midfield. Enter Andy Teasdall – who got in trouble after a fake punt went awry in the ACC Championship Game – who took the snap and lofted 31-yard pass to 309-pound defensive tackle Christian Wilkins.
Three plays later, Watson bowled in from the five and Clemson led 10-7 with 12:45 to play in the second quarter. Clemson forced another punt from the Sooners, and a 10-play, 62-yard drive ended with a 36-yard field goal by Huegel as Clemson led 13-7 with 7:05 to play in the half.
On Oklahoma's ensuing possession, a 27-yard pass from Mayfield to Sterling Shepard and a 15-yard penalty on Clemson's sideline led to a 22-yard field goal, and Clemson led 13-10 with 4:41 to play before halftime.
Clemson went on a nine-play, 49-yard drive over the next two minutes, and Huegel hit a 43-yard field goal to put Clemson up 16-10 with a 2:17 to play before the half.
It didn't take Oklahoma long to respond, and they did it in impressive fashion. A 42-yard pass from Mayfield to Westbrook set up an 11-yard touchdown pass to Mark Andrews, and the Sooners had a 17-16 lead with 1:34 to play in the half.
The Tigers had a promising drive – one that would have netted points and a halftime lead – but Watson made a bad decision and threw a risky pass into the endzone that was intercepted by the Sooners with 13 seconds to play in the half.
Clemson's gameplan to start the second half was simple – run the football and be physical – and it worked to perfection. Twelve plays and 75 yards after the kick, Gallman rumbled over from one yard out to give Clemson a 23-17 lead with 10:51 to play in the third quarter.
Clemson forced an Oklahoma punt and took the ensuing possession down the field, but an option play to Gallman went out of bounds and the drive stalled. Huegel then missed a 47-yard field goal. Oklahoma drove down the field and faced a 4th-and-1 at the Clemson 30-yard and elected to go for it, but Perine was stopped for no gain and Clemson took over with just under six minutes to play in the third quarter.
Four plays and 70 yards later, the Tigers found a little bit of breathing room. Watson rolled to his right and hit Hunter Renfrow on a 35-yard touchdown pass that gave Clemson a 30-17 lead with 4:07 to play in the third quarter.
Clemson forced yet another Oklahoma punt and took over near midfield with a chance to create even more separation. Create they did.
Nine plays later – after yet another bruising drive – Gallman rushed in from four yards out to give Clemson a 37-17 lead with 10:48 to play.
Oklahoma put together an impressive drive on the ensuing possession, and Mayfield used several nifty plays to drive the Sooners to a first down at the Clemson five. On the next play, however, linebacker Ben Boulware tipped a pass in the endzone to himself for the interception and the Tigers took over at their own 11 with 7:23 to play.