| | |
| --- | --- |
| Sleepless nights for Venables with Georgia on the horizon | |
---
| | |
| --- | --- |
| Tuesday, August 26, 2014 8:50 PM | |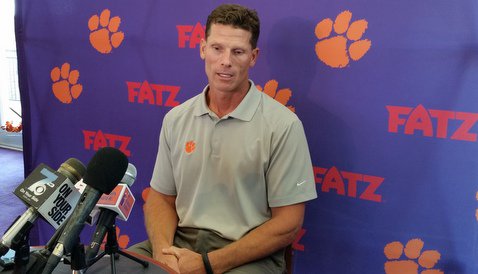 CLEMSON – The Clemson Tigers are only three days into game week, but defensive coordinator Brent Venables

Brent Venables
Def. Coordinator / Linebackers
View Full Profile said that the thoughts of facing Georgia's running back tandem of Todd Gurley and Keith Marshall have already caused him many sleepless nights.
However, it's not just that duo that will give defensive coordinators in the SEC and ACC nightmares as the Bulldogs are five deep at running back and have young talent at wide receiver and tight end.
"It's a great challenge," Venables said during his Georgia preview press conference Tuesday afternoon in the WestZone. "They've got enough experience up front and at receiver. They've got two creatures at running back and they signed two more creatures at running back and they have a speedy guy in Isaiah McKenzie that I know really well.
"They've got Sony Michel. Those two guys along with Nick Chubb are from my recruiting area, so I know what all of those guys bring to the table. Plenty of sleepless nights with Marshall and Gurley on the horizon. It's exciting - the challenge that they present. They can run the football. They can take the top off the defense. The quarterback is experienced enough that he knows what to do with the ball and has shown a great composure as the starter. I don't think they'll have any kind of limitations on him."
With talent across the field, Venables knows that his defense will face a balanced attack from Georgia offensive coordinator Mike Bobo.
"They are too balanced in what they do, whether Aaron Murray is gone or not," Venables said. "Offensively, they have shown tremendous balance in their commitment to both the run and the pass. Their effectiveness in running the football and controlling the line of scrimmage allows them opportunities to throw the ball, as well. You can't gang up on any one thing. You have to win the trenches, eliminate big plays and tackle well. You do those three things and you realistically give yourself a chance to win the game."
No matter what is thrown at Venables' defense, he knows that experience on the defensive line and at linebacker will give the Tigers a fighting chance.
"Obviously, you feel quite a bit different than you did a year ago in how you match up physically with a bunch of new guys and guys that didn't have a lot of experience," he said. "Feel great with the group of guys we've got up front. It gives you a chance. We're physical and experienced there. We've got good depth. Excited to see those guys go out and compete. We have several new players and I'm excited to see those new guys get on a big stage and compete against a quality opponent like Georgia."
And, if all goes as planned Venables will have the same feeling during Saturday's game as he did a year ago on the sideline in Death Valley.
"It's a game a year ago, despite giving up too many explosive plays, once we got that first quarter finished we felt like we were in control of the tempo of the game," he said. "That's just how you felt as a play caller during the course of that game. The two-minute situation at the end gave them a quick 80 yards and that was on the play caller, not our guys."
On Georgia being an old-school football program
"Georgia likes to spread the ball out and throw it all over the lot. They're just really good in their play action game. They've got two backs that attack you vertically. They get in their three and four wide sets and attack you that way, as well. From the standpoint of the way they run the ball, yes they are old school.
"Watching the South Carolina game - which was the week after our game a year ago - gave you even more respect for Georgia - their program, their coaches, their players, their toughness - was after a tough loss here in Death Valley they come back and boatraced South Carolina. They got after them pretty good. I know South Carolina is a physical, hard-nosed program and they gave it to them in that game, running the football."
On Martin Jenkins

Martin Jenkins
RS Sr. Cornerback
#14 5-9, 185
Roswell, GA
View Full Profile
"He's physical. He's definitely not afraid. I'm confident in him. Overall, he was just better. More experienced and has had a little bit better fall camp."
On MacKensie Alexander

MacKensie Alexander
RS Fr. Cornerback
#2 5-11, 190
Immokalee, FL
View Full Profile
"He's shown a little bit more consistency. He's got good instincts. He's a student of the game. Makes a lot of competitive plays on the football."
On the competition between Jadar Johnson

Jadar Johnson
So. Defensive Back
#18 6-1, 207
Orangeburg, SC
View Full Profile and Jayron Kearse

Jayron Kearse
So. Safety
#20 6-4, 215
Fort Myers, FL
View Full Profile
"I think we feel comfortable with both guys. We'll see who has the best week of practice here."
On Tony Steward

Tony Steward
Sr. Linebacker
#7 6-1, 236
Hastings, FL
View Full Profile
"Tony is ready for this. He's an experienced player. He's athletic. He's instinctive. He's tough. He's hardworking. Great practice player. Very committed to this football team and very unselfish. I'm excited to see him have an opportunity to line up next to Stephone and have a great year."
On Jayron Kearse
"He's improved. A year ago at this time, we knew he'd have a good future, but we weren't ready to sign off on him as a starter. He's made tremendous progress. Along with that comes the discipline, because without the discipline you haven't made progress. It's also trust and understanding. It's not high school football anymore - you have 10 other guys on the field with you, you've got calls, you've got a key and you've got to have the discipline to do that play in and play out. He's made great progress that way."