---
| | |
| --- | --- |
| Sunday, October 25, 2015 7:01 AM | |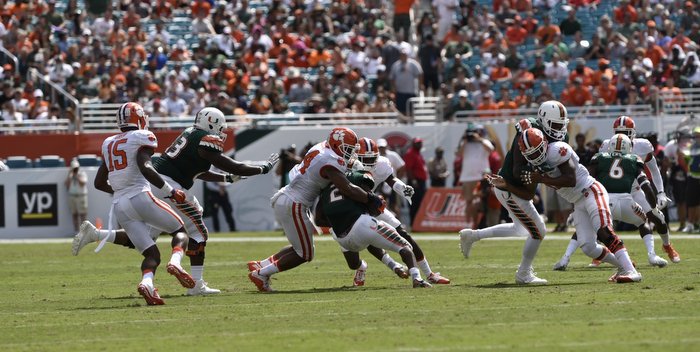 MIAMI GARDENS, FLA – The biggest cheer of the day for the Miami faithful came on a punt. That's the kind of day it was for Miami's offense against a Clemson defense that is proving itself to once again be one of the nation's top groups.
Clemson didn't just beat up on the Hurricanes. They dominated them. The Tigers shut out a Miami offense that has been efficient for most of this season, but the Hurricanes ended the game with 146 total yards, three turnovers and six first downs. And zero points.
The shutout was Clemson's first in any road game since 1995 at Maryland.
Defensive coordinator Brent Venables was happy with the shutout because one reason.
"Because they're hard to get. It was a complete performance," Venables said of the shutout. "I think you saw Miami's approach when they got down big, they were going to continue to be aggressive. They came out swinging and we picked them off right there before the half. To keep that edge and that focus and that hunger, if you want to be elite that's what you do. To get the shutout against a team that has quality players, anytime that's pleasing because there's great cleanliness in how you play, great precision in how you play, and the hunger and the focus to finish it the right way."
The Canes had an early chance to tie the game at 7-7, but Brad Kaaya's third-down pass was intercepted by Jadar Johnson. The Canes never again threatened.
"I thought it was a huge play in the game. We had a zone blitz on there and Jadar is playing half field," Venables said. "He's got great positioning. He did a great job disguising, and it looked like he kind of came out of nowhere. He did a really good job with his pre-snap depth and it was a really big play in the game, obviously, with them moving the ball down the field the way they were. I told them that right after the game that was as big of a play in the game as there was just to take a little bit of life out of them and keep them out of the endzone."
Venables said he thought Miami was the biggest challenge Clemson's defense has faced.
"It was a big challenge. It was our biggest challenge to date - defending a team that throws the ball very well. Kaaya is a terrific player and they have a good offense in regards to distributing the ball," he said. "They know what they're doing. They play with a lot of precision throwing the ball, and we really felt that we hadn't displayed anything on tape that would necessarily scare them because we hadn't seen a lot of great throwing teams yet, so this was a real challenge. If they want to be a great defense, you have to go and play different kinds of ways and be great at everything, whether it's stopping the run or getting negative yardage plays.
"You've got to do it all the way around. Great players do that. Great units do that. Great teams that. That was a huge challenge for our guys.You beat your chest about stoning Georgia Tech and some of the other teams that we've played, but this is a team who could really spread you out and stress you through the air. We thought it would be a challenge up front because he hadn't been sacked many times. We got pressure in our two and three man rush, and we felt like that would happen and he would hold the ball in those and we'd have a chance to get the result that we did."
Once the game was out of hand, Venables was able to get a lot of younger players significant playing time.
"You love getting those guys the experience. I thought it was really big for them to be able to go out there and play well," he said. "A bunch of guys getting on that plane are going to feel good about themselves. That was neat to be able to see them get in there and be able to have some success."