| | |
| --- | --- |
| Shutdown corner: Alexander backs up his pregame talk and dominates | |
---
| | |
| --- | --- |
| Tuesday, December 30, 2014 12:55 AM | |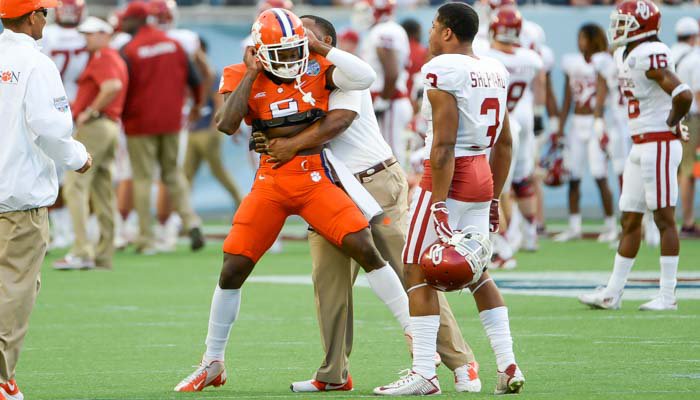 ORLANDO, FL – Clemson's football players took in the full Orlando experience this week, making trips to Disney World and Sea World and taking advantage of the rewards of a bowl trip.
Don't look for MacKensie Alexander

MacKensie Alexander
RS Fr. Cornerback
#2 5-11, 190
Immokalee, FL
View Full Profile in any pictures of their trips, however. Alexander stayed in his hotel room and watched film of Oklahoma, Clemson's opponent in the Russell Athletic Bowl.
Alexander put that film work to good use, shutting down speedy Sooner receiver Sterling Shepard, who caught just one pass for a paltry 13 yards. Shepard's bad night started in pre-game warmups when he got in Alexander's face to let the talented freshman corner know that he could expect a long night.
Alexander was having none of it and got the last laugh.
"My thing is that their receiver – number three - I'm not going to pronounce his name, but he came in talking trash before warmups," Alexander told TigerNet after the game. "I don't care what ESPN says about you or what the draft people say about you. When you step on the field against me, it's a one on one matchup and I'm going to always win my matchup. I love competition. I enjoy being one on one. If you can beat me one on one, beat me consistently. Show me. Don't be in or be out. As you can see number three did nothing tonight. I don't know what ESPN says or if you're the best, that doesn't matter. He has to show up on game day."
Alexander said that staying late and working overtime are things he learned from his parents. He also said he is going to keep working.
"My parents, it's a trait they passed on to me and I'm just doing the same thing they always did which is prepare myself to the best of my ability," he said. "I want everybody to know that I'm a hard worker. It's not just talent that's the reason I got here. I've got to work on all aspects of my game. I had a pretty good year this year but I've just got to keep working on everything. You can always get better. I'm never satisfied."
So how does he spend his free time?
"I'm watching film. Most people think that's crazy but I look at it like a guy like Peyton Manning," Alexander said. "When you see him he's always watching film and he's always into football. It's almost like a life. I have a life outside of football but I put a lot of time into football. It's important to me. I really enjoy the sport and I love what I do. Being a corner, I love my job."
Alexander and the Clemson defense turned the passion into a dominating win over the Sooners, and he said he enjoyed every second he was on the field.
"It was good. We were fired up," Alexander said. "I looked up and we were up 30 something points and he [Brent Venables] is still pressing on us to keep it going because Oklahoma is traditionally a great team. We knew they could come back and win and we just kept choking them out."
Alexander arrived at Clemson with high expectations but sat out last season after injuries derailed his season in August. However, he said he learned from the experience.
"To be honest, it wasn't as big for me. I felt like I was the best corner in the country when I got to Clemson and I still feel the same way now," he said. "I know I'm the best corner in the country and there's no doubt. For me, it was ok. I just had to sit and wait. It was a process that I had manage myself. I couldn't walk and I couldn't run and play. I had to be patient. For the coaches you hate that because they knew they had a guy that could help them immediately and I couldn't do that. It was a frustrating situation at the time."
Alexander says he still has plenty to accomplish as a Tiger, but one thing he wants to see happen is for Clemson to be known as "DB U."
"DB U. You hear a lot of kids talk about DB's and all of that kind of stuff but for me it's about the action and showing it what you can do in the secondary week by week - putting the numbers up, shutting guys down and doing things the right way," he said. "I think we do a great job of doing those things. As long as I'm here I'm going to continue to keep that process going and helping the guys understand what the secondary means. I take a lot of pride in that. If a guy catches a ball, I'm mad but I'm still in the game and I'm still playing. I move on really quick. I don't let anything bother me at all."