| | |
| --- | --- |
| Shrine Bowl: John Simpson, Tavien Feaster among day two standouts | |
---
| | |
| --- | --- |
| Tuesday, December 15, 2015 6:49 PM | |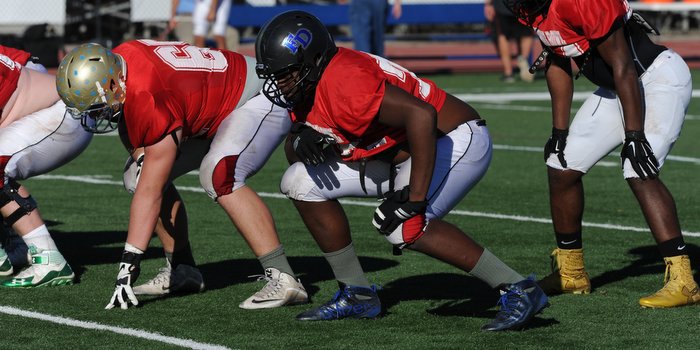 SPARTANBURG – Day two of Shrine Bowl practice is in the books, and TigerNet was on hand to give you plenty of notes and observations.
Clemson commits Tavien Feaster, Nyles Pinckney and Clemson target John Simpson practiced with the South Carolina squad, while Clemson commit Cornell Powell and target Diondre Overton practiced with their North Carolina teammates.
We'll start with the South Carolina side of things, and that begins with Feaster. The Spartanburg product was practicing on his home field, and he not only looked comfortable, he looked completely healthy. We had heard from some that Feaster didn't look healthy at the end of the season, but he looked fantastic during Tuesday's session.
I've seen him at different points in his high school career – including Dabo Swinney's high school camp over the summer – and this is the best he's looked. In fact, one of his moves later in the day prompted an outburst from his teammates.
Feaster took a pitch and ran left, and as he headed up the field he came face-to-face with a linebacker. Feaster cut once, cut twice, and then did some kind of crazy stop step and then burst that left the backer holding nothing but air. His teammates went crazy, and the players standing on the sideline cracked up at the defender.
A few plays later, he performed a perfect jump cut that left another hapless defender in his wake.
I asked one South Carolina coach his opinion of Feaster – a coach that doesn't praise anybody – and he said, "He's unbelievable. We've told our offensive line that all they have to do is give him just a tiny crease and he's gone."
For the record – Feaster likes the offensive line he has in front of him. If they can block Saturday, he should have a big day.
*Speaking of offensive linemen – I spoke with Fort Dorchester's Simpson after the afternoon session. He told me that winning a state championship was a "dream season." Simpson said he shut down his recruitment – for the most part – during the season and still feels like he has a lot to think about. Clemson is still very high on his list, but he said he was being truthful when he said he has no idea where he will land.
During the afternoon session, I could see the potential in Simpson. He has the size to be dominant but needs to add some muscle. He told me he would like to redshirt his first year to work on his technique.
Sandlapper offensive line coach Will Young – the Greer coach and former Clemson lineman – switched Simpson to tackle and moved D.W. Daniel product Cade Stewart to guard. The two were a perfect tandem on the left side, and Feaster had some of his best runs when running to that side.
Stewart is an interesting cat – he has offers from Charlotte, Furman and Presbyterian but could earn a preferred walk-on spot at Clemson. He has the size (6-4, 280) and Young said Stewart is a "nasty country boy" that can absolutely play at the next level. It will be interesting to see how he fares Saturday.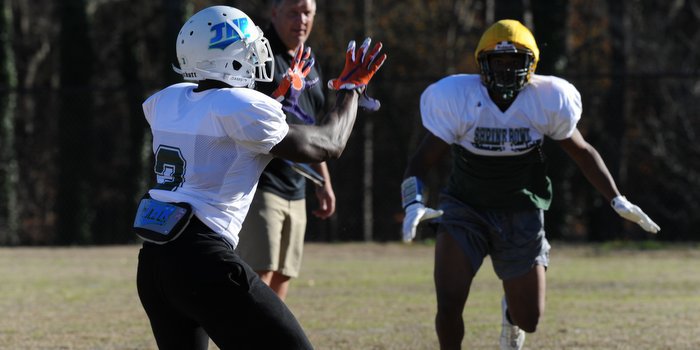 *Pinckney was another one I spent a good bit of time watching. The Whale Branch product spent time all along the defensive line Tuesday. I haven't seen him since Swinney's camp, and he was shorter than I remembered but that allowed him to use good pad level to get under offensive linemen. He's strong to get a good push when he needs to but quick enough to get outside when he has to. I was talking to one coach who wondered where Pinckney will fit in with Clemson's deep stable of defensive linemen, but he showed a good motor and work ethic while I watched. He refuses to get outworked on a play, and more than once went past the whistle while getting after somebody.
*Now on to North Carolina. I've seen both Powell and Overton multiple times, so there really isn't anything to report there that you haven't already read. They are both studs and will excel on the next level. However, Powell made a few catches in traffic that showed off his hands, and he also showed a great burst on a go route at the end of the session.
Overton told me he's down to North Carolina St. and Clemson. He said he really doesn't know which school he will pick, but is going to go home after the Shrine Bowl and sit down with his family and make a decision.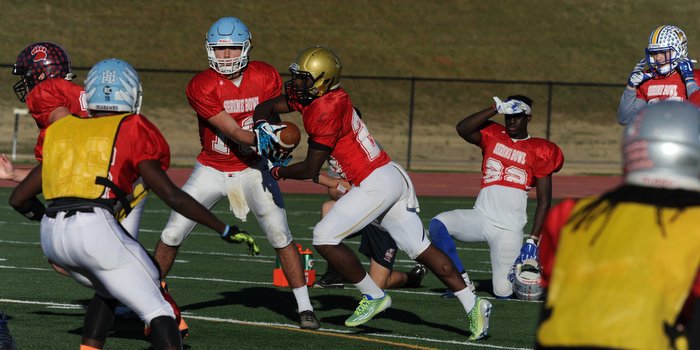 One thing to watch with Overton, who I've long considered to be a Clemson lean, is playing time. He said Clemson has stayed in it because of Jeff Scott, who puts receivers in the NFL. He has a great relationship with Scott and thinks he would get the proper development under his tutelage. He also would like to play with Powell, who is his buddy.
However, he said the Wolfpack are in the final two because they need a big receiver, which means he could play right away. At Clemson, he would have at least Mike Williams and Deon Cain and Trevion Thompson already ahead of him on the outside.
We will be back out there tomorrow.