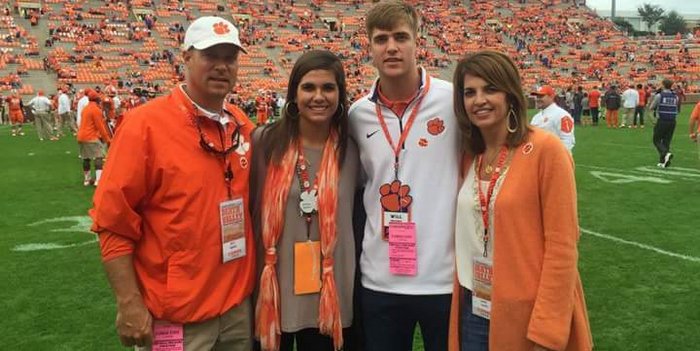 | | |
| --- | --- |
| Shortstop is coming home: Swinney presses Spiers to get degree | |
---
Shortstop is coming home.
Bill Spiers will forever live in Clemson lore, a standout baseball player for the Tigers and legendary coach Bill Wilhelm who wound up punting on the football team under iconic head coach Danny Ford. In just a few months, he will work for another Clemson head coach who is working on legend status.
Spiers is coming home because the coach he will be working for – Dabo Swinney – wants to make sure that all former Clemson players have a chance to graduate.
The beginning
As a quarterback and punter at the then-Wade Hampton Academy, Bill Spiers helped the Rebels win back-to-back SCISAA football championships in 1982-83. He also played baseball and followed in his father's footsteps in accepting a baseball scholarship to play at Clemson University.
During his time at Clemson, Spiers batted .320, hit 17 home runs, drove in 119 runs and stole 60 bases in earning Sporting News All-American honors. During his junior season at Clemson, Bill answered an ad in the school newspaper, which had been placed by then-head football Coach Danny Ford. The Tigers were in need of a punter and Bill tried out. He made the team and became starting punter for the Tigers in 1986. That season Bill, who Danny Ford always referred to as "Shortstop," would play in the Gator Bowl. Bill's 39.2 average ranks 12th all-time at Clemson.
In 1998, Bill was inducted into the Clemson Athletic Hall of Fame, and in 2007, into the South Carolina Athletic Hall of Fame.
His father, Bud Spiers, and his brother Michael, played baseball at Clemson as well.
On the diamond, Spiers was a first round draft pick (13th overall) in the 1987 amateur draft. He debuted in the majors two years later with the Milwaukee Brewers on April 7, 1989 and played until 2001 for three major league teams – the Brewers, Mets and Astros. He wound up with a .271 lifetime average with 37 homers and 388 runs batted in.
Once he retired, Spiers decided to give back to the sports he loved and started volunteering at Calhoun Academy in St. Matthews.
"I retired in 2001 from baseball and starting coaching at our local school here," Spiers told TigerNet earlier this week. "Just helping a guy out, being assistant football and baseball. Then he left and went to another school, the guy I was helping out, so this past year I took over football and baseball. I enjoy sports and enjoy coaching and enjoy helping kids, being able to give back after so many years of playing."
That included coaching his son Will, who will walk on to the Clemson football team this summer as a punter. Because Will had an interest in following in his dad's footsteps and because his daughter Ashley works for the football team as a student, Spiers has been on campus and had talks with Swinney. It was during one of those talks that Swinney learned something about the man they call Shortstop.
Graduating
Bill admits it – he majored in "baseball" while at Clemson. The demands of two sports and trying to earn a notice by major league teams didn't leave a lot of time for studying. Spiers started out majoring in pre-med, but changed to marketing because he couldn't keep up with the lab demands of a pre-med major.
He never graduated, something that Swinney found out about.
"It seems like a couple years ago we were talking about something, I forget what it was, but we were in the WestZone and he was talking about getting players to graduate and how he liked his players to graduate, just talking about that kind of stuff," Spiers said. "My wife and I were talking to him and I said, 'Ya know, I never graduated.' He looked and said, 'You're kidding me.' This was a year and a half or so ago, I can't remember. He said, 'You know you can come back to school. They have a program where ex- players, professional players can come back to school.' I didn't really think anything of it really. I've been coaching, but he just really wouldn't let it die.
"Recently it eased back up. He would send me a text every now and then and say, 'Hey, school starts on this date." I guess it got kind of heated up, here let's see, about three weeks ago we came up here for spring practice. You know my daughter Ashley works for them and she had given me a heads up and said, 'Dabo wants to talk to you when you get up here.' He put it to me that he wanted me to join the team, the staff."
The program is Tiger Trust, one of the 12 tenets introduced in the Clemson Will in 2014-15. Tiger Trust provides an opportunity for all student-athletes who have exhausted eligibility or left early for a professional career to return to Clemson to earn an undergraduate degree if he or she left in good standing. The athletes receive scholarship assistance through the athletic department and IPTAY.
Spiers finally gave in and accepted Swinney's offer – he will not only finish his degree but will help the football as an undergraduate coach.
"I'm just very humbled and excited and I look forward to an opportunity that I guess started pursing me harder and harder," Spiers said with a laugh. "It's just exciting- that's all I can say. It's crazy. It's cool, it's exciting. I'm humbled. Very humbled. Dabo can be very persuasive."
Coming home
Spiers said he feels like he's coming home – his family will move and live in the area, and his youngest daughter will attend Daniel High School.
"It might be a little temporary but you never know. I feel like the Lord opens doors and I'm ready to walk through this door," he said. "It's just crazy. It's awesome. Exciting. I didn't think I would be moving up there. Our youngest is going to be a junior. Her name is Mary Crosby (Spiers) and she is all excited about it. She's going to be a junior at Daniel. So it's a change, no doubt."
Because of his work as a punter under Ford, many thought that Spiers would perhaps lend a hand with special teams. That won't be the case, however – Bill understands that his son needs a little space from Dad during the early part of his Clemson career.
"It's going to be exciting being around your family, obviously. Dabo and I talked about it, Spiers said. "Will is a kind of a sticking point and it was because he needs to be away from me. Naturally, I coached him from little league on up and just being a part of coaching him has been wonderful. But it is good for him to be away from me in some ways. We have a great relationship and Dabo understands that. I'm not going to be involved in the punting or anything like that just because of him. I want him to grow up and be away from me in that regard. He wants me to work with the offensive side or the ball so that excites me."
Spiers said his exact duties with the offense would be revealed at a later date.
"Coach Swinney said he will come up with something, but he definitely wants me to help on the offensive side," he said. "It's very interesting and fun to get involved with that."
In the meantime, Spiers will work on getting his family to Clemson and trying to grasp the next step in a journey that has taken him full circle – from Clemson to stops in the major and minor leagues, back home and back to Clemson.
"You know, it has and it hasn't sunk in yet. When I got off the phone with him (Swinney), I talked to my wife Laura and said, 'This is really true. It's exciting.' Like I told you about five times from the beginning. I'm very humbled," Spiers said. "Again, this is a door that I feel like the Lord has opened. It's a challenge. Looking forward to walking through it and seeing what might open up.
"It's just crazy coming from playing professional baseball and retiring and loving coaching and it's just hard to comprehend right now because Clemson is like a second home to us. It really is. Every time we are up there for all the games we would say, 'You know, we could live here. It's just that good.' I have to finish up school here obviously, coach baseball. We have a pretty good team so hopefully we are going to make a run at this thing. School will end here at the end of May. I'm going to come up in June some for maybe some of the staff meetings when they have those and maybe some camps. Work some camps and try to get stuff ironed out for school. When coaches come back after vacation is when I will be there in mid-July. It's a great family to be a part of and I am looking so forward to it."
Shortstop is coming home.

Upgrade Your Account
Unlock premium boards and exclusive features (e.g. ad-free) by upgrading your account today.
Upgrade Now