| | |
| --- | --- |
| Shaq Lawson guarantees he will play in championship game | |
---
| | |
| --- | --- |
| Thursday, December 31, 2015 10:20 PM | |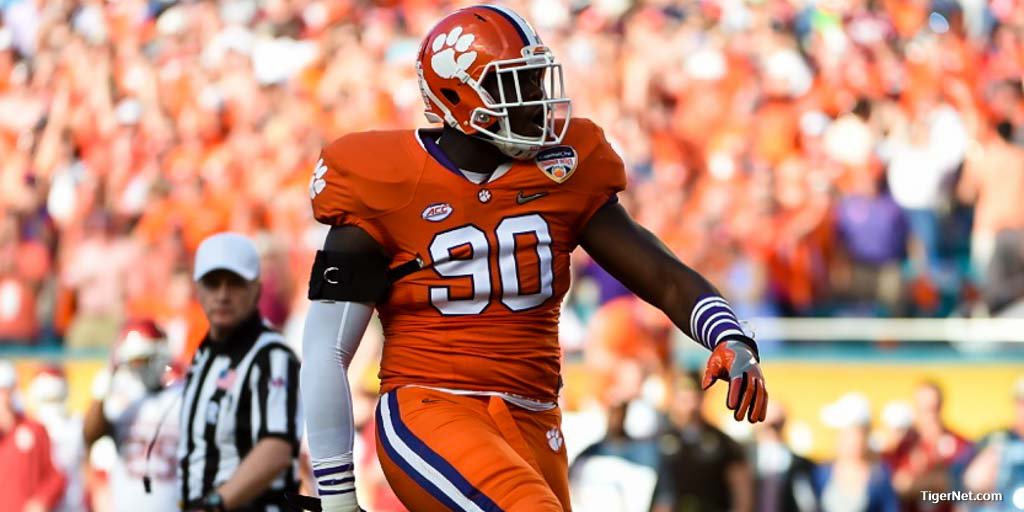 MIAMI GARDENS, FL – Shaq Lawson says he has no doubts where he will be on January 11th. He will suited up and ready to play for a national championship.
Clemson's superlative defensive end left Thursday's 37-17 victory over Oklahoma in the Capital One Orange Bowl early with a left knee injury, and spent much of the first half with an ice pack on his knee. He was checked out at halftime, but it was determined he wouldn't be able to play and spent the rest of the night cheering on his teammates.
Lawson made an early splash with a sack of Oklahoma quarterback Baker Mayfield, but that was his lone highlight of the night as the pain forced him to the sideline.
"I hurt it on the second play of the game. I really don't remember," Lawson told TigerNet after the game."I just felt my knee buckle a little bit and that's how it went. I came off a stunt and it felt like my knee kind of gave out. It felt funny and I felt like I couldn't go anymore. I tried to come back in and I got the sack, but it was still hurting bad, so I knew I couldn't go at all."
Lawson said he spent time watching reserve defensive end Austin Bryant show his potential – Bryant will likely take Lawson's spot next fall because Lawson has declared for the NFL Draft. Bryant finished with four tackles and half of a sack.
"It feels great. This is what we've all been working hard for – this opportunity," he said. "They did well. Austin told me he had my back and he was going to do this for me, and that's what he did."
Lawson said that he was really looking forward to playing against the Sooners, and even spent time talking about the supposed "bus showdown" rumors that had Lawson getting on the Sooners' team bus trying to spark a confrontation.
"We were at the luncheon, and (Oklahoma defensive end Charles) Tapper kept talking and talking," Lawson said. "We went to our bus and some of the Oklahoma players were coming over and talking through our windows, taking off their shirts and trying to start something. I got off our bus and went and stood in front of their bus, but that was it. We did most of our talking on the field."
Defensive ends coach Marion Hobby said he was nervous when he saw Lawson try to play after the injury.
"I can't tell you that I didn't get a little nervous about that," Hobby said. "I knew he went back in there for a series and played his butt off and ended up making a couple of plays. Shaq is tough. He really wants to play. When I saw tears in his eyes, I knew he was really hurt so we pulled him. Next man up."
Lawson was asked where he would be when the Tigers play for the title in 11 days, and he flashed his trademark smile before delivering his answer.
"Shaq Lawson will be playing in Phoenix, Arizona with them," he said before heading into the training room.