| | |
| --- | --- |
| Shaq Lawson details reasons for turning pro | |
---
| | |
| --- | --- |
| Tuesday, December 15, 2015 11:01 AM | |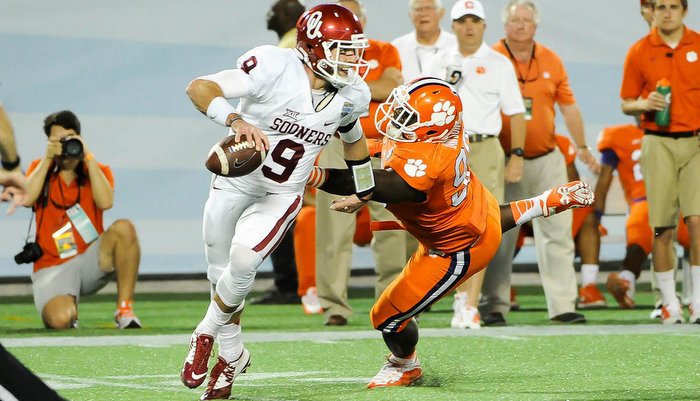 CLEMSON – Shaq Lawson doesn't want to be a distraction, and he doesn't want to mess with the good vibrations surrounding the Clemson football team so he told the nation last week that he has decided to forego his senior season and declare for the NFL Draft.
Lawson told the media at a national awards show last week about his decision, and he met with the Clemson media following Monday's practice to discuss the decision. Lawson leads the nation with 22.5 tackles for loss – and 18 of those came against Power 5 (plus Notre Dame) teams, including a run of eight in the last four games as the Tigers wrapped up the ACC Atlantic Division and an ACC Championship.
He's been his best when it counted most and helped lead the Tigers to a 13-0 record and a berth in the College Football Playoff, and he told the media that he wanted to stop the speculation early in the process and concentrate on the next two games.
"I was just ready to get it behind me and just focus on these next two games," Lawson said. "I knew what I wanted to do. I had my mind made up. I just wanted to get it out of the way and focus on these last two games for my team and try to come out here and bring the National Championship back to Death Valley."
Lawson, who has 78 tackles on the season to go with 9.5 sacks, said he was relieved once he made his decision public.
"If you go ahead and get it out of the way nobody has to ask you about it anymore," Lawson said. "So I feel a bit relieved. Nobody has been asking about it since then. I just feel a lot more comfortable around people now. If you feel that way I feel people should do that. I also wanted my teammates to know what they can expect out of me. I sat down and talked with my family and made the right decision."
He then said that he knew what he wanted to do prior to the Tigers' regular season finale against arch-rival South Carolina.
"Before the South Carolina game, I knew what I wanted to do," he said. "I was just waiting at the right time to do it."
Lawson has been on the national award circuit since the win over North Carolina in Charlotte, and he said he's met and developed relationships with future NFL peers like Ohio St.'s Joey Bosa.
"They were great. I met a lot of new guys," Lawson said. "A lot of different personalities. It was great meeting them. I feel like we built a relationship from here on out and throughout our football career. It was great seeing how they do things at other schools.
Lawson he doesn't have advice for teammates like Mackensie Alexander, Jayron Kearse, Jordan Leggett and Wayne Gallman, all underclassmen who might follow him into the NFL this spring.
"It just depends on their situation. They've got to sit down with their families and talk about it," Lawson said. "That's pretty much what I did, sit down with my family and talk about it and just made the decision for me. When you do it you just got to be sure about doing it."