| | |
| --- | --- |
| Shaq Lawson: There's a "very good chance I will play" | |
---
| | |
| --- | --- |
| Saturday, January 9, 2016 12:04 PM | |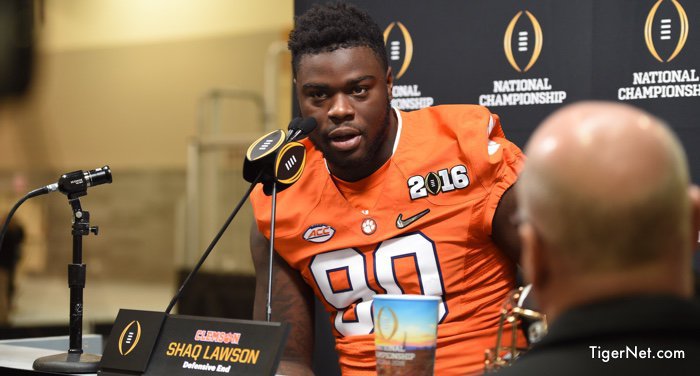 PHOENIX, AZ – Junior defensive end Shaq Lawson didn't seem as confident in his ability to play in Monday night's College Football Playoff National Championship as he was earlier in the week, but he did say he's still hopeful he can take meaningful snaps against Alabama.
Lawson sprained his MCL early in the win over Oklahoma in the Orange Bowl and missed all but the first few plays, and during Media Day Saturday morning at the Phoenix Convention Center said that's he doing everything he can to suit up.
"I'm getting better every day. I'm just going to continue to try and get better every day so I can be able to play," Lawson told the media during Tuesday's Media Day. "There's a very good chance that I'm going to play. Hopefully, it's a high percentage. I'm just taking it a day at a time and trying to get my knee back ready while I'm down here before the game. I'm trying to get it stronger before I go out there."
Lawson said he's been spending the majority of his time with head trainer Danny Poole and his staff getting treatment and trying to rehab the injured knee.
"I've been doing pretty much everything to get the strength up in my knee - icing it, stem, and everything like that," Lawson said. "I've been having a busy week with treatment and stuff. I've been spending about two hours in the training room and I'm trying to get at least two treatments a day."
However, he's practiced as much as he can, but Lawson said he's been in a green, no-contact jersey all week.
"I practiced the day before we left Clemson. I felt like I was getting better with what I was doing and I was getting my movement back right," he said. "I've been limited. I've been doing scout work. I've been limited from contact and hitting. I was in a green jersey the other day."
Lawson said he doesn't feel like the knee is weak, but he said his burst off the line isn't as good, and he has difficulty with side-to-side movement.
"It hurts right now. I don't feel like any weaknesses. I don't feel it until I start moving on the field," he said. "It's the lateral movement that's the most difficult. I'm probably about average right now with my burst. I feel like I'm getting better each day with my movement. I'm going to continue to work at it until I'm back to where I need to be."
For those who think Lawson won't play in Monday's game because he's concerned with his NFL future, the Central native said the draft and his professional career is the furthest thing from his mind.
"I'm not thinking about that at all. That's not my concern," he said. "My concern is to win this national championship for my team, and that's what I'm going to try to do. I'm going to try to get back on that field and help my team win."
Lawson even went as far to say that he's been preparing himself to play against the Tide.
"I've been preparing myself to play. I've been preparing myself like I'm on the field every day," he said. "I've been in the film room. When I'm not out there with those guys, I'm still going through my head that I'm playing. I'm just continuing to study the opponent."
If he's not able to go, however, Lawson said he has full confidence if freshman Austin Bryant.
"I'm comfortable with Austin a lot. He went out there last week when I went down and did a nice job for us," Lawson said. "He did his job well and played to a standard. I'm very comfortable with him. He was ready when his name was called. That's what I like from Austin. He was prepared when his opportunity came and made the most of it. He made big plays for us down the stretch."