| | |
| --- | --- |
| Shaq Attack: Lawson sacks "Quarterback Venables" in practice | |
---
| | |
| --- | --- |
| Tuesday, December 29, 2015 3:37 PM | |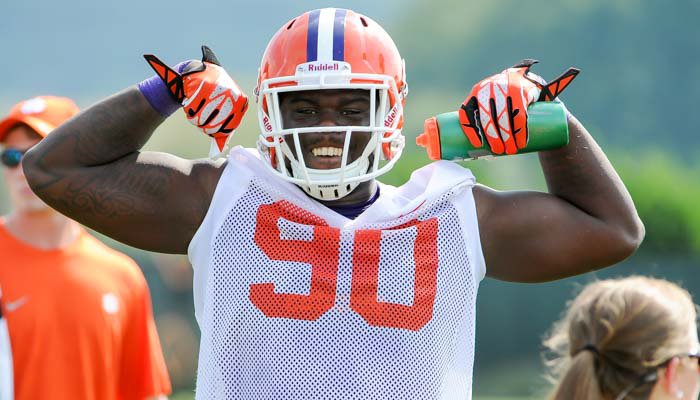 MIAMI GARDENS, FL – Oklahoma "quarterback" Brent Venables took the snap at Clemson's Monday bowl practice and sprinted to his right while running the read option. And then he wasn't.
Clemson's defensive coordinator has been playing quarterback during recent practice sessions, and in true Venables fashion hasn't been afraid to do a little trash talking along the way. During the session Monday, he was hit from behind by junior defensive end Shaq Lawson, his face unceremoniously planted in the grass at Nova Southeastern University's practice field.
Score one for Lawson, who did something that every defensive player has wanted to do for the last four years.
"I am so jealous," linebacker Ben Boulware said. "I've been wanting to do that since I got to Clemson."
Venables told TigerNet it started because he felt like he was the only "athlete" on Clemson's roster capable of simulating Oklahoma's offense.
"I've got a bad delivery. But the pinpoint accuracy, the timing and the fact that I know where to distribute the football, that's why I am doing it," Venables said. "It's fun. We don't have much time to get them ready. We don't have a great athlete back there right now who can emulate, so it's really about wanting to distribute the ball and how to attack the defense, being able to handle the speed and the tempo and being able to speed things up from an operating standpoint."
Lawson said he read the play from the beginning.
"He's been talking trash to us. He is very competitive when he plays the scout team quarterback," Lawson said. "I didn't intend to hit him, but I hit him hard. He got up and shook it off like it wasn't a hard hit, but he didn't have any pads on. It was crazy. I was running too fast and I couldn't stop. I pulled up, and I really didn't hit him too hard. I hit him and he bounced up like it didn't hurt. I thought it had to hurt because he didn't have any pads on. I was thinking, 'Man, I hope I didn't kill my coach.'"
The immediate reaction of the players and other coaches was what you would expect.
"Everybody started laughing. We know how Coach V is," Lawson said. "It didn't faze him. He just got back up and went back to the next play."
However, Venables did feel a little pain but is glad Lawson showed the kind of fire he's been looking for.
"He gave me a stinger and I never told him. One of those old injuries I had from college," Venables said. "But I loved it. I loved every aspect and that's what I wanted."