| | |
| --- | --- |
| Shafer, Swinney and the curse heard round the world | |
---
| | |
| --- | --- |
| Monday, July 21, 2014 9:34 PM | |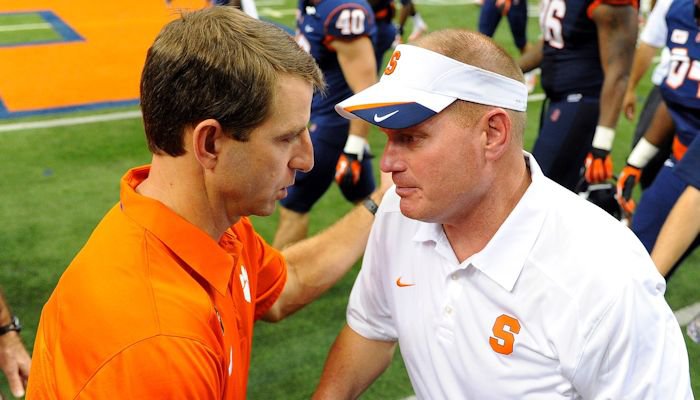 GREENSBORO, NC – Syracuse head coach Scott Shafer's profanity-laced outburst at Clemson head coach Dabo Swinney

Dabo Swinney
Head Coach
View Full Profile was only a few seconds old when Shafer's daughter Elsa texted her mother to let her know that her father had embarrassed the family, setting in motion a chain of events that would lead to the two ACC coaches becoming friends.
With only a few seconds remaining in the first half of Clemson's 49-14 victory over the Orange, Swinney kept his offense out on the field for a fourth-down play from the Syracuse 5-yard line. The Tigers already held a 35-7 lead, and Shafer took exception to what he thought at the time was Swinney's attempt at running up the score.
Television cameras later captured Shafer hurling expletives in Swinney's direction, and the footage went viral. Following the game, Shafer went into the Clemson locker room to apologize in person to Swinney and repeated – word for word – what he had said. Swinney laughed it off, but the tirade still leaves one wondering where the two coaches stand with each other.
The answer: All is forgiven.
Swinney and his wife Kathleen were walking out of their hotel in Amelia Island, Fla, at the ACC meetings earlier this spring when Shafer once again extended the olive branch.
"We got to Amelia Island for the coaches meetings, and Missy and I were in the rental car pulling up and Dabo and his wife were walking and I said, 'Hey, there's Dabo. Let's go mess with him,'" Shafer told TigerNet at the ACC Kickoff Monday. "So I pulled up alongside of him. I don't remember what I said. I yelled at him or something out the window. He looked at me and they started laughing."
Shafer said the incident during the game was simply a case of being caught up in a competitive moment.
"Look, anybody that has played sports and is competitive in nature would be that way, whether it's your little brother or the kid across the street or somebody in your conference at the ACC level," he said. "It's all relative. You hate to lose.
"I was getting my (butt) kicked and got frustrated and yelled across the field like an immature 16-year-old. And I didn't have the cover of the press box to cover me up on that day. I was in the press box for 23 years. So I made a huge blunder, that sort of thing. I have a ton of respect for Dabo."
Shafer said that he hopes one day Syracuse is mentioned in the same breath as Clemson and Florida St.
"The one thing about this conference especially is that we have a lot of guys with high character who are good husbands and good fathers and they do things the right way," Shafer said. "When I talk to Dabo, we both care about our players and their well-being. So, yes, it's all light-hearted now and I have a ton of respect for him. One day, I hope people are talking about Syracuse the way they do Clemson and Florida St. in this conference. "
To show that the two coaches get along, Shafer took a picture with Swinney and made sure his daughter understood that everyone involved had moved on, and then smiled when he said he hopes to one day put Swinney in the same position.
"The four of us took a picture together and I shot it back to Elsa and I said, 'See, me and Dabo get along just fine,' " Shafer said. "I'd love for him to be yelling at me across the field when it's 35-7 and I'm making a decision. So, that's the goal."
@syrfootball #bestfriends pic.twitter.com/8Ii7Yn6e9N

— Elsa Shafer (@ShaferElsa) July 21, 2014