| | |
| --- | --- |
| Seeds for Orange Bowl were planted in throttling of Miami in October | |
---
| | |
| --- | --- |
| Thursday, December 10, 2015 1:01 PM | |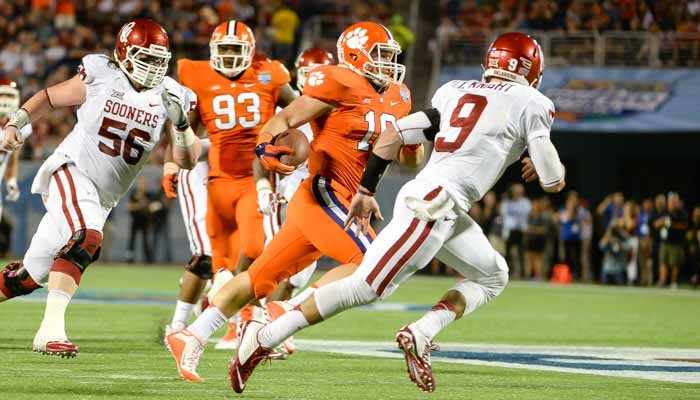 CLEMSON – Eric Mac Lain first started thinking seriously about a trip to Miami for the Orange Bowl and the College Football Playoff while the Tigers were in the middle of throttling Miami 58-0 in Sun Life Stadium in October, all because an Orange Bowl representative said he expected to see the Tigers back in December.
No. 1 Clemson (13-0) will face off against No. 4 Oklahoma (11-1) in the Orange Bowl at Sun Life Stadium on December 31st at 4 p.m. The loser's season is over, but the winner heads to Glendale (AZ) to take on the winner of Michigan St. and Alabama in the national title game.
Clemson has already played in Miami once this season – the dismantling of the Hurricanes in what would turn out to be Al Golden's last game as head coach – and Mac Lain says he started thinking Orange Bowl during the fourth quarter.
"One of the Orange Bowl representatives was there and he was walking up and down our sideline, and in the fourth quarter he came over to the offenisve lilne and said, 'We can't wait to have you down here on the 31st.' To have that come full circle and have it mean something is cool," Mac Lain said. "This is kind of cool being down in Miami for the past three years. Clemson travels well to Miami and it's a cool destination spot. People want to go there, so it's going to be advantageous to us with our people being there."
One of the more intriguing storylines will be how quarterbacks Deshaun Watson and Baker Mayfield play, but Watson said the Sooners are a complete team that is different than the one Clemson beat 40-6 in the Russell Athletic Bowl last December.
"I watch highlights. He has done a great job for his team and I've done a great job for my team. The only thing I am worried about is Clemson," Watson said. "They have their own situation and I have mine. We will just see what happens Dec. 31st. At the end of the day we still have to perform and play our best. The team that plays the best that night will win. They are a great team and they are a team that's in the top four. They are a different team than last year and have different players. It's going to be a challenge of course, but every game from here on out is going to be a challenge. We just have to keep doing what we do."
Clemson struggled to run the ball effectively against the Sooners in last year's game, rushing 42 times for just 68 yards. Wayne Gallman had 19 carries for 55 yards in the effort and knows he will have to be better this time around.
"I know last year they had some big old defensive linemen that really controlled where we were going. But I have to take charge, too, and trust my speed and my feet and my ability," Gallman said. "I have to trust the whole offense. But when it comes down to it, it doesn't matter who we play. They are just another team in front of us."
Mac Lain said he can't wait to start preparing for the Sooners.
"I can't wait to get in there and watch some film on them. I am sure it's the same people we saw last year, but I am sure they do some different things," he said. "I think we need to establish the run game a little bit better. It was hard to get double-teams on them because Jordan Phillips is a heck of an athlete and moved to where we didn't want him to go. But when we got the outside run game established that is when it really took off and we were able to put up some points. I think it will be a similar game plan, but we will see what they do and look for the little tips and nuances and what they do.
"It's hard to get that true double-team on a guy who is head-up on the center. When you have four linebackers out there you can bring a heck of a lot more pressure from areas that is harder to pick up than a regular situation. But we have coaches that are great at picking up tendencies and tips and they will have a great game plan for us."