---
| | |
| --- | --- |
| Friday, August 28, 2015 7:01 AM | |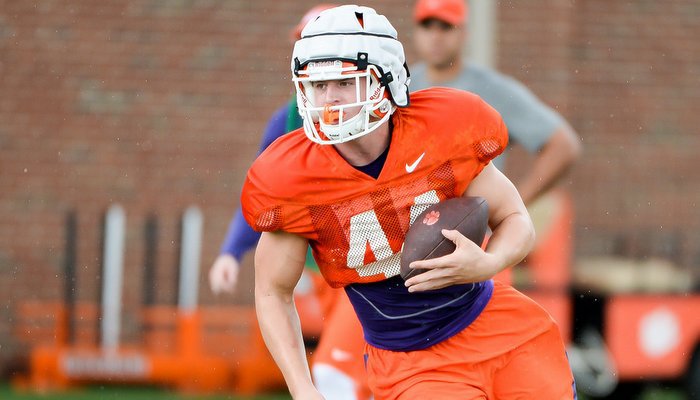 CLEMSON – The sound carried over the practice field, a solid thump every 30 seconds or so. The practice had been over for a while, and most of the football players and coaches had already made their way across the street to the stadium to change clothes and shower. The sound continued.
It was at that point that former tight end and current offensive development coach Durrell Barry

Durrell Barry
Tight End
# 6-5, 265
Charleston, SC
View Full Profile yelled out to a lone figure hitting the blocking sled with authority. Time after time after time. Rep after rep after rep.
"Garrett!! Come on!! It's time to go," Barry screamed out at freshman tight end Garrett Williams

Garrett Williams
Fr. Tight End
#44 6-4, 225
Orlando, FL
View Full Profile , who was following up a long and hot practice with solo work, doing everything he can to get better. Williams bounded off the practice field and hopped on the last tram of the day, a look of determination on his young face. Earlier in the week, Williams had stayed after practice to run gassers. All on his own. Focused.
It hasn't surprised offensive coordinator Jeff Scott

Jeff Scott
Co-Offensive Coordinator / WR
View Full Profile .
"We've had few freshmen come through in the last few years that have been special, and different than your average freshman coming in," Scott told TigerNet after Thursday's practice. "Garrett is a guy that I think maybe it surprised a lot of people when we started throwing his name out there the first week or two of fall camp. He's a guy that is very focused. I think he will be ready for his opportunity."
Williams entered Clemson as one of the most heralded tight ends in the 2015 recruiting cycle, a 4-star out of Florida that ESPN ranked as the No. 117 player in the nation regardless of position. Williams picked the Tigers over Florida St. – among others – despite the fact that his father, Dayne Williams, played for the Seminoles. Dayne played against Clemson in the 1988 "Puntrooskie Game;" Dayne took the snap from center on the play, put the ball between the legs of the upback, Leroy Butler, who then raced down the sideline.
Garrett chose to be a Tiger, but many thought he would redshirt this season because of the depth the Tigers have at the position. Jordan Leggett

Jordan Leggett
Jr. Tight End
#16 6-5, 250
Navarre, FL
View Full Profile , Stanton Seckinger

Stanton Seckinger
Gr. Tight End
#81 6-5, 240
Isle of Palms, SC
View Full Profile , Milan Richard

Milan Richard
RS Fr. Tight End
#80 6-2, 245
Savannah, GA
View Full Profile , Cannon Smith

Cannon Smith
RS Fr. Tight End
#84 6-4, 240
Columbia, SC
View Full Profile , Jay Jay McCullough

Jay Jay McCullough
RS Jr. Tight End
#89 6-3, 248
Fort Mill, SC
View Full Profile , and D.J. Greenlee

D.J. Greenlee
RS So. Tight End
#87 6-1, 235
Clemson, SC
View Full Profile all started fall camp ahead of Williams on the depth chart, but the Orlando native has earned the trust of the coaches and will avoid that redshirt.
"Obviously getting into a game and having that game experience will be very beneficial for him," Scott said. "He's a hard worker, and there probably haven't been many tight ends come in that we have felt as comfortable putting them out there game one as him. We've obviously had some receivers and some other skill guys. But I think he's one of the first tight ends in a while that has come in and done so well in fall camp that we feel like we can put him out there and let him go in the first game."
Williams has already developed a reputation as a devastating blocker during the hot days of August, but Scott said Williams can also help out as a receiver and compared him to a former tight end now plying his trade for the Indianapolis Colts.
"He can do a lot of things. He's a versatile guy," Scott said. "Sometimes at that position you have a guy that is more of a receiver and sometimes you have a guy that is maybe more of a blocker. But what you're really looking for is a guy like Dwayne Allen

Dwayne Allen
Tight End (2008 - 2011)
#83 6-3, 255
Fayetteville, NC
View Full Profile that can really do both and you don't have to make substitutions. He's definitely not Dwayne Allen at this point, but I do think he does everything we are asking and he has the potential to do all of those types of things. That is beneficial, and he will be involved in our short-yardage game as well. We will see how he does. He is just a freshman, and we will see how he does when we get out there and live bullets are going. He's being used as a regular three back in a lot of situations right now."
Scott declined to say where Williams fits on the depth chart but said the coaches are confident he will get enough snaps to make his freshman year worthwhile.
"He's up there enough to where we think he is going to play a little bit," Scott said. "I don't think it's fair to say right now going into a week before the game exactly where he is. But I would say he is in the top four of that group, and he will get enough reps to be able to make the best use of his freshman year."