| | |
| --- | --- |
| Scrimmage recap: Lakip out three games, Huegel wins starting job | |
---
| | |
| --- | --- |
| Thursday, August 20, 2015 7:22 PM | |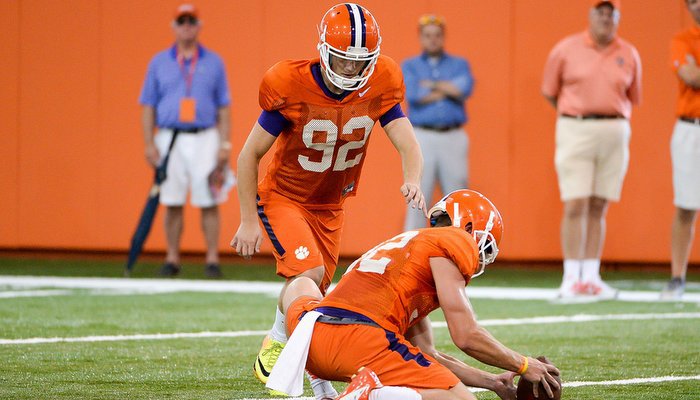 CLEMSON – The Clemson football team practiced for two hours inside Death Valley Thursday afternoon, and the main storyline was the kickers.
Head coach Dabo Swinney

Dabo Swinney
Head Coach
View Full Profile told the media after the scrimmage that kicker Ammon Lakip

Ammon Lakip
RS Sr. Punter / Kicker
#36 5-11, 200
Alpharetta, GA
View Full Profile was back with the team but would miss the season's first three games while he serves a suspension for a June arrest. Lakip will miss the season's first two games – at home against Wofford and Appalachian St. – and the road game at Louisville. He will be eligible to return for the Oct. 3rd home game against Notre Dame.
Swinney also said that walk-on kicker Greg Huegel

Greg Huegel
Fr. Punter / Kicker
#92 5-11, 180
Blythewood, SC
View Full Profile has won the job as the starting placekicker.
"We did a lot of kicking today. A lot of return and a lot of field goals," Swinney said. "But I cannot say enough good things about Greg Huegel. I've learned to say his name and I even know how to spell it. Really proud of him. As bad as he was the last time he was in the stadium – he didn't handle that very well – he was impressive today. He had about four game-winners and kicked a 53-yarder to win the game at the end.
"As we start our game prep tomorrow he is the guy that will start for us at kicker. He's earned that in camp. Alex Spence

Alex Spence
RS Fr. Kicker
#47 6-2, 190
Florence, SC
View Full Profile competed hard and we are at a point where we have to make decisions and move forward, but right now he (Huegel) gives us the best chance to win. We will make sure the reps are divvied up the right way going forward so we can start to build that continuity."
Huegel also leads on kickoffs.
"That we haven't made a decision on," Swinney said. "Spence has done a really good job there, but I think Huegel is still a little bit ahead. He has done a good job on field goals and is a little bit ahead on the kickoffs."
Swinney said that Lakip was at practice but won't have a chance to win his job back until October.
"He was here but we didn't work him," Swinney said. "He will miss the season's first three games. He is back on the team and I know there has been a lot of conversation but he will definitely miss the first three games and then he will have an open date to compete with whoever is out there. But that's the consequences. He is a senior and we haven't had any problems with him but seniors should be at their best. He has done everything we've asked him to do and he has his team punishment. If he wins the job good for him, but I hope Greg is 10-for-10 in the first three games so we will see what happens."
Swinney said the scrimmage was dominated by both the first team offense and first team defense.
"It was a really good scrimmage today. It was good to see it went like we organized it and scripted it," he said. "It was a pretty dominant performance by our first group on offense and a pretty dominant performance by our first group defense. "We've been ones against the ones all camp and in this last scrimmage we like to mix it up, and this was first team offense against the second team defense and the first team defense against the second team offense. Both first teams dominated the scrimmage with the exception of overtime. The second groups won the overtime competition. They punched in a touchdown and the first group kicked a field goal."
Swinney also gave credit to the offensive line and the running game.
" Wayne Gallman

Wayne Gallman
RS So. Running Back
#9 6-1, 205
Loganville, GA
View Full Profile ran hard. Our first group offensive line was impressive," Swinney said. "Deshaun (Watson) was sharp. We rested Mike (Williams) and Charone (Peake) because we really wanted to strain the young guys and for the most part they did a good job. Ray-Ray (McCloud) didn't have a good day. This was the first day he looked like a freshman. He has had an incredible camp but today wasn't one of his better days. He didn't eat all day, so that was probably a lot of it. I really feel good about both first groups but in order for us to be a great team or elite team we need those second guys to step up. They got exposed today and got a dose of reality today."
NOTE: There were no injuries in the scrimmage. Wide receiver Germone Hopper

Germone Hopper
RS Jr. Wide Receiver
#5 5-11, 175
Charlotte, NC
View Full Profile got the air knocked out of him but was able to jog off. Defensive coordinator Brent Venables

Brent Venables
Def. Coordinator / Linebackers
View Full Profile said linebacker Kendall Joseph

Kendall Joseph
RS Fr. Linebacker
#34 5-11, 225
Belton, SC
View Full Profile 's surgery (knee) went well and he is expected back next week.